Saturday, Jun 16, 2012 3:59 PM UTC
Levitt is assumed to be a harmless, quirky pop economist for trivia nerds. Let's take a closer look
Steven Levitt, University of Chicago economist, gained nationwide fame and prestige after co-authoring Freakonomics, a pop economics book based partly on Levitt's original economic research. Published in 2005, Freakonomics became an instant #1 bestseller and spawned an entire Freakonomics media franchise that included a branded Freakonomics blog (hosted on the New York Times website until 2011), a regular segment on the National Public Radio program Marketplace, a Freakonomics movie and, alas, a Freakonomics business consulting company (now called the Greatest Good).
In 2006, Time magazine solidified Levitt's "thought leader" status by naming him one of "100 People Who Shape Our World."* But despite Levitt's high profile, very little has been written about his academic and ideological background. Generally Levitt is assumed to be a harmless, quirky pop economist for trivia nerds. But is that really the case?
As Steven Levitt's S.H.A.M.E. Profile demonstrates, Levitt is a dyed-in-the-wool Chicago School neoliberal who believes in the sanctity of "the market" and a small government whose function is restricted mostly to protecting property rights. He has used "objective" economic research and mainstream credibility as cover, while attacking teachers' unions, advocating for the privatization of prison labor, spreading crude climate denialism and promoting rank "free market" ideology that sees human labor as a resource to be extracted for maximum profit. Levitt has also developed a nasty habit of misrepresenting the research of other scientists in order to reach predefined ideological conclusions, and has failed to disclose financial conflicts of interest.
But perhaps the most disturbing thing about Levitt is his enduring interest in researching and "proving" the effectiveness of authoritarian and, some would say, borderline eugenicist policies. Aside from doing studies on the positive effects that incarceration has on society (we benefit to the tune of $15,000 per inmate per year if inmates are packed into overcrowded conditions), he published a paper that argued that an increase in abortion rates among black women in the 1970s was the main reason for a drop in crime in the 1990s. The methodology and data of his research were discredited by other economists, but Levitt stuck to his original conclusion linking race and crime: fewer African-American children correlates to less crime. Levitt's explanation wasn't just wrong, it was extremely sinister, reinforcing a racist stereotype of the worst kind with a seemingly modern "scientific" explanation.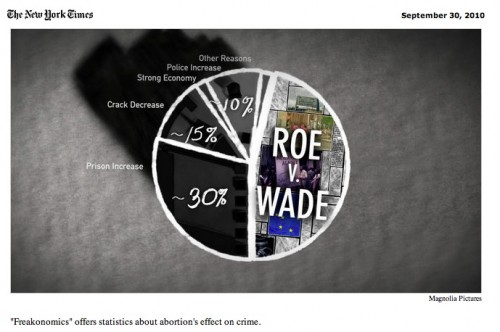 Eugenics theory: alive and well in Freakonomics, the movie.
There's one aspect of Steven Levitt's career the profile did not have the space to delve into too deeply: Levitt's ties to Arne Duncan, President Obama's Education Secretary and the former head of Chicago's public schools system.
In Freakonomics, Levitt presents Duncan as a do-gooder and a reformer whose "allegiance was with the children, not with the teachers and their unions." One thing was true: Duncan did not like unions.
A notorious anti-union activist and crusader for school privatization, Duncan has been credited with doing more than anyone else to help bring the privatized neoliberal nightmare to Chicago's impoverished and mostly nonwhite public schools. "Under Duncan, Chicago took the lead in creating public schools run as military academies, vastly expanded draconian student expulsions, instituted sweeping surveillance practices, advocated a growing police presence in the schools, arbitrarily shut down entire schools and fired entire school staffs," according to a great 2008 TruthOut report.
And Steven Levitt was right there along with Duncan. Working hand in hand with Duncan, Levitt devised a statistical method that allowed Duncan to catch and fire unionized public school teachers who supposedly cheated on standardized tests. Firing and terrorizing public school teachers—this was clearly a point of pride for Levitt. He took personal credit for sacking at least a dozen teachers, gloating in his book Freakonomics that, as a result of his method, "Chicago Public School system began to fire its cheating teachers. The evidence was only strong enough to get rid of a dozen of them, but the many other cheaters had been duly warned."
You hear that cheatin' teachers? There's a new neoliberal sheriff in town and his name is Steven Levitt!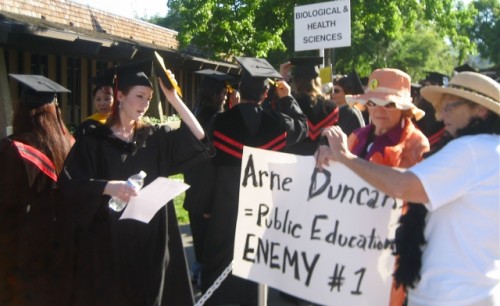 Retired public school teachers protest against Duncan in Cupertino, California
Levitt was extremely impressed with Arne Duncan's assault on Chicago's public education—so much so that he published a post on his New York Times Freakonomics blog titled  "Nobody Better Than Arne Duncan" when he heard Obama was tapping Duncan for secretary of education in 2008: "I've interacted with Arne a few times, and in a variety of settings. I always walk away dazzled. He is smart as hell and his commitment to the kids is remarkable. If you wanted to start from scratch and build a public servant, Arne would be the end product."
Related Stories
Featured Slide Shows
The week in 10 pics
close X
Share on Twitter
Share on Facebook
Thumbnails
Fullscreen

1

of

11

Previous
Next
Lisa Montgomery embraces her nephew Thursday after a tornado tore apart her home in Cleburne, Texas. The twister killed six people and destroyed entire swaths of the North Texas town.
Credit: AP/LM Otero

Jack McMahon, the defense attorney for abortion doctor Kermit Gosnell, speaks outside the Criminal Justice Center in Philadelphia Tuesday. His client was convicted of killing three babies in his clinic, and will serve multiple life sentences.
Credit: AP/Matt Rourke

A photo taken Monday captures Vice President Joe Biden's response to a Milwaukee second-grader's innovative proposal to end America's epidemic of gun violence. This guy!
Credit: AP/Jenny Aicher

Sen. Rand Paul, R-Ky., flanked by a grouper-eyed Michele Bachmann, addresses the IRS' admission that it targeted Tea Party groups in advance of the 2012 election. In an op-ed for CNN Thursday, the Kentucky senator slammed the president for his faux outrage.
Credit: AP/Molly Riley

Ousted IRS chief Steven Miller is sworn in on Capitol Hill Friday. Miller testified before the House Ways and Means Committee on the extra scrutiny the agency gave conservative groups applying for tax-exempt status.
Credit: AP/J. Scott Applewhite

Attorney General Eric Holder pauses as he testifies on Capitol Hill before the House Judiciary Committee Wednesday. Holder is under fire, among other things, for the Justice Department's gathering of phone records at the Associated Press.
Credit: AP/Carolyn Kaster

O.J. Simpson sits during an evidentiary hearing at Clark County District Court in Las Vegas, Nev., Thursday. Simpson, who is currently serving a nine-to-33-year sentence in state prison for armed robbery and kidnapping, is using a writ of habeas corpus to seek a new trial.
Credit: AP/Las Vegas Review-Journal/Jeff Scheid

Major Tom to ground control: On Sunday astronaut Chris Hadfield recorded the first music video from space, a cover of David Bowie's "Space Oddity."
Credit: AP/NASA/Chris Hadfield

When it rains it pours. President Barack Obama speaks during a news conference Thursday with Turkish Prime Minister Recep Tayyip Erdogan, inexplicably inspiring an #umbrellagate Twitter meme.
Credit: AP/Jacquelyn Martin

A smoke plume rises high above a road block at the intersection of County A and Ross Road east of Solon Springs, Wis., Tuesday. No injuries were reported, but the the wildfire caused evacuations across northwestern Wisconsin.
Credit: AP/The Duluth News-Tribune/Clint Austin

Recent Slide Shows
Share on Twitter
Share on Facebook
Thumbnails
Fullscreen

1

of

11

Previous
Next
Salon is proud to feature content from AlterNet, an award-winning news magazine and online community that creates original journalism and amplifies the best of hundreds of other independent media sources.
From Around the Web
Presented by Scribol
The Listener:

So long, Sookie Stackhouse
Recommendations