If you're a fan of Apple devices, then it's pretty likely you have several of them lying around — and while the design is meant to be sleek and minimal, sometimes that's the last look that's achieved when your Apple Watch, iPhone, iPad and who knows what else scattered all over your desk and nightstand. Add a tangle of cords and wires, and you've got a verifiable mess that might accidentally lead to you tripping or knocking over one of your precious (and expensive) devices.
In order to help you organize your Apple devices and minimize cable clutter, you could use these Oakywood charging accessories. The iPhone and Apple Watch Charging Dock can be used for your iPhone and watch, and the Wireless Charger is perfect for any Qi-enabled device, like your iPhone X, 8, and 8 Plus. The 2-in-1 dock can accommodate even the thickest, most durable iPhone cases — meaning you don't have to peel yours off just to get a charge at night. It also conveniently gives you a place to charge your Apple Watch, so both devices get a secure spot to rest and juice up. Plus, it's hand-shaped from solid dark wood, lending it (and your space) a sleek, polished look.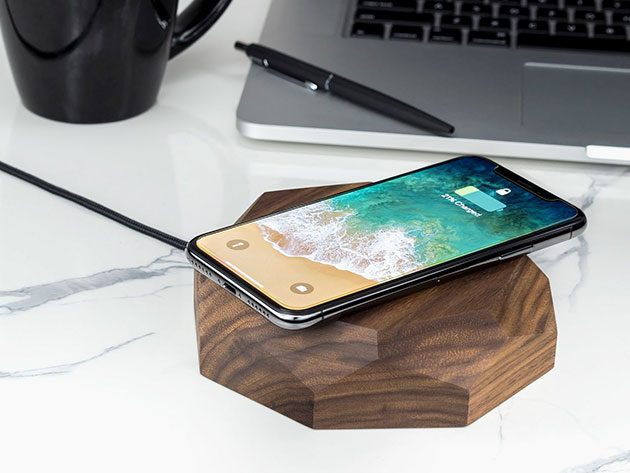 If you don't have as many devices, you might benefit from just the Wireless Charger, which gives your smartphone a charge simply by laying it on the polished wood pad. It also totally cuts down the amount of cable clutter you have. It works with most cases up to 3mm thick and features advanced temperature control to keep your devices safe.
Both are made out sophisticated, beautiful walnut — so on top of working efficiently, they'll lend a special touch to your space. Usually, this Oakywood iPhone And Apple Watch Charging Dock is $79, but you can get it now for $62. Need just the wireless charger? It's usually $89, but you can get it here for $69.
The Salon Marketplace team writes about stuff we think you'll like. Salon has affiliate partnerships, so we may get a share of the revenue from your purchase.