Cloud storage has become a necessity these days — we have so many files that are precious to us, whether they're on our desktops, laptops or phones. It's just become a tricky thing to manage — and as the number of files that we want to save grows, it can become a slippery slope to manage our cloud storage solution. Apple can get increasingly expensive and Dropbox can feel annoyingly limited in its functionality. We've outlined two excellent cloud storage options below: 1. Zoolz Cloud Storage: Lifetime of 1TB Instant Vault and 1TB of Cold Storage — $44.95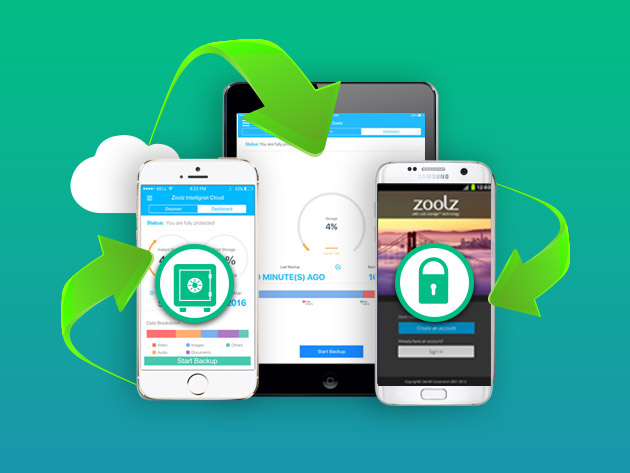 This smart cloud solution is divided between Cold Storage and Instant Vault, which is really perfect for the way most people use cloud storage. Who needs all their files immediately accessible? Most likely, your files are divided into two camps: one set of files you only need to access annually or infrequently (like your tax or medical paperwork), and all the stuff you use every day. Zoolz gives you 1TB of Instant Vault data and 1TB of Cold Storage data for life — and you can still pull out stored files in approximately 3-5 hours. Get a lifetime subscription for $44.95, or 98% off.
2. Degoo Premium: Lifetime 2TB Backup Plan — $65.99
This lifetime cloud storage solution gives you a massive 2TB of extremely secured cloud storage, so you can store and manage files with complete simplicity. You get more storage than Dropbox, OneDrive and Google Drive combined — plus, it replicates backup as you perform it, giving you extra peace of mind. You can also perform a backup to all of your devices, making it one of the most simple, comprehensive cloud storage solutions around. Get a lifetime subscription for $65.99, or 94% off.
The Salon Marketplace team writes about stuff we think you'll like. Salon has affiliate partnerships, so we may get a share of the revenue from your purchase.