You brush your teeth twice a day (if you're following your dentist's orders — we won't tell if you aren't). Electric toothbrushes tend to blast away plaque a little better than their analog counterparts, but many of them cost upwards of $100. Aside from the cost, a toothbrush can't do much for your dental hygiene if it's not hygienic. Backsplash from water, germs in the air, and dust can creep into your bristles, making every brush session less effective. The Platinum Sonic Toothbrush & UV Charging Base is an affordable, spotless solution to your dental woes.
This toothbrush cleans your teeth at a rapid 40,000 strokes per minute, kicking plaque out and polishing your teeth in just a few minutes. The 30-second change timers and two-minute overall timer help you stay on pace with your dentist's recommended brushing times, and you can choose from clean, dazzle or pulse modes to meet your mouth's needs. When you're done brushing, you'll store your brush head in the UV charging base, which sanitizes your bristles to keep them bacteria-free and ready to rock. There's also room for a second brush head in the base, so once you've worn out your first head, you won't have to go rushing online to buy a second one.
Usually the Platinum Sonic Toothbrush & UV Charging Base costs $259, but right now it's on sale for just $49.99 (80% off).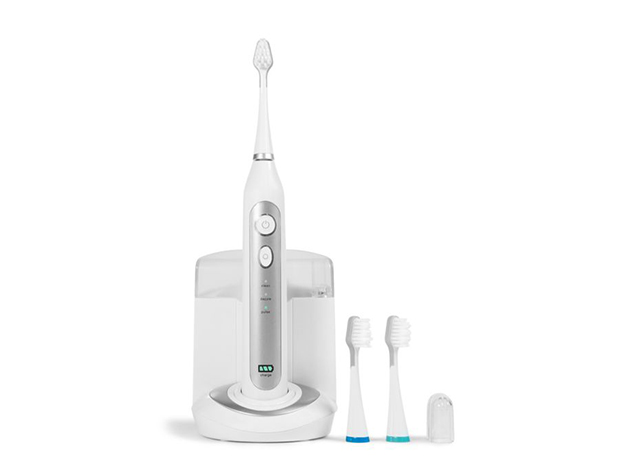 Platinum Sonic Toothbrush & UV Sanitizing Charging Base With 2 Bonus Brush Heads (Silver) - $49.99
See Deal

The Salon Marketplace team writes about stuff we think you'll like. Salon has affiliate partnerships, so we may get a share of the revenue from your purchase.