Who has time to make food these days? And what if you aren't a cook, but your budget or your household is strongly suggesting that you should be? Gather five or fewer readily available ingredients + your slow cooker + Fix-It and Forget-It Best 5-Ingredient Recipes, and you'll have everything you need to make dozens of delicious meals. 
Hope Comerford is the blogger behind A Busy Mom's Slow Cooker Adventures and is the author of The Gluten-Free Slow Cooker and editor or author of several Fix-It and Forget-It books including Fix-It and Forget-It Lazy and Slow Cookbook, Fix-It and Forget-It Cooking for Two, and Welcome Home Cookbook. She is passionate about slow-cooking and writing easy, delicious recipes.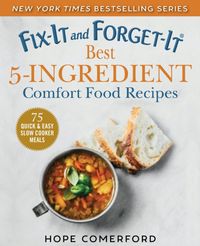 Recipe: Slow-Cooked Salsa
Andy Wagner, Quarryville, PA
Makes 2 cups
Prep Time: 15 minutes
Cooking Time: 1½–3 hours
Standing Time: 2 hours
Ideal slow-cooker size: 3-qt.
10 plum tomatoes
2 garlic cloves
1 small onion, cut into wedges
1–2 jalapeños
1/2 cup chopped fresh cilantro
1/2 tsp. sea salt, optional
1. Core tomatoes. Cut a small slit in two tomatoes. Insert a garlic clove into each slit.
2. Place all tomatoes and onions in a 3-qt. slow cooker.
3. Cut stems off jalapeños. (Remove seeds if you want a milder salsa.) Place jalapeños in the slow cooker.
4. Cover and cook on High for 2½–3 hours or until vegetables are softened. Some may brown slightly. Cool at least 2 hours with the lid off.
5. In a blender, combine the tomato mixture, cilantro, and salt if you wish. Cover and process until blended.
6. Refrigerate leftovers.
Serving suggestion:
Garnish with cilantro and jalapeño.
Tip:
Wear disposable gloves when cutting hot peppers; the oils can burn your skin. Avoid touching your face when you've been working with hot peppers.
Like this recipe as much as we do? Click here to purchase a copy of "Fix-It and Forget-It Best 5-Ingredient Recipes."