Despite our age being mostly digital, there's something about writing your thoughts down in a classic notebook that really can't be beaten. If you're looking to combine the look and feel of old-fashioned note-taking with the digital convenience of modern-day technology, you need to check out these Rocketbook Smart Notebooks. You get all the freedom of transcribing your thoughts, doodles, sketches, and graphs in your unique hand — but the difference with Rocketbooks is that you can upload your notes to the cloud and reuse the pages.
You can save a few trees, and preserve your thoughts forever — it's a win-win situation. They come in two different models:
Rocketbook Everlast Reusable Smart Notebook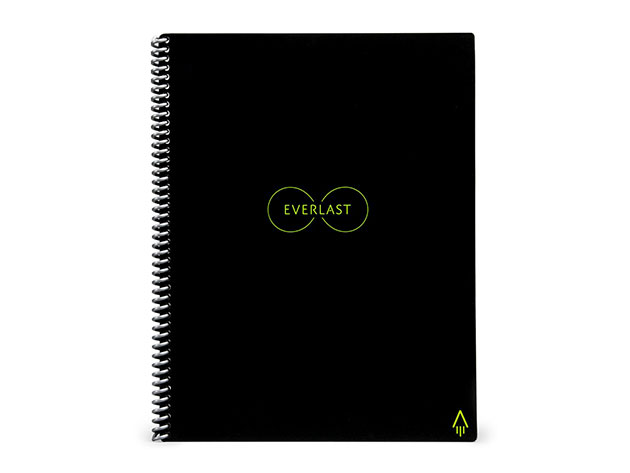 The Everlast might look like a large notebook, but it's so much more. The pages are made of fine grain paper, softly etched with a dot grid pattern that's ideal for letters and drawings alike. Use any Pilot FriXion line pen, and you can smoothly write in its pages.
Even better: the Everlast can be wiped clean, just like a whiteboard. But unlike a whiteboard, your writing dries smoothly and cleanly — and it won't messily rub off if you run your fingers across the paper.
Once you fill the pages (or whenever you choose to), you can use the accompanying app in order to scan the pages and drop them directly into conveniently pre-set cloud services like Dropbox, Evernote, Google Drive, Box, iCloud, Slack or your email address.
Got different places to send different pages, or worried about things getting out of order? No worries: each page contains a unique QR code that ensures everything stays in proper order.
And (technology be blessed), unlike your usual scribblings, the app has the ability to make your notes look even better than they already do. There's a dark border around each page, helping the app clearly transcribe your renderings, no matter what environment you're in. The included image processing makes your notes look even crisper and clearer than they would on ordinary paper.
Here's the kicker: unlike an ordinary notebook, you can take a damp towel to the pages once you're done, and wipe away all your content. Voila — the Everlast is ready to use again.
That's right: an infinitely reusable, eco-friendly notebook that helps you look even more ingenious than you are. Get ready to throw away all your other notebooks and use this one — well, forever.
Buy the Rocketbook Everlast Reusable Smart Notebook: Letter for $29.99, reduced from $34.
The Rocketbook Wave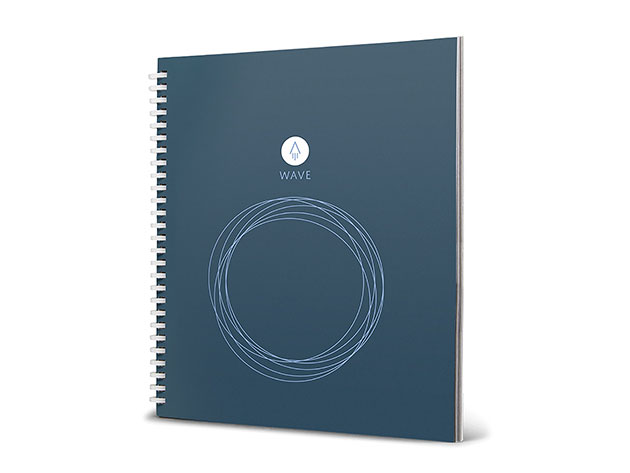 Not so much into the idea of wiping your notes off pages? The Rocketbook Wave offers an even faster solution to erasing your thoughts and priming the pages for reuse: just stick it in the microwave.
Yep, you heard us right: all you need to do to erase the pages in this Rocketbook model is a few seconds in the microwave — and let's face it, it's probably the best thing other than microwave pizza that thing has ever seen — to prep for the next set of scribblings.
You get the same smooth pen and paper feel, and flexibility and security of a smartphone. You can write and reuse the Wave up to five times, helping save gobs of paper.
You can buy the Rocketbook Wave here for $22.99, reduced from $27.