Apple accessories are pricey — a set of Apple AirPods alone can cost you more than $150. Tack on an Apple watch, multiple chargers, the Apple Pencil and that's hundreds of dollars worth of tech goods that are probably just rolling around at the bottom of your bag. Ideal for the Apple lover in your life (even if that person is just you), these two innovative organizers help you quickly sort through and find what you need — plus, they extend the longevity of your accessories by shielding them from damage.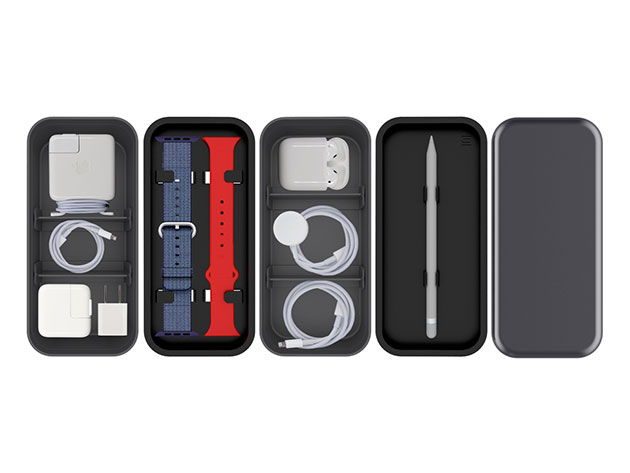 The BentoStack is modeled after its namesake Japanese lunchbox — and just like the bento box, the BentoStack features clever compartments that help you organize your Apple gadgets. It's perfect for both work and travel: instead of wasting time fishing through your bag or suitcase for what you need, find it all centrally located in one spot. It also includes adjustable compartment dividers and two silicone straps, plus a bottom compartment that's designed to accommodate Apple's wall plugs in the USA, Canada, Mexico, Japan, China, and Thailand
Buy it here: Usually, the BentoStack is $49.95, but you can get it here for $42.95
Just like the BentoStack, the BentoStack Charge also features perfectly placed organizational compartments — but it's made to accommodate the most recent updates to Apple hardware. It includes a Qi-certified wireless charger and 5,000 mAh battery built into the lid, so you can keep your iPhone and Apple Watch fully charged, even when there's not an outlet in sight. You can even just bring the lid with you when you travel for a quick charge on the go.
Buy it here: Usually, this BentoStack Charge is $99.95, but you can get it here for $89.99