Spring has sprung, and it's time to go outside and soak up some sunshine. However, if you spent the winter holed up inside and let your dental care fall by the wayside, you might need some extra help to get your smile sunshine-ready. These three electric toothbrushes by AquaSonic are all an extra 15% off right now — just use the coupon code SEMIANNUAL at checkout.
AquaSonic DUO Dual Ultrasonic Toothbrushes with 10 Brush Heads & 2 Travel Cases
Two heads are better than one, but something must be done if both of those heads have food in their teeth. This set of AquaSonic toothbrushes is a perfect budget buy that will keep you and your partner's teeth clean. The three modes clean, whiten and maintain your gum health with regular daily use. The smart timer vibrates every 30 seconds to remind you to brush different areas of your mouth, and the satin handles provide a superior ergonomic grip. This set comes with two toothbrush handles, 10 replacement brush heads and two travel cases, so you can both stay on top of your dental hygiene no matter where your spring travels take you.
MSRP: $249.99
Sale Price: $54.99 (78% off), $46.74 with SEMIANNUAL
AquaSonic Black Series Toothbrush & Travel Case With 8 Dupont Brush Heads
The Black Series removes up to 10 times more plaque than a standard toothbrush thanks to its 40,000 VPN motor. It dissolves stains and whitens simultaneously, and the eight Dupont Brush Heads have a pointed design to dig into cracks and crevices. The four cleaning modes (soft, whiten, massage and clean) will keep your teeth as bright as the spring sun.
MSRP: $189.99
Sale Price: $39.99 (78% off), $33.99 with SEMIANNUAL
Aquasonic PRO Toothbrush with 6 ProFlex Brush Heads, Wireless Charging Glass & Case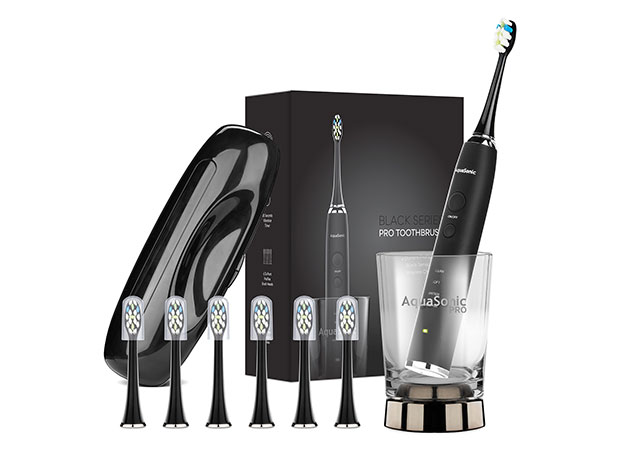 This professional-grade electric brush adds a classy touch to your countertop thanks to its wireless charging glass. You can use the glass to rinse your mouth after you're done brushing, then drop the brush's handle in the glass for a quick charge. The six adaptive brush heads clean your gums, polish your enamel and knock debris from the small spaces between your teeth, and the smart vibration timer helps you clean each section of your teeth equally.
MSRP: $99.99
Sale Price: $69.99 (30% off), $59.49 with SEMIANNUAL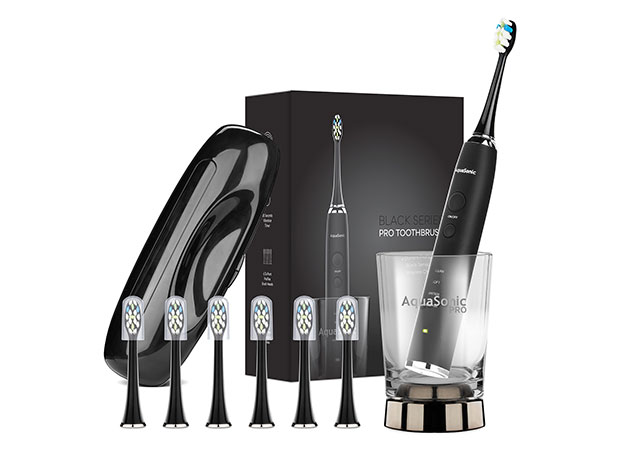 Like these deals? Check out Vault, the best way to secure your online data for just $9.99/month.