Facebook's transparency report for the first quarter of 2019 reveals more data than ever on the social network's constant battle against spam and fake accounts.
The number of fake accounts the social network deleted over the first three months of the year is already higher than last year. At 2.2 billion, this figure is almost four times higher than the 583 million fake accounts it removed over the same period a year earlier.
The 2.2 billion record is also significantly higher than the last quarter of 2018, which saw 1.2 billion fake accounts deleted — and is just less than the 2.38 billion people Facebook says use the platform every month.
The social network says that most fake accounts are automatically discovered and deleted within a few minutes of being created, so do not get chance to appear in the monthly active users stat (known as MAUs). As a result, Facebook estimates that just five percent of its active monthly users are fake— however, this still means about 110 million fake profiles are registered as active users. Diving 2.2 billion fake accounts by the 90 days of the first quarter of 2019, you get 24,444,444 fake accounts deleted per day, or 1,018,518 per hour.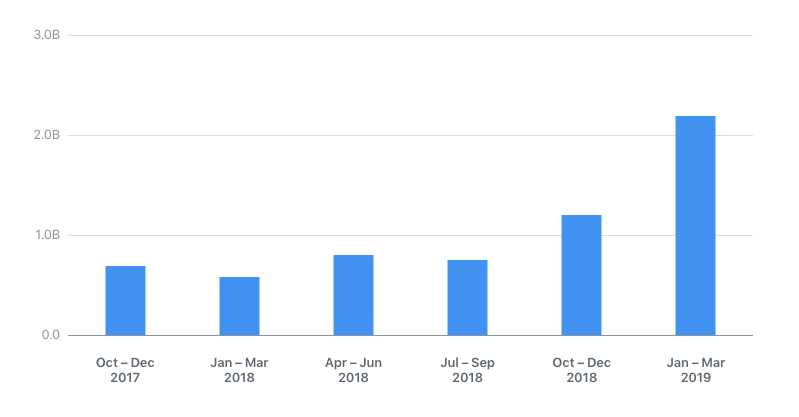 There was a huge spike in fake accounts shut down in the last quarter. (Facebook)
Facebook said of its fake account detection procedure: "We prioritize enforcement against users and accounts that seek to cause harm and find many of these fake accounts are used in spam campaigns and are financially motivated."
The social network added: "We expect this number to vary over time because of the financial incentives for adversaries to create fake accounts. Our detection technology helps us block millions of attempts to create fake accounts every day."
As has long been known, Facebook has a problem with accounts used to attack others, and admits this as well. "We've seen a steep increase in the creation of abusive, fake accounts on Facebook in the last six months...automated attacks have resulted in more of these accounts making it past our initial detection, which increased prevalence," said the company.
Finally, Facebook says the vast majority of these fake and abusive accounts were deleted before users reported them. For the first quarter of 2019, the company claims 99.8 percent of violating accounts were actioned on before being reported. This is up from 98.5 percent a year earlier.