I'd never seen my 74-year-old mother cry like she did the day I played her, "Baraye," the song written by Shervin Hajipour, in support of the Iranian protests that began last September following the death of 22-year-old Mahsa Amini. Hajipour posted the song, which became an anthem for the Iranian Revolution, on Instagram Sept. 28, 2022. The song, which went viral with over 40 million views within 48 hours, is now up for a new Grammy award. 
On Sunday night's Grammy Awards telecast, millions of Iranians in America and around the world will tune in to watch the ceremony, specifically for the category of Best Song for Social Change.  
The Recording Academy announced in October that they would offer an award in this new category, for a song "that responds to the social issues of our time and has the potential for positive global impact." In an interview with NPR, singer-songwriter and Recording Academy member Maimouna Youssef said "Baraye" was the leading candidate for the award. 
Hajipour constructed the lyrics of "Baraye" – "For" or "Because" in Persian – from the many tweets by his fellow Iranians explaining their reasons for joining the protests. 
For dancing in the streets
For our fear when kissing loved ones
For my sister, your sister, our sisters
For the changing of rotted minds
When I played it for my mother over breakfast in our kitchen a few weeks into the protests, she was wary. Every time I had mentioned the protests the previous days, she had changed the subject. When I'd press her on it, she'd say, "They'll just continue to kill people until the protestors stop. Nothing will change." 
"Why do you keep pushing? I told you; I don't want to talk about it."
But I wanted more, I wanted her to talk to me about this revolution. I wanted her to be as enraged and defiant as I was about what was happening. So, I played her the song to elicit the reaction I wanted.
In 1979, when I was 8 years old, my family fled Iran because of the revolution. Once my parents saw that Iran would be controlled by a theocratic authoritarian regime, they decided not to go back. They never talked about that time — the protests, strikes and violent government crackdowns — nor did they tell me about the decisions they had to make or the things they saw.  
So I played the song, even though my mother didn't want to hear it. Once the song began, she covered her face with her trembling hands, and her body began shaking. Finally, sobbing, she erupted at me: "Why do you keep pushing? I told you; I don't want to talk about it."
"Why? Tell me why," I said softly, "please."
She went on to explain the horrors she'd witnessed during the 1979 Revolution. She told me about friends who were killed or jailed, whose families' lives were destroyed, and entire communities, including many of her and my father's family, displaced around the world. She'd pushed those images and thoughts deep down and wanted to keep them there. I cried with her for some time, understanding a part of her that I'd never seen. Then I changed the subject. 
A few days after the release of "Baraye" in late September, Hajipour was forced to take the song down and arrested by the Iranian regime.  The 25-year-old pop singer and songwriter's arrest amplified the popularity and message of the song, highlighting the injustice of the Iranian government's actions.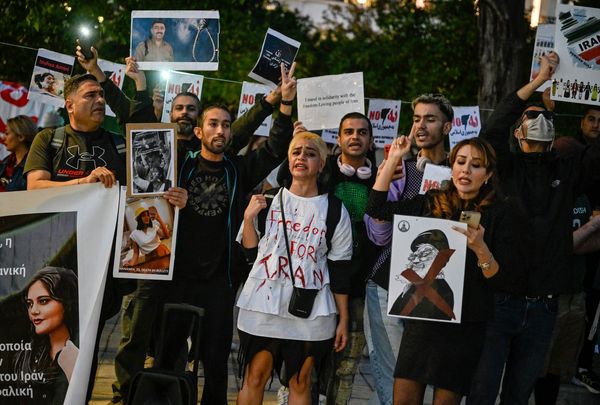 Iranian refugees and Iranians living in Greece hold placards while singing the Iranian protest song of Shervin Hajipour during a demonstration to commemorate 40 days from the death of Iranian Mahsa Amini while in police custody in Iran, in central Athens on October 29, 2022 (LOUISA GOULIAMAKI/AFP via Getty Images)
Shortly after his arrest a campaign on TikTok urged users to nominate "Baraye," for Best Song for Social Change. It received 95,000 – or over 83% – of the 115,000 total submissions for the award. When Hajipour was released on bail Oct. 5, he posted a message on Instagram thanking his millions of supporters and conveying his love for Iran and saying he would not leave his country. In his message, he also denounced the use of his song for political benefit outside of Iran, which some suspect was forced by the Iranian authorities.  
"For woman, life, freedom ..."
A portion of the Iranian community, especially the older generation, have stayed mostly silent during the months of protests and killings of Iran's youth. Not because they don't support the bravery of the millions of people, especially young women, that have stood their ground in the face of horror and death on a daily basis, but because any hope they had was dissipated by seeing over four decades of violence and injustice in their homeland.
But one thing unites the Iranian people, the old and new generations, in Iran and around the world, and that is the recognition of the bravery of the women and men fighting every day for the freedoms that Hajipour's song, "Baraye," so adeptly and beautifully reveals.
For the feeling of peace
For the sunrise after long dark nights
For the stress and insomnia pills
For man, motherland, prosperity
For the girl who wished she was born a boy
For woman, life, freedom
The 65th Grammys will air Sunday, Feb. 5 at 8 p.m. ET/5 p.m. PT on CBS and stream live on Paramount+.