"Improvise." That's the advice that English officer Harry Chase (Jonah Hauer-King) receives in the penultimate episode of PBS' World War II drama "World on Fire," created by Peter Bowker, who called the conflict "our foundation myth." 
In the season finale airing Sunday, May 17, Harry will have to put that dubious advice to the test during his so-called suicide mission when he's dropped by air behind the Polish border in hopes that he'll meet his Resistance contact. The series follows the lives of various families and individuals like Harry, who are pushed to act in unforeseen ways as Hitler's forces move across Europe. 
"This series doesn't really make heroes and villains in the story," Hauer-King told Salon. "Generally speaking, I think it shows the light and the dark of everyone and especially in such extreme circumstances. I think it's important for people to take a step back and consider what it's like for people without judging too quickly."
The actor conducted the interview by phone from his home where he's been sheltering in place during the global pandemic. Although our real-life health crisis cannot be compared to the atrocities and millions of lives lost in war, the actor does see certain thematic parallels in how people have reacted and often rallied.
"I wouldn't want to make a direct comparison, but certainly it seems pertinent, given that 'World on Fire' was studying the way in which  societies around the world were coming together in the face of something very dangerous and disruptive and life-changing," the actor tells Salon. "Our show is about looking at normal people and and their extraordinary stories. And I think even through this crisis, there have been so many of those – during such a frightening and often challenging time and seeing acts of kindness and friendship and how people are so strong in the face of something that feels so massive and frightening. It feels quite resonant in that way."
Also, young people have been tested with more adult responsibilities and preoccupations than usual, much like what happens in wartime.
"What Peter Bowker did really interestingly was he looked at the way in which people and young people in particular tried to cope with not only the massive crisis that was happening around them, but also trying to make sense of who they were, and going through all the things that a normal teenager or a young adult goes through," said Hauer-King. "It is different, of course, but there are issues of how you navigate friendship and relationships and adapting to something that wouldn't usually experience. I imagine a lot of the younger generation now may well come through this more mature and have to grow up a lot faster than they would have done otherwise because they're having to face some quite extreme circumstances. That was certainly true of the characters and the stories that we were telling in 'World on Fire.'"
The life left behind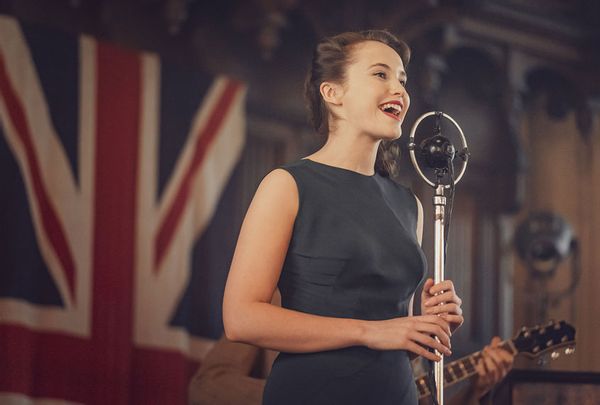 When viewers first met Harry, he seemed to be a golden boy, a good-looking and idealistic guy who had left his girlfriend Lois (Julia Brown) behind as he took a translator's job in Poland. There, he fell for and eventually married Kasia (Zofia Wichlacz), but she stayed behind when Harry returned to England. A brief reconciliation with Lois led to her getting pregnant, even as she declared that she'd not get back together with Harry.
"The love triangle, which obviously is at the heart of the story, was definitely the biggest challenge because . . . whenever someone is compassionate you want to defend them and rationalize their behavior and root for them and almost try to make Harry the hero that he really isn't," said  the actor. "He's really flawed and showing that there was a lack of decisiveness and a lack of clarity led him to behave quite badly at times. But it's very liberating. If you just tell this story of the love triangle truthfully, it's a messy, difficult thing and shows his darkness. It gives him a bit more complexion."
Now, going into the finale, Harry is about to go on his mission back to Poland as Lois is poised to give birth with no intention of marrying him. Part of Harry's growth is accepting her decision.
"A lot of the growing up that Harry does through the course of the series leads him in two directions. It leads him first to a place of wanting to respect Lois and respect her wishes. And I think that shows a much more mature version of himself," said Hauer-King. 
"But the growth he has throughout it also take them away from this boy and into a man. I'm fascinated to see what happens in the second series because . . . he has this newfound sense of duty towards his child and doesn't want to be the kind of selfish, reckless man who has no interest or input."
Mission impossible: A reunion with Kasia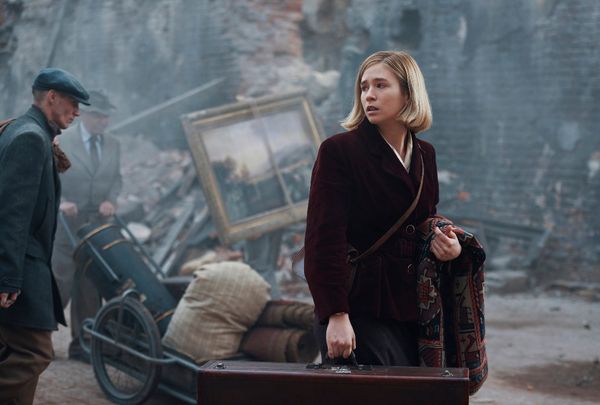 Harry never had to agree to being recruited for his mission. He had already endured hardship in the military and returned home safely, and he couldn't know at the time that he was destined to go back to Poland, where he had left his bride Kasia behind. Hauer-King feels that something else is driving Harry other than a sense of duty to the Allied cause.
"It wasn't as simple as saying Harry is brave and courageous and stoic and dying for his country. I think it's a little bit more complex," he said. "He's someone who at the beginning of the story is, we meet him and he's very flawed. He has a lot of humanity I think and compassion. But he is also quite impulsive and narcissistic and and, and reckless. I think part of the reason for that is that he didn't have a purpose and he didn't have an outlet for a lot of that."
After Harry had traversing the country to lead a group of shell-shocked men to Dunkirk, he had grown to be a leader, someone who is willing to put himself out to help others, a far cry from the privileged young man he was raised to be.
 
"It's a double-edged sword when he gets recruited for this new mission. On the one hand, it's a positive because I think part of the reason why we show him growing up is because he starts becoming more selfless. He looks after those soldiers in Episode 5, and I think that allows him to really to grow and to evolve. But at the same time, Harry is aware that he's caused a lot of pain. So I think part of signing up for a mission like that was still a little drop of that recklessness going, 'I've messed up and I've hurt people and I'm just going to throw myself into this in a kind of slightly self-destructive way.' So he's still not the whole way there."
Throughout Harry's experiences in England and France, Kasia has been enduring life under Nazi occupation in Poland. After witnessing the murder of her mother by a soldier, Kasia lost her innocence quickly and soon began to pick off the the Nazis one by one by luring them in and having a partner dispatch them. Now that Harry is returning to Poland, it's possible that the couple will finally reunite. But it remains to be seen if he would be able to accept the woman she has become.
"I do think that there is a very sensitive and mature part of Harry that would completely understand, in the sense that he understands that there are gray areas," said Hauer-King. "He should know better than any that difficult decisions need to be made to survive and to protect you. You have to make questionable decisions. But I also think that what Kasia has been through is so extreme, and no matter how empathetic he is, that may well be something that no matter how hard he tries, he can't connect with her in the same way."
"If the two do come together, I think it's interesting to see whether or not that that spark and that connection and that bond is still there because they've both been through so much. They both changed so much. It definitely leaves it very open. Everything is changed, and everything is different."
Looking to Season 2 and the future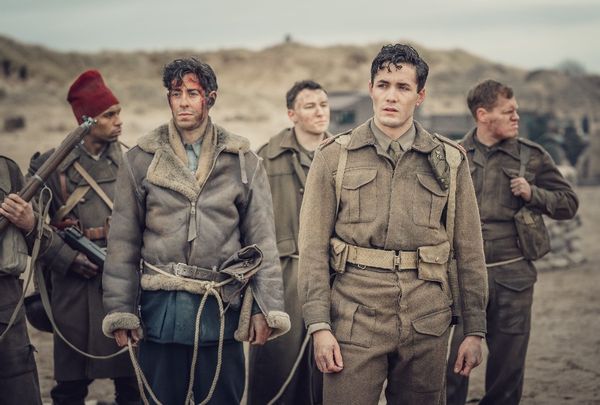 "World on Fire" was already renewed for a second season, which Hauer-King is eager to start. Unfortunately, because of the massive cast and crew necessary to depict the subject matter, production is on hold until it's safe to have people together for the undertaking.
"It's off the books right now, but I know that they remain fully committed to making it. I've spoken with the writer, with Peter [Bowker] in the last week and he's been giving me updates. The scripts are very much in the works. As to when we actually start shooting is anyone's guess. Unfortunately, I think you know, this this crisis has thrown up all kinds of issues. It's big crews, big sets, so yeah, we'll just have to wait and see when we get the green light."
Even though he's not currently on set, Hauer-King hasn't been sitting idle at home. After being cast as Prince Eric in Disney's upcoming live-action "The Little Mermaid," he's had plenty of time to study his part. 
"I know that script so well now. I've had so much time," he said. "I could do every part. I could do I could say everyone's lines."
He's also been working on his own creative endeavor: a screenplay. "I feel like every actor is going to have their screenplay coming out of this, their corona screenplay. Mine's not about the virus, I can assure you," he said. 
Although Hauer-King wouldn't divulge the specific subject matter, it does fall into the historical genre, of which he's had experience. Besides starring in "World on Fire," he's also been in plenty of other big period pieces including "Little Women" for Masterpiece and "Howards End" for Starz.
"What is it about these characters that we're connecting with 50 years or 100 years on? And how do they feel alive and vivid and contemporary?" he said. "So that's been really interesting to go over lots of period adaptations and trying to make sense of why they work. That's been a big part of it for sure."
Then again, he could always take a stab at updating "World on Fire" Season 2 with contemporary technology to overcome the self-isolation.
"It might just be one long Zoom meeting. The first episode might be Harry getting to grips with it, and and and by accident during a three-way Skype call with Lois and Kasia."
"World on Fire" airs its season finale on Sunday, May 17 at 9 p.m. on PBS.