Following the tremendous success of Netflix's "Squid Game," costumes inspired costumes are all the rage this Halloween season.
It's easy to see why. Ranging from tracksuits to jumpsuits (so many suits!) the appeal of "Squid Game" costumes has been twofold, driven by the show's popularity and the ease and simplicity of recreating these looks.
But the costumes aren't appealing to everyone. The Fayetteville-Manlius district in New York has said these costumes "do not meet our school costume guidelines due to the potential violent message aligned with the costume," CBS New York reports. Three elementary schools in Syracuse have explicitly banned "Squid Game" costumes from school Halloween events. CBS also reports that schools in Ireland and Spain have also banned these costumes.
RELATED: "Squid Game": The real debt crisis shaking South Korea that inspired the hit TV show
Of course, these policies haven't gone over so well with some parents who spoke to CBS New York about the "overbearing" policy. Dr. Joseph Ricca, superintendent in White Plains, New York, told the outlet "Squid Game" costumes won't be banned in his schools, calling the costume ban a "slippery slope," and noting that some costumes that mimic historically violent people like pirates (or, hey, police officers!), aren't subject to the same rules. 
"We understand that different types of costumes have different types of experience and historical connections, and it's hard to single out one particular type of costume and say that's not allowed," Ricca said.
In the dystopian thriller the impoverished and desperate contestants who play deadly games for a chance at a huge cash prize wear simple and now iconic green tracksuits. Very easy, not to mention comfortable to wear, especially for groups of friends. Of course, most of those characters wind up shot dead by guards, falling from a great height or offed by a fellow competitor.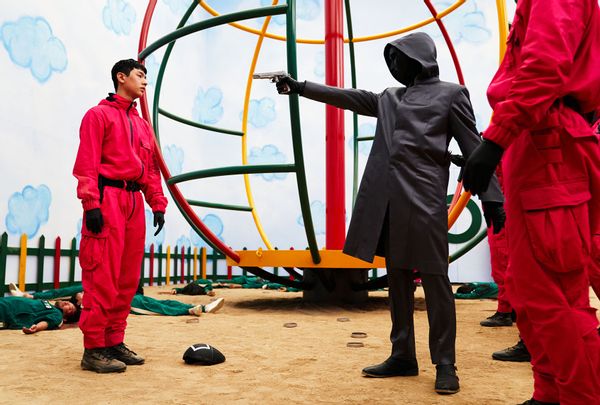 Front Man punishes a worker who broke the "Squid Game" rules (Noh Juhan/Netflix)
If that's not your thing, then you can dress in the hot pink jumpsuits of the workers who keep the contestants in line (with guns) or as the bloodthirsty VIPs, who bet on the outcome of the games while wearing elaborate and sparkly animal masks. 
Yes, most of the characters on the show kill or are killed; there's no denying "Squid Game" is one of the more violent shows streaming right now, but children and adults can wear the costumes without watching the show.
---
Want a daily wrap-up of all the news and commentary Salon has to offer? Subscribe to our morning newsletter, Crash Course.
---
It's worth noting many if not most Halloween costumes are derived from violent characters, traditions or histories in some way or another, so it's interesting that imagery from a popular Korean drama is where some schools in New York are choosing to draw the line. 
In any case, school bans on "Squid Game" Halloween costumes aren't the first controversy around them. Some have speculated about how in some cases, non-Asian people donning the costumes could be a slippery slope to cultural appropriation. In other cases, exorbitantly wealthy and powerful people wearing the "Squid Game" costumes of the show's impoverished has also raised eyebrows for tone-deafness.
As a worldwide phenom, "Squid Game" has been sparking powerful conversations about capitalism, Korean culture and language since its release last month, and the buzz doesn't appear to be letting up any time soon.
More stories like this: