"Skinamarink,"  the experimental and somewhat plot-less horror film by Kyle Edward Ball that was just released on Shudder, is being lauded by many viewers as the scariest movie ever made. But for some, including myself, a movie that centers on waking up in your home as a child to find your parents missing feels more like a wish fulfilled than anything else.
Made with a budget of only $15,000, and filmed in the Edmonton, Alberta home Ball grew up in, "Skinamarink" premiered at the Fantasia Film Festival in July of 2022, but really accumulated buzz when "hackers broke into the streaming platform of a European genre festival," according to Vulture, and a leak of the film began to circulate online prior to its official release.
I first learned of the film back in November when I saw a tweet from Jane Schoenbrun, writer and director of the fantastic "We're All Going to the World's Fair," in which she sang its praises. Being that I enjoyed her film so much, I sought out the leak and prepared to be scared to death. Wanted, in fact, to be scared to death. But at the end of its one hour, 40 minute runtime I came away thinking, "Yeah, that's about right," because what I saw didn't feel scary, it felt like something I'd already lived through.
"Skinamarink" is an effective take on horror, despite its mixed reviews, and I'm sad to feel like I'm missing out on the fun of it as a lover of horror, but watching two young siblings camp out in front of a television while trying to enjoy their cereal as strange things happen around them isn't scary for someone whose mom once intentionally stopped short in her Jeep to send her kid through the windshield after she was caught sneaking off to the mall one random day. This movie asks the question, "What if you woke up and your parents were gone?" If you'd have asked me that in 1995, when this film takes place, I would have replied, "Thank God!"
The trailer for "Skinamarink" starts off with an ominous voice saying, "In this house," and it – in a very Christina Crawford saying, "Jesus Christ!" in "Mommie Dearest" way – makes me think of my own childhood house, in which I experienced the truly scariest thing that's ever happened to me. 
---
Want a daily wrap-up of all the news and commentary Salon has to offer? Subscribe to our morning newsletter, Crash Course.
---
As a child, after some sort of argument with my mom; I think it was over something I'd been begging for at the grocery store; she decided to punish me by making me kneel in the corner of my dark bedroom, with my eyes closed. As I was doing so, I opened my eyes and looked over to the right of me, to the crack between the wall and the door, and saw my mom on her knees peering in at me from the hallway. When I looked at her, she didn't change expressions, she just stared back. I think of that moment sometimes and wonder how long she was there, waiting for me to notice her. I realize now that the real punishment wasn't the kneeling in the darkness, it was the part where she scared the s**t out of me. But she gave me a gift by doing things like that all through childhood. Nothing scares me now.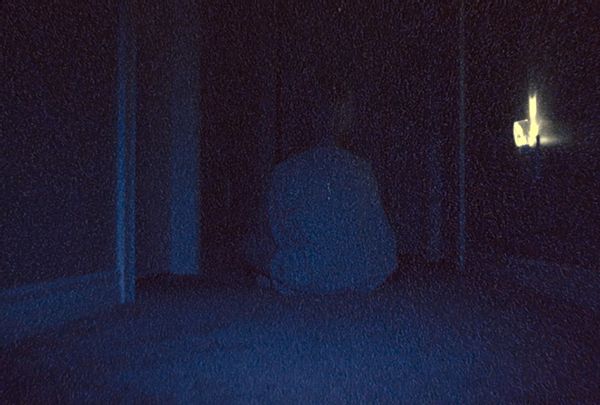 Still from "Skinamarink" (Courtesy of Shudder)
"Skinamarink" has a feel to it that's somewhere in between David Lynch's "Inland Empire" and the "Mirror, Father, Mirror" scene from "Ghost World." 
With its title derived from the nursery rhyme of the same name, it builds tension by mixing elements of childhood such as saccharine cartoons played on a tube television and heaps of colorful Legos strewn about wall-to-wall carpeting with unexplainable events that would be confusing at any age. 
First the kid's mom disappears, then their father, shortly followed by the disappearance of the home's windows, doors and toilet. As the siblings in the film, Kevin (Lucas Paul) and Kaylee (Dali Rose Tetreault) fend for themselves and make do, malevolent voices guide them from one part of the home to the next.
One scene in which a voice tells Kevin to stick a knife in his eye comes so out of nowhere that it actually made me laugh out loud. Moments like these, although sporadic, expose creator Ball's desire to make this into something it never really becomes. At least for me. But, maybe in this instance, be glad you're not me?
In a more recent tweet, from Jan. 29, Jane Schoenbrun writes a long thread about the film that made me look forward to watching it properly, meaning not from an illegal leak.
"This is a Memory Film drawing influence from the liminal internet's 'cursed image' aesthetic. We are being told to watch SKINAMARINK like a hazy memory," Schoenbrun writes.
I guess that all depends on who's doing the remembering. 
Even after my second watch, "Skinamarink," at best, felt like a really long #backrooms video, the sort made popular on TikTok, but overall I'm left remembering things best left as fodder for someone else's favorite new horror movie.