James Cameron knows better than you do.
He knew nobody asked for a sequel to "Avatar," but he also knew we were bored enough to make it rain on "The Way of Water." Now it's close to raking in $3 billion worldwide. Suckers.  
While a few Earth's billionaires raced to space in their custom-built phalluses – so basic! – Cameron constructed a submersible dong that took him to the bottom of the Mariana Trench, getting all up in those guts long enough to discover three new species of sea creatures.
And you want to question him about whether Jack could have fit on that raft with Rose at the end of "Titanic"? You doubt this guy? A goddamn National Geographic Explorer-In-Residence?
How. Dare. You.
Don't let the "Avatar" director's level genial demeanor in "Titanic: 25 Years Later with James Cameron" fool you, because that is the tense vibe pulsing right under the surface of this hourlong expedition.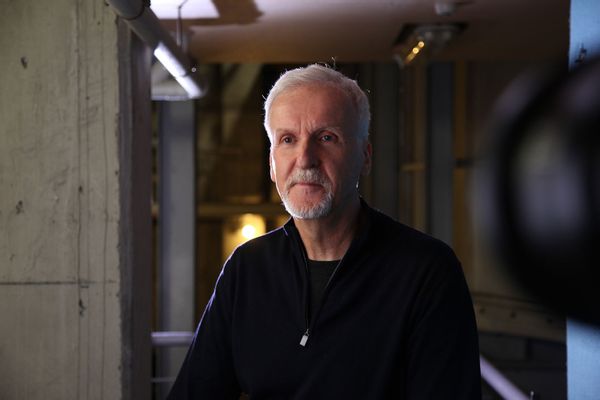 James Cameron at The University of Otago, School of Physical Education, Sport & Exercise Science. (National Geographic/Spencer Stoner)
On the surface it's a cheerful gathering of nerds dedicated to obtaining scientifically sound answers to two questions that bothered the director for 20 years: Did he portray the ship's sinking correctly? And, can he answer the question of whether more lives would have been saved if the ship had additional lifeboats? Spoiler alert: Of course he can. His team builds a lifeboat and rigging to scale to accomplish that.
But he knows the real draw is that musty Jack-and-Rose-on-a-door B.S. y'all have been up on.
For those who aren't up on this debate, for the last decade and a half at least, "Titanic" stans have posited that Jack, played by Leonardo DiCaprio, could have avoided his romantically tragic death by joining Kate Winslet's Rose on what looks like a wooden door. Amateurs have posted their theories and re-enacted scenarios that show Jack fitting on the door with Rose, safely awaiting rescue. A 2012 episode of "MythBusters" devotes itself to proving how Jack could have survived, if Rose had simply given up her life-vest to add to the wood's buoyancy. Celebrities like Roxane Gay and Keke Palmer have weighed in on the debate in favor of Jack's survival.
Anyway "Titanic: 25 Years Later" exists because the filmmaker is tired of you fools debating this. He is a man who is thinking seriously about colonizing Mars and founded a vegan school. He has created cutting-edge technology for conservationists to use in tracking wildlife. Do you get it? He does not have time for this.
And yet, he's so determined to deliver the final word that he hired two young adults of approximately the same height, age, and weight as Jack and Rose, and exposes them to potential hypothermia, filming their suffering all the while.
He knows the real draw is that musty Jack-and-Rose-on-a-door B.S. y'all have been up on.
It's scintillating viewing, if you don't think too much about the fact that you're watching two humans who took thermometers up their tooters subject themselves to possible organ failure, mainly because James Cameron would like the Internet to shut the hell up.
That's not why he's done this, he claims. But in introducing the segment his voice takes on a genuinely bothered sing-song cadence as he explains, "Fans of the movie have been going on endlessly about the fact that Jack could have lived if he could have gotten on that door. So let's test it."
Smiling like an anglerfish-like he adds, "Let's do some science!"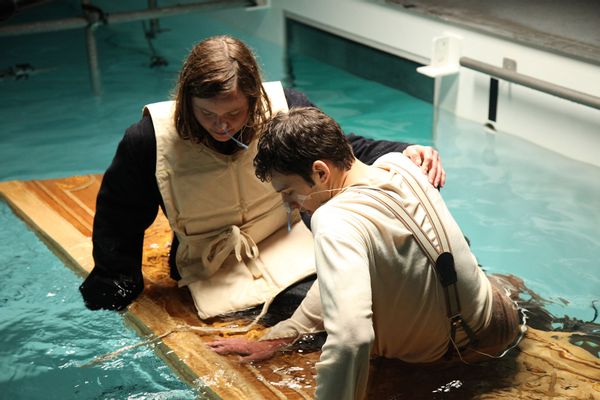 Josh Bird and Kristine Zipfel stand in for Jack and Rose as part of a hypothermia experiment. (National Geographic/Spencer Stoner)"Titanic 25 Years Later" is billed as the prelude to the remastered version of Cameron's Oscar winner returning to theaters, but anybody who's ever seen a rich man lose his shiz with the plebes recognizes a grudge project when they see it.
You could tell that much when he came before journalists at a Television Critics Association press conference in January to promote the special and curtly explained, "It's, technically, not a door. It's a piece of wood paneling from the first-class cabin."
Weh-HELL.
This isn't to say there isn't real joy in this special. Cameron opens the hour with his reunion with Dr. Robert Ballard, the naval officer who discovered the wreck of the Titanic in 1985, and it's plain to see the love these men share. Ballard appreciates Cameron for bringing the ship alive again. Cameron loves trading war stories with Ballard as they compare their separate undersea approaches to the wreck.
The folks who worked on the 1997 movie with him also seem to kick out of Cameron's exacting experiments requiring them to "rule in" his depiction of how the ship sank, although a few moments are decidedly tense. At one point he loses his temper.
"You're not following what I'm saying," he tells his assistants, crankily stalking off. All that drama is over an experiment to prove he got the angle right in the movie.
He applies the same passion to timing every step of readying the rescue boats, informing the men dealing with the ropes that it's OK to boss him and the other crewmembers around as if they were passengers that need to get out of the way. "Politely, of course," he cheekily adds, "because we're also, you know, rich passengers in the first class area of the Titanic."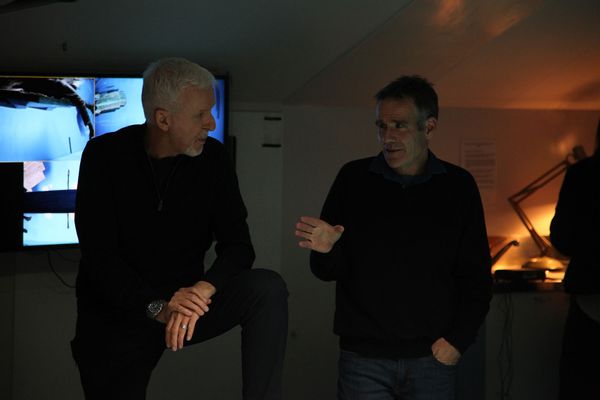 James Cameron discusses the impact of hypothermia on the human body with Dr. Jim Cotter at The University of Otago, School of Physical Education, Sport & Exercise Science. (National Geographic/Spencer Stoner)
Several times Cameron reminds us that it's impossible to prove what actually happened. He can only prove what might have happened, and unlike those sloppy "MythBusters" goons, he has plenty of money to throw at his curiosity.
Hence, the hour's pièce de résistance: Cameron, with an expert's guidance, subjects two Jack and Rose stand-ins named Josh Bird and Kristine Zipfel to conditions that induce the start of hypothermia.
This is all part of a controlled experiment inside a lab at New Zealand's the University of Otago where Bird and Zipfel, wearing Jack and Rose's costumes, are placed in 50-degree water along with a precisely recreated replica of the debris Rose floated upon.
---
Want more health and science stories in your inbox? Subscribe to Salon's weekly newsletter The Vulgar Scientist.
---
Their core temperature is monitored by three internal thermometers as they re-enact what happened to Jack in the film, then explored alternate outcomes to figure out if it were at all possible for Jack to have survived.
Cameron also admits, "There's a genuine element of danger to these experiments," but his dispassionate observation of Bird shivering uncontrollably somehow brings to mind a Bond villain.  ("Yeees . . . shiver, Jack. Shiver that Rose may live! Your heart will go on, but your blood flow is slowing. For science!")
Maybe that's not fair, since Bird and Zipfel must have been compensated for their troubles. Nowhere nearly as much as Leonardo DiCaprio and Kate Winslet, who were probably much warmer and are noticeably unbothered by this lunacy, but the point stands.
Jack and Rose never existed. Cameron reminds the audience that 1,500 real people died in that wreckage. "You get so into the forensics of how the wreck happened that you forget the people," he said.
It's true. But the 25th anniversary of "Titanic" hitting theaters is as good of a time to permanently sink silly irritants, especially over details that don't matter.
In the end, Cameron says he learned something important from Bird and Zipfel's sacrifice of comfort: "I would have made the raft smaller so there's no doubt."
"Titanic: 25 Years Later with James Cameron" airs at 9 p.m. Sunday, Feb. 5 on the National Geographic Channel, streaming the next day on Hulu.