When it comes to cupcakes, it's simple to take the easy way out. Who hasn't thought to themselves, "Why make cupcakes by hand when I can just pick up a pre-made batch at the super market?"
Interestingly enough, the most intimidating part of the process isn't even making the cupcakes themselves — it's icing them. With endless streams of perfectly-piped pastries on Instagram to judge our own handiwork by, it's easy to become intimidated.
But what if we told you that learning how to pipe like a professional pastry chef is easier than you thought? That's what Meghan McGarry, the owner of Buttercream Blondie who was trained at New York's celebrated French Culinary Institute under the guidance of legendary Dean Jacques Torres, revealed to us when she stopped by Salon's studio to spill her secrets for cupcake perfection.
Below are McGarry's six tips to achieving piping greatness, every time. Be sure to watch along with Salon's handy how-to video as the pastry chef walks you through each step.
It all starts with buttercream
McGarry prefers to pair American buttercream with cupcakes, but you can pipe like a pro with any buttercream that you love. McGarry has even shared one of her recipes with us below.
Consistency is key
Don't over-mix your buttercream. Mixing your frosting too much will cause air bubbles to form. Aim for a smooth consistency that is easy to pipe.
Tools matter
Skip trying to make a DIY piping bag and pick up a case of the real things. To create the perfect swirl for a cupcake, fit your piping bag with either a large star tip. (McGarry prefers an Ateco No. 825 or 826.) Next, fill your bag halfway with buttercream. Never over- or under-load it with frosting.
Outside-in wins the race
When you're finally ready to pipe buttercream on top of your cupcakes, begin from the outside of the pastry. Apply gentle pressure to your piping bag, and move in a circular motion toward the center of the cupcake. When you reach the middle, immediately release the pressure.
Add a statement piece
What's a cupcake without sprinkles — especially rainbow sprinkles, which are McGarry's go-to choice? Don't wait until it's too late to sprinkle your desired mix on top of your buttercream, otherwise you may be in for an unpleasant surprise. American buttercream sets very quickly, and you want the sprinkles to be stuck on the surface of the icing, so add that pop of color before it hardens.
Don't forget to have fun 
The number one issue McGarry witnesses in beginners is self-doubt. First and foremost, baking should be fun. Don't compare yourself to anyone else, Instagram included. Let it go, and start piping.
***
What are you waiting for? "Get practicing. Get a piping bag, it's really going to be helpful. And don't forget the sprinkles," McGarry says.
***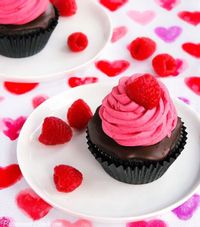 Ingredients: 
7 ounces unsalted butter
8 ounces cream cheese
3 to 3 1/2 cups powdered sugar
Pinch of salt
1.2 ounces freeze dried raspberries (Approximately 1 and 1/3 cups; I get them at Trader Joe's.)
Instructions:
1. In the bowl of an electric mixer, cream butter and cream cheese on medium speed for about 5 minutes.
2. Start adding 3 cups of powdered sugar, 1/2 cup at a time so you don't have a sugar shower, scraping down the bowl as needed.
3. Put freeze dried raspberries in a food processor and process until you have powder.