In the Manhattan and Brooklyn boroughs of New York, a quaint café has become a mainstay on the scene. Walls laced with verdant plants; wooden tables and rustic decor; and that "recognizable" blue and white floral print have become synonymous with the Maman brand.
Opened in 2014 by couple Elisa Marshall and Benjamin Sormonte, Maman's cozy, provincial café has won over New Yorkers and tourists alike. Coveted pastries and desserts like pistachio loaf cakes, matcha blueberry tartelettes and — one of Oprah's favorite things — the nutty chocolate chip cookies were once only available at the café's 11 locations. Now, the owners are giving fans the opportunity to bring those tastes of comfort into their homes. 
In "Maman: The Cookbook: All-Day Recipes to Warm Your Heart,"Marshall and Sormonte invite readers to enjoy the beloved café outside of their morning and afternoon outings by making its Southern France-inspired delicacies in their own kitchens. For Marshall, there was no better time than now to appease patrons who'd been begging for the lauded recipes.
"Everyone wanted to make a little piece of Maman home," Marshall told me. "I think the nice thing about being in New York is that there are so many tourists from all over who are coming here. It's also a tough thing because people come and try items and love them, and they want to be able to experience it again at home. So, it was kind of serendipitous timing for us that we started the whole process." 
RELATED: How animators brought a classic Italian pasta dish to life on screen in Disney and Pixar's "Luca"
Marshall and Sormonte considered producing a cookbook for years, but the realities of running a business in one of the most competitive cities on earth presented a challenge for completing such a time-consuming project. Then the pandemic hit.
For Marshall, the opportunity to bring Maman to those stuck at home in New York, plus fans outside of the city who'd only been able to indulge in the café during tourists visits, was something she simply couldn't pass up.
"I think that the pandemic brought a newfound love and appreciation for so many for cooking at home," Marshall said. "We're super excited that we're now able to expand the offerings at Maman for those who cannot come and be in New York. They can try some of our classic recipes in their own kitchens."
The cookbook's recipes range from ones that are more complex like the summer vegetable spiral tart or the white chocolate, blueberry and lavender naked cake to those that are a bit easier to craft such as the sweet corn soup. Throughout the book, traces of the owners' commitment to sustainability shine. A tiramisu recipe makes use of day-old cookies, and there's also a section on repurposing leftover croissants. These suggestions touch an array of recipes, pointing to their efforts to reach a wider audience.
---
Want more great food writing and recipes? Subscribe to "The Bite," Salon Food's newsletter.
---
"It's not really geared towards one audience," Marshall said. "I wanted it to be family friendly — something you can get your kids involved in — but then also give a challenge to those who have a bit more skills in the kitchen."
Maman, which also has locations in Canada, has achieved rapid success, in part thanks to the rustic and unpretentious atmosphere of each location. As a New Yorker, I've found myself taking a slow morning to read the paper over a slice of the nutty pistachio loaf and a lavender latte or meeting with loved ones over Maman's papa's breakfast bowl. Each visit has felt like an opportunity to step away from the hustle and bustle of working in the city by recharging through community and thoughtfully crafted food. I, like many other patrons, have often wondered what it would be like to bring some of those favorites to my kitchen.
"I had a lovely note written to me from a customer down in South Carolina," Marshall said. "[He said,] 'I come to New York every single year, and I look forward so much to your pastries and your cookies — and I haven't been able to go for the past year. I'm so happy I'm able to recreate all of my favorite dishes and have that little moment from New York brought to me.'"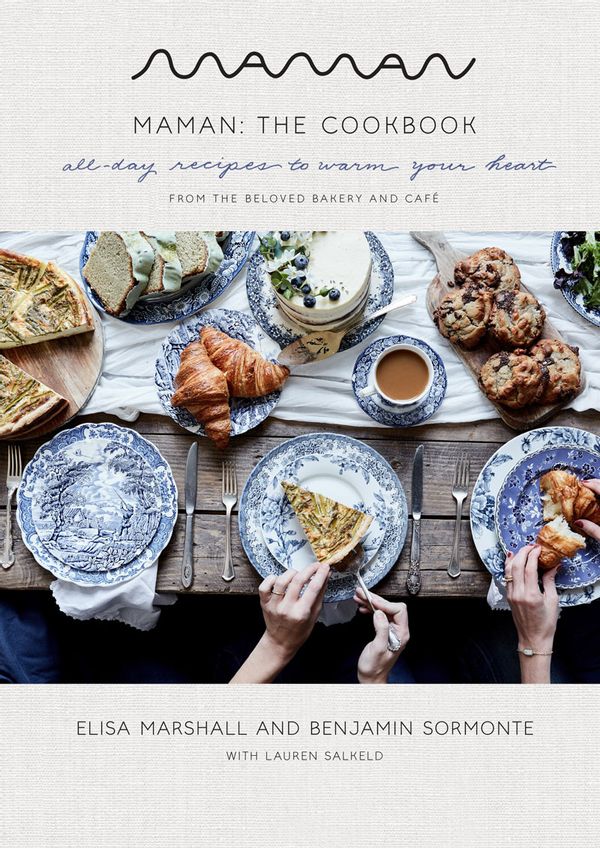 "Maman: The Cookbook" by Elisa Marshall and Benjamin Sormonte with Lauren Salkeld (Linda Xiao/Clarkson Potter/Penguin Random House)
Given the diversity of customers, Marshall and Sormonte were eager to make the cookbook accessible, as well as something that could truly be each person's own. Every page has a notes section, giving readers the opportunity to jot down the flavors they love and perhaps those they like to change. Leaning into the traditions of grandmothers and elders who often wrote recipe notes on notecards or passed along tips orally, the couple made a book true to their values and true to the needs of readers all over the world.
"I feel like modifying recipes is something that everybody does to really suit your taste preferences and needs [. . .], so that's why every little section has a note page to really customize it like your mom used to do for your family's taste preferences," Marshall said. "What we wanted to do in this book was really allow people to make it their own."
I took her advice while prepping my first autumn meal of the season — a delightful delicata squash, taleggio, arugula, and hazelnut foccacia. Thanks to a late Sunday trip to Eataly, I opted to use a smaller amount of foccacia than the recipe calls for, as the small amount was all that was left in the store for the day. The dish turned out remarkable. The taleggio's taste amplified the foccicia's lightly crisped exterior and the autumnal delicata squash — free from overwhelming amounts of cheese — was able to truly shine. I'm certain that this will be among many Maman recipes in my new repertoire.
***
Recipe: Delicata Squash, Taleggio, Arugula, and Hazelnut Focaccia
Serves 4
1 large delicata squash (about 1 pound 2 ounces / 500 g), seeded and cut crosswise into rings 1/4 inch (5 mm) thick
3 tablespoons maple syrup
1/4 cup plus 1 tablespoon (75 ml) extra-virgin olive oil
1 1/4 teaspoons fine sea salt
1 cup (25 g) packed fresh flat-leaf parsley leaves, finely chopped
1/2 cup (68 g) skinned hazelnuts, roughly chopped
1 (12 × 9-inch / 30 × 23 cm) piece focaccia
9 ounces (252 g) Taleggio cheese, cut into thin slices
2 cups (88 g) packed baby arugula
1. Preheat the oven to 350°F (180°C). Line a sheet pan with parchment paper.
2. In a large bowl, toss the squash with the maple syrup, 1 tablespoon of the olive oil, and 1 teaspoon of the salt. Spread in an even layer on the prepared sheet pan and bake until tender and easily pierced with a fork, about 20 minutes. Set aside to cool and increase the oven temperature to 400°F (200°C).
3. In a small bowl, stir together the parsley, hazelnuts, and the remaining ¼ cup (60 ml) olive oil and ¼ teaspoon salt.
4. Set the focaccia on a sheet pan. Spread the parsley-hazelnut mixture in an even layer across the entire surface. Arrange the squash rings on top, overlapping them to cover the focaccia evenly. Spread the Taleggio slices evenly across the focaccia and bake until the cheese is completely melted and the focaccia has crisped, about 10 minutes.
5. Transfer to a wire rack and let rest for 10 minutes. Cut the focaccia into 4 large squares, then halve each square diagonally. Top with the baby arugula and serve warm.
Read more "Tastes of Comfort":