Bob Odenkirk is amply aware of his good fortune.
During his Tuesday appearance in Pasadena, California as part of a Television Critics Association press conference for his new AMC series "Lucky Hank," Odenkirk marveled at feeling like "this weird little baby bird at the age of 59, like, 'Hey everybody!  What are we doing today?'"
The actor could have been referring to a workday on the set of his new AMC comedy but, no. He was describing the euphoria that engulfed him after he recovered from the heart attack he suffered while filming the sixth and final season of "Better Call Saul."
The actor collapsed in July 2021 while filming "Point and Shoot," the episode that resolved a midseason cliffhanger in which a major character left the show horizontally. But at his first in-person TCA appearance since that drama ended, Odenkirk described the way his life has changed after that health scare as an ongoing process.  
"I'm still in the middle of it," he told the reporters assembled in Pasadena, describing the weeks of production after his return from work on Saul as having a "strange kind of blank slate quality.
"I'll just acknowledge it, it happened pretty fast," said Odenkirk about "Lucky Hank."
"Literally, I couldn't remember any of it and even had a hard time making memories for a couple of weeks afterward," he continued. "Some people say it was like a mechanism, like a self-protective thing that your body does, but I don't know.  Everyone has different experiences with those kinds of things.
"For me, I think it's still resonating in my life, but . . . that's a very serious subject to me right now, is trying to balance work-life balance. Because I don't think I've figured it out yet, and I didn't figure it out at the time. And I have to do a better job because we don't get to carry on forever. We just don't."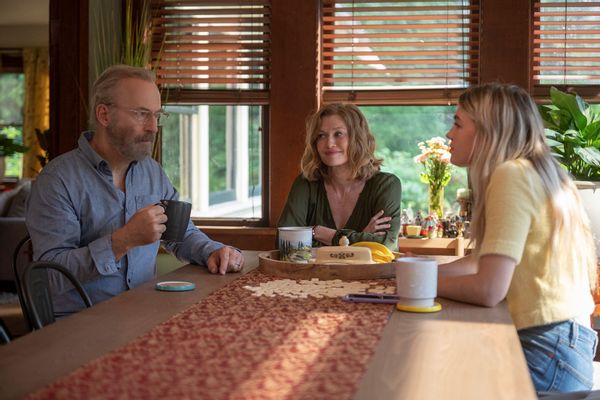 Bob Odenkirk as Hank and Mireille Enos as Lily in "Lucky Hank" (Sergei Bachlakov/AMC)Odenkirk was speaking to reporters to promote his new comedy "Lucky Hank," which AMC picked up straight to series in April 2022 – right in the midst of the curtain-closing run of "Better Call Saul."
While it's not unusual for in-demand actors to leap directly from one long-running show to a new one, the fact that Odenkirk is doing that right after spending most of the last decade and a half playing Saul Goodman on "Breaking Bad" and "Better Call Saul" probably surprises some of the fans who were shocked by the news of his collapse during production.
Odenkirk says that he returned to the "Better Call Saul" set after five weeks of recovery, which he says was enough. "And then they were very careful about giving me not too much work to do. But it was hard. It was really hard," he admitted. "After about eight hours of shooting, I'd get tired. And then the season ended, and then all the promotion for that season, and I did this wonderful trip with my family that I had been waiting for for years."
Still, he said, the distance between the possibility of starring in "Lucky Hank" and having the show become a reality was shockingly short. He says his wife and manager Naomi brought the script to him while he was still working on "Saul," whose critical acclaim and multiple award nominations over the years have ensured him a permanent place in AMC's golden ledger.  
Despite this, Odenkirk assured reporters he doesn't take that for granted. "You know, it's a gift if the network that's making your show wants it, really wants it badly. That's wonderful. It's a rare occurrence," the actor said. "But it was pretty quick . . . I'll just acknowledge it, it happened pretty fast. I mean, all that meant was that when I showed up on set, we had to find our way."
"I could've been a zombie," Odenkirk joked.
"Lucky Hank" is a more straightforward comedy than "Better Call Saul" ever was, which probably aided in his decision to jump into it so soon.
Adapted from Richard Russo's 1997 novel "Straight Man," the show's original title, it's styled as a workplace comedy ruled by intellectual snobbery. Odenkirk's character William Henry Devereaux, Jr. is worlds apart – psychologically speaking – from Jimmy McGill, Saul Goodman, or however people prefer to identify his Gilliverse con man turned criminal lawyer.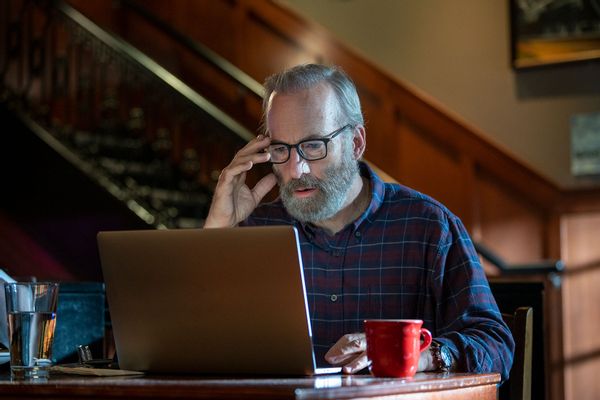 Bob Odenkirk as Hank in "Lucky Hank" (Sergei Bachlakov/AMC)Henry is the chairman of his college's English department, which would sound like a prestigious title in a random cocktail hour conversation. But he holds that position at a second-rate university located in Pennsylvania's rust belt, where he strains to overcome the blessed curse of tenure.  
---
Want a daily wrap-up of all the news and commentary Salon has to offer? Subscribe to our morning newsletter, Crash Course.
---
After Saul Goodman, Odenkirk seems to view Henry as a respite. "I like this guy.  As crabby as he is, he loves his wife," Odenkirk said. "Saul was really alone. I mean, he wanted Kim to love him, but she wasn't somehow going to. 
"I mean, they were never going to really be fully embracing each other. It was a tough guy to play," he added. "He was so alone. And so I like that this guy loved his wife and she loved him. I liked that he loved his daughter and even though they fight, she loves him. I like the humor of him. He's funny, and he knows he's being funny."  
That may be, but Hank is also similar enough to other figures one can envision Odenkirk embodying – certainly more than other post-"Better Call Saul" roles he could have been offered at AMC.
"I could've been a zombie," Odenkirk joked. "I could be any kind of zombie you want me to be."
"Lucky Hank" premieres on Sunday, March 19 on AMC and AMC+. 
Read more
about Bob Odenkirk