The Grammys, like all awards shows, giveth up to a point.
On Sunday night, at the 65th annual Grammy Awards, Beyoncé made history as the awards' most decorated artist ever. Her 32nd Grammy Award secured her historic place, breaking a record held most recently by composer Georg Solti with 31 Grammys. During Sunday's ceremony, Beyoncé took home trophies for Best Dance/Electronic Music Album for "Renaissance," Best R&B Song for "Cuff It," Best Traditional R&B Performance for "Plastic Off The Sofa" and Best Dance/Electronic Recording for "Break My Soul."
It was the category where she did not triumph that has left fans and music critics outraged. Once again, Beyoncé did not win for Album of the Year, a category she has never won, despite her numerous critically acclaimed albums, which have also been some of the bestselling albums of the years of their releases. This year, the trophy for Album of the Year went to Harry Styles for "Harry's House."
Fans called out Beyoncé's name and said she should have won.
Styles' third studio album, and his third to reach No. 1, "had the largest first week of 2022 for any album" in the United States, NME reported. It was also criticially lauded. Rolling Stone called it "at once elegant and more refined but also warmer and more intimate" while Pitchfork said in their review, the album was "deftly executed, with a surplus of style." Both reviews also commented on the "low stakes" feel of the album, as have other critics.
But for Styles' album to win over Beyoncé's lauded seventh studio album "Renaissance," her first solo release since "Lemonade" in 2016, was a major upset, the biggest of the night, which caused some audience members to verbally protest when Styles took the stage to receive the award. Fans called out Beyoncé's name and said she should have won. Styles' acceptance speech didn't help matters; instead, he made it much worse.
Styles' speech
After winning the award, Styles' first word into the microphone (after spending some time hugging and speaking with a fan brought on stage) was "sh**." He then repeated it, "Well, sh**." He talked of being inspired by the other musicians nominated for Album of the Year in 2023, a category which included Adele, Bad Bunny and Brandi Carlile, along with Beyoncé and others. He added, "There is no such thing as best in music." But his parting words, said before relinquishing the mic to collaborators, were the most damning. "This doesn't happen to people like me very often, and this is so, so nice," Styles said. 
Immediately, social media erupted in protest. "'[T]his doesn't happen to people like me often' who, white british men?" one Twitter user wrote. Ashley K. Smalls posted, "Saying 'this doesn't happen to people like me very often' when a Black woman hasn't won that award since 1999 is crazy lol." Some fans objected that Styles is a queer performer, and as such, marginalized, but Styles has never spoken publicly about his sexuality, with some historically accusing the singer/actor of capitalizing on queer culture.
Billboard tried to excuse the comment by writing, "He likely intended 'people like me' to mean former boy band or teen-pop stars, in which case, he certainly wasn't wrong." But when it comes to white men, Grammys do happen to people like Styles quite often. 
Grammy history
White men — encompassing, as Yahoo! News writes, "bands and duos fronted by white men"— have won in the category of Album of the Year 32 times, almost half of all the years in the history of the Grammys. Counting Styles, it's now 33. Henry Mancini was the first white man to win the category back in 1959. He was followed the next year by Frank Sinatra, then Bob Newhart. Sinatra, Paul Simon and Taylor Swift have each won Album of the Year three times, as has Stevie Wonder.
Those are the only three Black women to ever receive an Album of the Year Grammy.
Wonder was the first Black artist to win the category in 1974. Only 10 Black artists have won since. In 2022, Jon Batiste won, the first Black musician to do so since 2008. Black female artists have not won in the category since Lauryn Hill won for "The Miseducation of Lauryn Hill" in 1999. Whitney Houston won for "The Bodyguard" soundtrack in 1994 and Natalie Cole became the first Black woman to win the category for "Unforgettable . . . with Love" in 1992. Those are the only three Black women to ever receive an Album of the Year Grammy.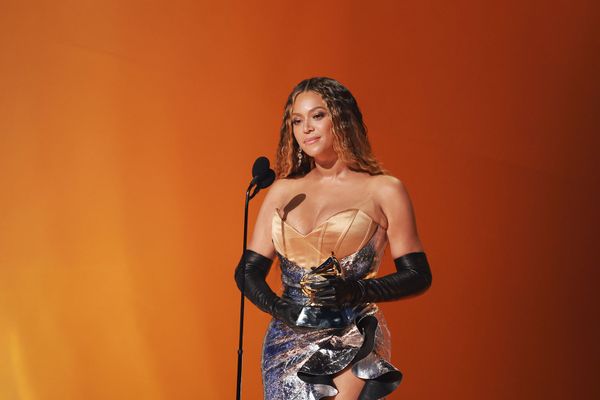 Beyonce at the 65th Annual GRAMMY Awards held at Crypto.com Arena on February 5, 2023 in Los Angeles, California. (Christopher Polk/Variety via Getty Images)Insider wrote in 2021, after Billie Eilish won over Megan Thee Stallion, "The Grammys only seem keen to reward Black artists in major categories when they're singing about activism or racial trauma: H.E.R. won song of the year for 'I Can't Breathe,' a direct reaction to George Floyd's murder; the only rap song that has ever won record of the year was Childish Gambino's painfully topical 'This Is America.'"
Snubbing Beyoncé
TIME described "The Recording Academy's repeated awarding of other artists over Beyoncé" as an ongoing part of this pattern of exclusion, ignoring the work of Black artists, particularly Black women, in the most prestigious categories like Album of the Year. TIME writes the Academy "has come under fire in recent years for issues relating to gender and diversity. The institution's leaders have vowed to make changes on the diversity and inclusion front, including by expanding the membership of its 12,000-plus body of voting members in an effort to diversify its ranks."  
---
Want a daily wrap-up of all the news and commentary Salon has to offer? Subscribe to our morning newsletter, Crash Course.
---
But days before this year's award ceremony, Variety published a tell-all piece where five Grammy voters spoke to the publication anonymously about their voting. They talked openly about why voters like them haven't supported Beyoncé for Album of the Year. "With Beyoncé," one voter said, "the fact that every time she does something new, it's a big event and everyone's supposed to quake in their shoes — it's a little too portentous." As writer Nadirah said on Twitter, "People just don't like seeing Black women win 'too much.'"
Beyoncé has been up for Album of the Year four times, losing each year to a white artist: Taylor Swift, Adele, Beck and now Styles. Also losing Album of the Year in 2023 for the fourth time as a lead artist? Kendrick Lamar, for "Mr. Morale & the Big Steppers."