Chef Dorothy Overstreet — owner and executive chef at Kitchen on Main in Daphne, Alabama — has brought casual yet fine-dining cuisine to her laid back, bayside community. A classically trained, Le Cordon Bleu chef — where she graduated top in her class — Overstreet serves French cuisine with a twist. 
She will tell you she merely honed her skills while attending culinary school thanks to all she learned from her parents. Her food is heavily influenced by growing up in Bayou La Batre (the seafood capital of Alabama) and by all the gifted cooks in her family. In effect, she has created her own fusion: classic French cooking with nods to Asian, Creole and Cajun cuisines. Her menu is innovative and inspired, with the freshest ingredients each season has to offer. She is known both for her steaks as well as her seafood, all of which is highest quality and cooked to exquisite perfection.
Although not quite as hidden anymore, Kitchen on Main remains a true gem.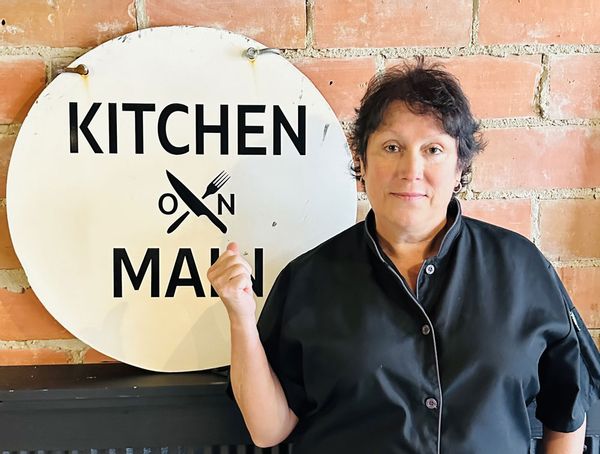 Chef Dorothy Overstreet (Stephanie Spradling)
Kitchen on Main is cozy, seating about 40 to 50 at full capacity, with exposed brick walls, white table cloths and candles. Despite being the perfect spot for a romantic dinner for two, it also has the friendly feel of a neighborhood restaurant you might stop in for a drink at the bar. There is always laughter and the pleasing sounds of people enjoying themselves, both from the patrons dining and from the folks on payroll. It has great energy which you can feel as soon as you walk through the door.       
Raised by exceptional cooks, Chef Dorothy developed a love and passion for cooking at an early age and has loved feeding people for as long as she can remember. Before attending Le Cordon Bleu, Dorothy made her living as a songwriter in Nashville. She was known for always having something hot and homemade simmering on the stove and ready to share with her co-writers during breaks. Thanks to the songs she wrote and co-wrote — featured in films, television and on various artists' albums — her royalties funded her culinary education and ultimately helped her open Kitchen on Main. 
Similar to music, cooking relaxes her and helps her wind down. Even now that she has the restaurant and spends most of her days cooking, she is still an avid cook at home. 
---
Want more great food writing and recipes? Subscribe to Salon Food's newsletter, The Bite.
---
Chef Dorothy has an entirely female cooking staff; her line chef, expo chef and sous chef are all women. In fact, her sous chef, MaRanda Malone, has been with her since day-one and she and Chef Dorothy collaborate and create together. This gumbo recipe is actually a result of that combined ingenuity, as well as incorporating Chef Dorothy's late father Emory Overstreet's recipe.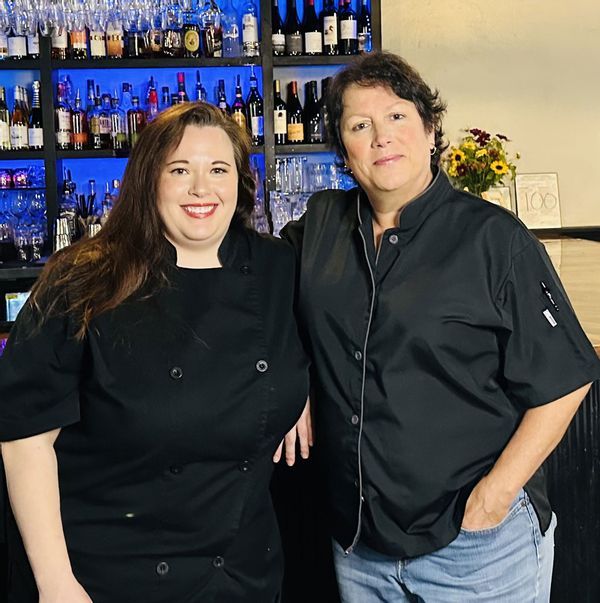 Kitchen on Main Chef-owner Dorothy Overstreet and sous chef MaRanda Malone (Stephanie Spradling)
Gumbo is the perfect excuse for a party because it's an all day affair. It's also made much easier with the help of folks with whom you love spending time. On a gumbo-making day, it's common to start early chopping up vegetables and preparing the shrimp. By noon and perhaps after a Bloody Mary, it's time to face the roux and so it goes step by step until your clothes and hair smell like all the aromas from the pot. Because Gumbo is a special at Kitchen on Main, Dorothy and MaRanda choose a time when they can both devote an entire day to making it together.
Born from the marriage of West African stew and French bouillabaisse, Gumbo has not only been around for hundreds of years, but its countless variations shine a light on every family's heritage. Some families make chicken and sausage gumbo; others only use seafood. Some prefer a dark roux (the fattened, cooked flour that is the base for Gumbo), while others like a lighter, spicier or smokier roux. The only thing everyone agrees on is that gumbo must include the Holy Trinity: bell peppers, onion and celery!
Dorothy's technique of browning her flour in the oven is genius, as many cooks have to start over time and again after burning their roux on the stove. Having extra browned flour on hand is always a good idea in case you want to make a bit more roux at any point.
I am shocked and full of gratitude to have been given such a beloved and up to now secret recipe to share. It is worth every bit of effort to make this delectable, coastal Southern, comfort food staple.
Chef Dorothy's Seafood Gumbo
Ingredients
3 green bell peppers, diced
1 large onion, diced
3 to 4 garlic cloves, minced
2 stalks celery, diced
2 cups prepared roux (recipe follows)
3 bay leaves
8 ounces dry white wine, such as pinot grigio or Sauvignon blanc
1 cup shrimp stock (recipe follows)
1 large can or 1 1/2 small cans diced tomatoes with juice
1 pound fresh or frozen cut okra, blanched or quick boiled and set aside 
5 pounds peeled and deveined large shrimp, about 36 — 40 (save shells for stock)
1 lb. Lump crabmeat, drained
1/2 lb. Jumbo lump crabmeat, do not drain
For roux:
2 to 4 cups all-purpose flour
Shortening, lard or oil
For shrimp stock:
Oil
Saved shrimp shells
Salt
Water
To season: 
Gumbo file (a thickener and a seasoning made from sassafras)
Salt and pepper
Old Bay seasoning
Tony Chacheres seasoning
Crystal or Tabasco hot sauce
Optional garnishes:
Cooked crab claws and/or shrimp
Parsley, freshly chopped
Scallions, freshly chopped
Directions
Make roux: Preheat oven to 425 degrees Fahrenheit. Line a sheet pan with parchment and sift flour onto pan. Brown the flour in the oven, checking after 10-15 minutes. You will smell a nuttiness and start to see the flour brown to the shade of peanut butter. Remove from the oven and allow to cool down.

Next, add equal parts fat and flour — 1 cup shortening, lard or oil to 1 cup of the just cooked oven-browned flour — to a heavy bottomed pan (cast iron works well) over medium heat. Be sure to use a high smoke point oil or fat. Butter is not recommended.

Stir constantly. Cook your roux until it is the color of a hazelnut shell — a little darker than milk chocolate but not as dark as dark chocolate — and it will have the consistency of a light fudge. It is important not to overcook it because you will cook out its ability to thicken the gumbo. You'll only need about a cup of roux in this recipe, so you can freeze leftover roux in an airtight container to use later. 

Make shrimp stock: After peeling your shrimp, set aside the shells. In a tablespoon of oil, sauté the shells only (not the shrimp!) 2 to 3 minutes over medium low heat, then add about 8 cups of water and a pinch of salt. 

Press down on the shells with a wooden spatula a few times then allow to simmer 5 to 7 minutes. 

Make gumbo: In a large stockpot, sauté green pepper, onion, garlic, celery and roux together until vegetables are soft.

Add bay leaves, wine, shrimp stock and tomatoes. Bring to a low boil then reduce to simmer.

Add seasonings, starting with less than a teaspoon of gumbo file and salt and pepper to taste. (Save the Old Bay, Tony Chacheres seasoning and hot sauce for later.)

Add okra. Cook for about 2 hours, low and slow, stirring often. It should be thicker than a soup but not as thick as a sauce. It should cover the back of a spoon, but still run off.

Add seafood (shrimp and crabmeat) about 1 hour before serving and make sure to rinse shrimp again just before adding them to the gumbo. Adjust seasonings after seafood has been added.

Serve the gumbo: Serve with long grain, white rice prepared per package directions, but with 1/2 water, 1/2 chicken stock and a pat of butter.

Top with optional garnishes.
Read more
about Southern food, nostalgia and family recipes: