The recent episode of  "Only Murders in the Building" was presented without its usual audio this week, as the show continues its investigation of a murder from a unique POV, this time centering a deaf character. While this posed certain challenges for the show, it ultimately made for an illuminating and suspenseful episode.
In "The Boy From 6B," viewers experience events mainly from the perspective of Theo Dimas (James Caverly), a young deaf man whose history growing up in the Arconian apartment building is inextricably linked to the mysterious death of fellow resident Tim Kono (Julian Cihi). In centering Theo's perspective, the episode is almost entirely inaudible, relying on sign language with subtitles, keen visuals and clever, creative scene-setting.
Theo is the son of Teddy (Nathan Lane), the wealthy benefactor of the true crime podcast that friends Charles (Steve Martin), Oliver (Martin Short) and Mabel (Selena Gomez) are producing of their murder investigation. It turns out that about a decade ago, Theo had often spied on the activities of Mabel and Tim Kono's friend group around the Arconian. On one fateful night, Tim witnessed Theo accidentally pushing their friend Zoe (Olivia Reis) off the building's roof to her death.
"Even though Theo appears to be a villain, in some ways, the episode for me was really an unmasking of a vulnerable character," said director Cherien Dabis in an interview with Salon.
As a queer woman of color who's familiar with on-screen marginalization, Dabis told Salon she was honored by the opportunity to help meaningfully and accurately represent the deaf community's experiences.
The episode also details Teddy's efforts to protect his son from the inevitable consequences if his part in Zoe's death is revealed. Not only did Teddy threaten Tim as a potential witness, but it turns out the father-son duo is also in the business of grave-robbing, a secret that Tim was looking into before his death. The sordid past and the current criminal activities do not look good for the Dimases as possible suspects in Tim's death.
Despite the rather grim storylines, "Only Murders" keeps the tone light while focusing on the main trio's poignant intergenerational friendship, bonded through their love of murder podcasts. Part noir and part madcap adventure, what unfolds on our screens is sheer, delightful chaos that even had to be scaled back before becoming the final product that aired.
"At some point, there were coffins with trap doors underneath that we were going to spend a lot of time exploring, and Oliver was going to be in one," episode co-writer Ben Philippe told Salon.
How to make Theo's story pop
As the episode's star, Caverly played a significant role in aiding Dabis' research for the episode, suggesting different documentaries and on-screen representations of deaf characters to watch, and offering valuable guiding prompts. 
"He asked, 'How is a deaf audience watching this, who aren't going to be able to hear the difference between Theo's storyline and the storyline of our hearing characters, going to see the difference between them?'" Dabis said. "'How will they see the difference between the point of view of Theo versus the trio?' And it was a really great question that challenged me to find a visual language for differentiating those two storylines."
Dabis ultimately settled on taking the "noir aspect a little bit further" for Theo, and "capturing him with wide angle close ups as often as possible" to give his presence in every shot more weight than we've seen previously.
---
Want a daily wrap-up of all the news and commentary Salon has to offer? Subscribe to our morning newsletter, Crash Course.
---
Philippe also worked closely with Caverly as he co-wrote the script with Stephen Markley. The partners tried to be intentional about not reproducing stereotypes about deaf people or people with disabilities. That could range from making the characters become inspirational just for having different abilities or on the flip side, having "super powers like X-Men." 
LIke Dabis, they didn't want to portray Theo as a villain either. Despite the challenges and new territory presented for writing the episode, Philippe says he and Markley were determined to accurately include and represent a deaf character's experience. 
"Sometimes writers don't want to touch the stove, and instead of writing a diverse cast, it's just, 'Let's just not write that, let's just make this character a cis, straight white person who has no disabilities,'" he said. "And I think we pushed back against that, to sort of represent someone who is deaf but be thoughtful on this every step of the way. That meant sometimes swings we wanted to take with the stories received pushback, and that's what's great about having actors like James who are very involved in how we treat the script."
From there, as the writers set out to properly represent a deaf character's experience, they were increasingly drawn to Theo.
"It went from being not so much about the concept but about, 'Who is this person?'" Markley told Salon. "That was one of the great experiences, uncovering who Theo was, what had happened with him, where this darkness in him had come from, and how he was walking through life in this wound, his relationship with his father, with Zoe. Just that journey of discovering Theo was the joy and promise of the episode."
Three illuminating exchanges with Theo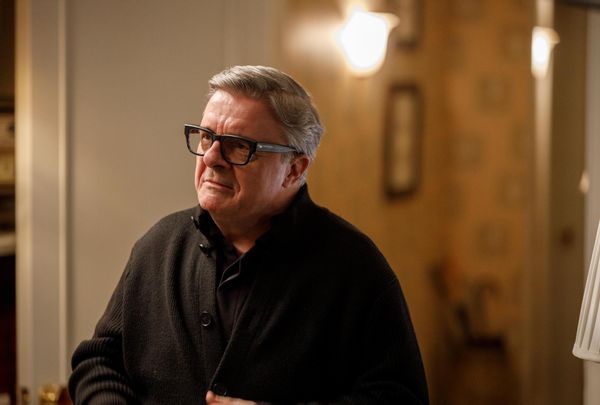 Nathan Lane in "Only Murders in the Building" (Craig Blankenhorn/Hulu)
According to Philippe, what started out as a "fun challenge" of having little to no audio quickly became slightly less fun as the two first-time television writers broke down the episode. 
"At some point, we were just like, 'Oh god, can they say just one line? Maybe they're coughing?'" he joked. Eventually, the duo figured out how to approach key scenes that would develop Theo's character and build our understanding of his fraught history at the Arconian.
The episode opens years before the events of the show with Teddy, a musical enthusiast, attempting to force his deaf son to listen to his favorite song, "My Boy Bill" and then becoming upset when he's not successful. Teddy eventually backs down and apologizes, but the scene painfully reflects his struggle to accept his son's deafness, which sets the tone for their embattled relationship throughout the series.
"It's terrifying for a 30-minute comedy," Markley said about the scene. "It just creates this well of emotion for Theo at the very jump."
"No one is the villain of their own story," Philippe said of their inspiration for the scene. "We decided pretty early on that the center of the relationship between Theo and Teddy is that they love each other, this is parental love, and it's really twisted, but ultimately Teddy is trying his hardest to care for his son Theo."
Dabis wanted to send a message with that scene as well. "To Theo, his deafness is not a problem that needs to be fixed," she explained. "That's something that James really wanted me to understand. And I think the deaf community at large wants people to understand that being deaf, it's not something that needs to be fixed. We see that in this scene very clearly."
In this single 30-minute episode, Philippe and Markley tried to reveal as much as possible about Theo's history. This meant including a familiar exchange in ASL between Theo and the Arconian's doorman, Lester (Teddy Coluca), in which the two greet each other and sign their shared disdain for the Arconian's privileged residents.
The scene was a subtle nod to just how long Theo has lived at the Arconian. "Theo's been this kid around the building for years and years," Markley explained. "So, there's clearly people within the building who have interacted with, or taken a liking to him, or had relationships with him, and Lester felt like the right person."
Then, with a flashback to that fateful New Years Eve night 10 years ago, Theo has an argument in ASL with his crush Zoe on the roof of the building. Before events spin out of control and she falls from the roof in a tragic accident, Theo criticizes Zoe for "touring" other people's lives, as she regularly breaks into fellow Arconian residents' apartments to snoop out of boredom. This prompts Zoe to tell Theo he's "confused about which way the pity flows."
"We wanted it to be more than just a typical teenage break-up melodrama," Philippe said, of writing the devastating exchange, and the glimpse it offers into the ableism Theo has faced. "Zoe is like, 'No, you don't get to judge me, you get to worship me from afar because you're the loner weirdo.' Both Markley and I wanted the scene to say something more than just, 'I hate you!'"
According to Dabis, the exchange is meant to present a moment of truth between Theo and Zoe, while also holding a mirror to societal ableism. "The line is this really, incredibly hurtful thing that probably feels like Theo's worst nightmare," she explained. "You know, these fears that people are looking at him and just pitying him."
Inside Charles and Jan's sexy Scrabble date night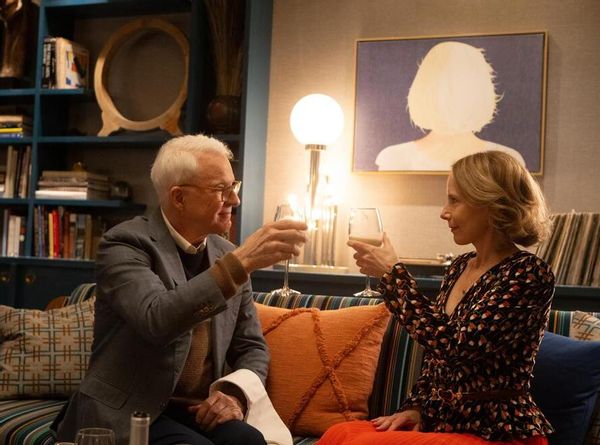 Steve Martin and Amy Ryan in "Only Murders in the Building" (Craig Blankenhorn/Hulu)
Although Theo is the center of the episode, the show's hearing leads still get plenty of screen time . . . albeit almost entirely silent as well. 
"We wanted the silence of the episode to not just live in Theo and his deafness, but also have a bigger role for all branches of the story," Philippe explained. 
One one hand, Mabel and Oliver's story lends itself to soundlessness. The two stake out a morgue to catch Theo in the act of grave-robbing, and therefore must be silent in order not to get caught.
On the other hand, Charles spends the episode on a date with neighbor Jan (Amy Ryan). This created a unique challenge, but one that transformed into a hilarious and provocative opportunity to showcase a different kind of flirting and courtship. When the two find their way back to Charles' apartment, they embark on an intimate and let's say, not-so-safe-for-work scrabble game. With nothing but soft, evocative music playing, the two spell out words like "wood," "wet," "sexy" and "hard."
"The idea of an intimate scrabble game where you're both talking and sharing words and your state of mind without saying anything [aloud] felt like the right place for a date," Philippe said. "It also feels very Charles-like that this would be his idea of a lovely evening . . . New York City is such a loud place, it's constantly just noises and exhaustion, and the idea of Charles and Jan having a date being portrayed mostly silently felt right."
For Markley, inspiration for Charles and Jan's intimate scrabble date, rather than the cheesy montage of the couple making stops all over the city that he and Philippe had initially considered, came from an unexpected source — a poem by Jean Arp that reads:
Soon silence will have passed into legend 
Man has turned his back on silence 
Day after day he invents machines and devices that increase noise and distract humanity from the essence of life, contemplation, meditation . . . 
tooting, howling, screeching, booming, crashing, whistling, grinding, and trilling bolster his ego.
"It's this idea that our modern life is now full of cacophony," Markley said. "It's where you have earbuds in your ears, you're listening to seven podcasts at two-times speed, and you're just never stopping to see what's going on. I think that idea let us go through Theo's point of view, but also our hearing characters' point of view."
Much of the episode's beauty lies in its silence, and at different points, its slowness and intimacy, in a gripping departure from what we've seen on "Only Murders" so far.
"Conceptually, this show is just so loud, in the best sense of the word," Philippe said. "You have all these amazingly fun characters, it's in New York City, and they're always talking, putting together this mystery, having all those scenes in rooms full of people.  . . . But this episode was just a fun, creative challenge."
"Only Murders in the Building" releases new episodes Tuesdays on Hulu.