Previous to Salon's recent "What We Do in the Shadows" viewing, we referenced the first law of thermodynamics. As a reminder to anyone who hasn't darkened the door of a physics class lately, that principle states that energy can neither be created nor destroyed. It can only be transferred or changed from one form to another.
Maybe reading that citation made you groan. We get it! When our job is to find hidden depth in a show that runs on scatological humor and dick jokes, some theories about what we see are bound to be a stretch. This time, however, it turns out we were on to something.
The season finale of "Shadows" visits the vamps of the Island of Staten not long after energy vampire Colin Robinson (Mark Proksch) committed the ultimate centennial birthday party foul by expiring suddenly, and in a cloud of farts. Confirming that Colin wasn't faking it, Nandor (Kayvan Novak) moves to playfully rap his unresponsive roomie on the forehead and accidentally puts his fist through Colin's very empty skull.
This was in fact the end of our resident energy vampire . . . as we know him.
RELATED: Why the latest "What We Do in the Shadows" twist makes sense in The Great Resignation era
But in a show populated with folks who prove death is never the end, permanently counting out Colin Robinson would be foolish. Not even Nandor the Relentless can defeat universal law. Besides, Proksch's character is incredibly popular. Pulling off some kind of a comeback felt inevitable.
Proving that suspicion, the third season finale ends with Colin Robinson's pre-midnight resurrection as a bespectacled, wailing infant, an unexpected hello amid a hasty flurry of farewells.
Similar to the energy vampire's rebirth, the "Shadows" third season finale reads as a dividing a line between what the show was and fresh chapters for Nandor, Colin, Laszlo (Matt Berry), Nadja (Natasia Demetriou) and Nando's human familiar Guillermo (Harvey Guillén).
Titled "The Portrait," it opens with the roommates observing a kind of anti-memorial. Nadja explains that clans view commissioning a painting of a brood's surviving members after losing a companion is the vampire's way of writing off those who have died before moving on and never speaking of them again. To viewers it's a freeze frame of how this family of choice looks at the end of three solid seasons together.
And, now? Anything could happen. Nobody in this clutch is where they or we expected them to be at top of the finale. Nandor changes his mind about sinking into a super slumber, deciding instead to travel the world, much to his co-dependent familiar's horror. He coldly suggests he's leaving Guillermo behind until the familiar fights his master for a place at his side, earning yet another promise from Nandor that soon, very soon, he will make him a full vampire.
The Supreme Worldwide Vampiric Council gives Nadja a promotion to a position in London, Laszlo's hometown and a place he swore he'd never return to. The promise of being married to power changes his mind – until he visits Colin's deathbed for a final farewell expecting to find a stinking husk of rotten flesh. Encountering a slime trail leading into an adjoining chamber where a mewling baby awaits shifts Laszlo's plans yet again.
---
Want a daily wrap-up of all the news and commentary Salon has to offer? Subscribe to our morning newsletter, Crash Course.
---
Stefani Robinson and fellow writers Sam Johnson, Paul Simms and Lauren Wells structure "The Portrait" to let Laszlo pull off another last-minute twist without arousing much suspicion, quite a stunt considering the ninth episode blindside, which Robinson, Johnson and Simms co-wrote with Marika Sawyer. Looking back on the entire third season from the perspective of what we know now, the "Shadows" team did an impressive job of setting up the viewer to suspect the worst. Unnatural pairings on TV shows tend to be a sure sign that writers are running out of ideas, and Laszlo never had a reason to buddy up with Colin prior to their Vampiric Council library visit.
From there the writers set up Laszlo to be the keeper of a secret he could only reveal two-thirds of the way through the season's penultimate episode, moments before Colin's 100-year cycle of life ended. And yet, who expected them to follow that by having Laszlo pull off another turn that forces two people who barely tolerate each another, Nadja and Guillermo, into being stuck together on a freighter bound for England?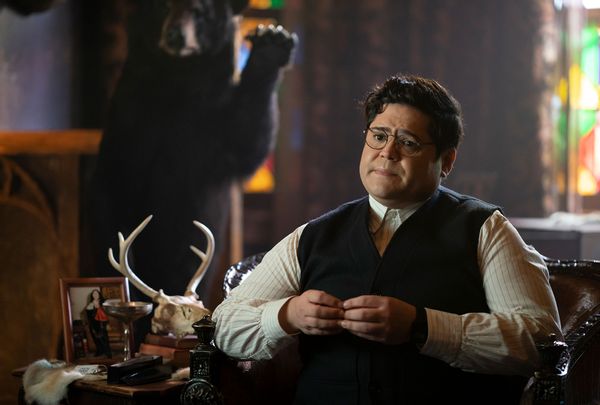 Harvey Guillén in "What We Do in the Shadows" (Russ Martin/FX)
This left Nandor forlorn and lugging a backpack filled with his ancestral soil into a train headed out of New York, with Laszlo sticking himself with the job of raising baby energy vampire Colin (which is basically a squishy homunculus with Proksch's head on top of it) on his own.
Our weekly visits to Nandor, Nadja and Laszlo's claustrophobic manse have been time well spent, but this is a fine cliffhanger. As Colin's role and persona is certainly bound to transform, so can the show around him. Blame the time we're living in for this feeling, but the recently ended season reminded us that these characters haven't traveled much farther than Atlantic City or exurban Pennsylvania. Flinging the main players to parts unknown vastly expands the story's geographic range.
That's part of the reason why people still clamor for the return of Laszlo's alter-ego Jackie Daytona, Regular Human Bartender. Laszlo's on-the-lam persona is the apex of absurdity, but the small-town goofs enabling Jackie's benign foolishness made his one-off second season escapade unforgettable.
At various times the cast and writers have said there are no plans to haul Jackie out of storage. They don't need to, if they give Nadja, Guillermo and Nandor equivalently memorable exploits instead. Nandor almost got there with his wellness journey this season. Now we know that was meant to be a stepping stone to a wider world. Given Nadja and Nandor's lineage, along with Guillermo's vampire slayer ancestry, each character has an opportunity to shed their old skins and become a little stranger.
Most can accomplish that by putting some space between each other and the Eastern seaboard of the United States. Colin, and Proksch, have the opportunity to leave one personality behind and take on quirks that are entirely new.
Change doesn't always end up being good thing.  But sometimes the best strategy a long-running show can adopt to avoid sliding into a predictable graveyard rut is to infuse its arc story with a fresh narrative platelets procured from unfamiliar veins. The "Shadows" team's surprise trips to foreign places are a positive move as we head into 2022, which is when the new season is scheduled to return.
Still, one suspects these undead fools won't change too much, regardless of what they discover about themselves on their various "Eat, Pray, Love"-style excursions. As Nandor explains, "How I am going eat if I don't prey on people, dummy?"
All current episodes of "What We Do in the Shadows" are available to stream on FX on Hulu.
More on this topic: