Beloved TV characters leave us all the time, and we don't necessarily receive warning of when or how. Even so, this TV season seems distressingly attuned to The Great Resignation.
October isn't even spent, and we've already said goodbye to Mark Harmon's Special Agent Jethro Gibbs, the face of "NCIS" for 18 seasons (and part of the 19th). "Chicago Fire" bid farewell to Jesse Spencer, whose firefighter Matt Casey spent 10 seasons on the show.
It's hard to process these goodbyes or others like them, but there's small comfort in knowing those characters have simply moved to a part of their shows' worlds where we can't watch them. That means they can always return.
Characters who were never entirely alive to begin with are a different matter. Being supernatural means death contains loopholes: Reincarnation, resurrections, time travel, timeline jumping – everything's on the table.
That's what a lot of people may be telling themselves after the most recent episode of "What We Do in the Shadows," another show that shocked its audience by suddenly doing away with a fan favorite at what should have been the height of revelry in his long life.
RELATED: The sobering truth about quitting my job
Celebrity guests from the Supreme Worldwide Vampiric Council dropped in, including bloodsuckers played by David Cross, Khandi Alexander and a vampire version of Donal Logue. A sex show was mounted in the parlor, and a playlist including "The Humpty Dance" loaded upon the MP3 player.
---
Hungry for great food writing and recipes? Subscribe to Salon Food's newsletter.
---
Sadly for our poor dear energy vampire Colin Robinson (Mark Proksch), he only made it through the first course. At the top of the episode he was hale and hardy, excited to turn 100. By the end he was little more than a fragile husk that could barely contain its goo, his face easily shattered by one tap on the forehead from Nandor the Relentless (Kayvan Novak).
People have plenty of reasons to hope that this isn't actually the end for Colin Robinson, is what we're saying. Never mind that Laszlo (Matt Berry) found a book in the very exclusive Supreme Council library warning him that his roommate's time was nearly up.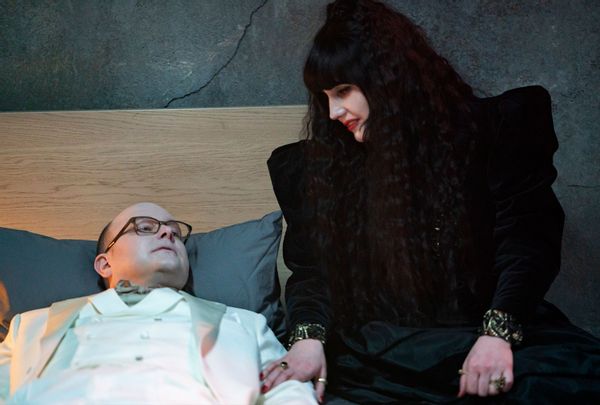 Mark Proksch as Colin Robinson & Natasia Demetriou as Nadja in "What We Do in the Shadows" (Russ Martin: FX)
This explains his sudden urge to drag Colin Robinson through an assortment of bizarre escapades while his lady wife Nadja (Natasia Demetriou) and Nandor were busy jockeying for top leadership. For a time it appeared that Nandor was the one on his way out; his frustration over having to run the Vampire Council made him drop into such a funk that he announced his retreat into a centuries-long "super slumber."
Laszlo may be a tool, but he's a softie when it comes to helping people in need, even the housemate he usually ignores. Knowing the Staten Island vampire brood's resident day-walker only had a few days left, he focused on making them silly ones.
One of TV's sacred rules is that you can never count out a character until you see a body. Even then, in the event of magical circumstances, an actor can return via any number of twists, including the enduring, delightfully dumb twin gambit.
Still, if this ends up being permanent death for Colin Robinson that would be appropriately in line with our current sentiment about, well, everything. Proksch's lethally boring character is popular because versions of Colin Robinson walk in our world.
He's the weirdo at the office who reels you into conversations you can't leave. The roommate who's really into cannabis and its scores of applications, all of which he'll tell you about right now. The rando grocery store customer who responds to the cashier's polite, "How's it going?" with a dull, interminable testimonial about the extraordinary powers of apple cider and how he uses it to treat his toenail fungus, which is a textbook case; no really, his doctor told him so, a great guy who also happens to be his lawyer, and a pastor, which reminds him that he's been meaning to ask: are you interested in hearing about his relationship with his good friend Jesus?
A version of him also takes the shape of the undermining fair-weather friend who dropped off your radar in 2020; that gaping hole of learned helplessness your parents cajole you into enabling; the esteem-deflating relative you're grateful won't be seeing for the second Thanksgiving in a row, hallelujah.
Ours is not only a time of a supposed Great Resignation. We're also Extremely Exhausted. And while energy vampires certainly aren't the main reason people are resisting going back to the office, Colin Robinson's preferred feeding ground, or deal with the uncertainty of house parties, the threat of encountering one anywhere is a damn good reason to stay in.
With so little energy left to give, one encounter with such a demon might kill us.
And yet, Proksch is (was?) excellent at playing his slippery parasite, always finding ways to snack off his immortal roommates' bad moods and preternatural prana. An episode in which he receives a promotion leads to him sucking so much vital essence out of his co-workers and subordinates that he threatens to leech the will to live from an entire section of the city.
It's inconceivable that someone or something like that could fade out in the space of an hour and in a cloud of flatulence, p-b-b-b-b-t, just like that. Then again, as recently as a couple of years ago it was inconceivable to think a virus would bring the world grinding to a halt and that the nation would face shortage on such mundane necessities that we take for granted as bottles.
The Law of Conservation of Energy states that energy can neither be created nor destroyed, it can only be transferred or changed from one form to another. "What We Do in the Shadows" may interpret this any number of ways when it comes to Colin Robinson. Laszlo happened upon that grim page portending his roommate's demise because so little is known about Colin's kind – not where energy vampires come from and, until this episode, nothing about how they die.
Our three remaining vampires aren't the most careful of characters. Who knows whether Laszlo bothered to read the next page? It could be that this is merely the close of one part of his story, marking the start of something new. Coupled with The Great Resignation is the assumption that people who have left their jobs are embarking on entirely new adventures, morphing their lives into a form that's fulfilling.
The writers of this strange comedy may be on to something in dispatching with a man who isn't entirely human and is mainly known for being tolerable only to a point. We may find that Colin Robinson and everyone like him being gone from our lives is a gift, an absence that makes room for something better and more satisfying.
But beware: they could always return as ghosts.
New episodes of "What We Do in the Shadows" air Wednesdays at 10 p.m. on FX and stream the next day on FX on Hulu. 
More on this topic: