How does one top a flawless eight-course meal? The producers and cast of FX's "The Bear" answered TV reporters' version of that question that defines a Michelin star craftsperson's emphasis on perfection.
"I keep telling everyone it's going to be bad. I'm serious," co-showrunner Joanna Calo told press at the Television Critics Association conference in Pasadena, California. "I'm trying to set expectations super-low. I've been telling a lot of people this, and I'm hoping the message will get out. Because then maybe you'll be surprised if it's not so bad."
"It's trash," concurred the show's lead, Jeremy Allen White. Both know that nobody will believe them, because this show, like The Beef's menu, is fire. Audiences are still this half-hour –drama? Comedy? Stress-fest? "The Bear" is all of these, and indescribably delicious by refusing to commit to fitting one genre or description. This gives its producers and cast plenty of room to play in a second season that expands from eight to 10 episodes, set to debut early this summer.
"The Bear" stars Jeremy Allen White as Carmen "Carmy" Berzatto, a celebrated up-and-coming chef who abandoned his rising career and a post at one of the top restaurants on the globe to take over The Original Beef of Chicagoland, a beloved Chicago hole-in-the-wall joint left to him by his brother Mike (Jon Bernthal), who died by suicide.
In assuming ownership of The Beef he also gets a combative staff devoted to a chaotic "system" that allowed its team of cooks to limp along and eventually gets the place whacked with a "C" rating.
"The Bear" is a slow-cooking phenomenon viewers are still discovering.
Helping him meet the challenge of getting the restaurant into shipshape condition, and out from under its $300,000 debt, is an ambitious newcomer Sydney (Ayo Edebiri), who is drawn to The Beef by the opportunity to work with Carmy. But in addition to beating the system they have another obstacle in Mike's best friend and Carmy's "cousin" Richie (Ebon Moss-Bachrach) who takes out his misplaced rage over Mike's death on Carmy.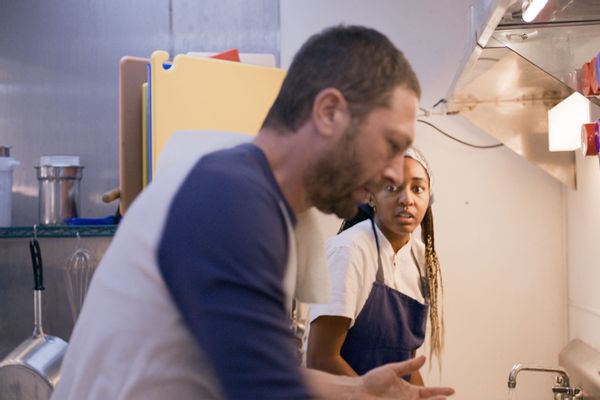 Ebon Moss-Bachrach as Richard 'Richie' Jerimovich and Ayo Edebiri as Sydney Adamu in "The Bear." (FX)
"The Bear" is a slow-cooking stew of grief, stress and healing, creating a phenomenon viewers are still discovering and others have deemed worthy of going back for second and thirds. That trend is likely to accelerate now that White has won a Golden Globe for best performance by an actor in a television series, musical, or comedy, joining its list of SAG, DGA, WGA, and Spirit Award nominations, along with earning a place on the AFI's list of the Top 10 Television Programs of 2022.
Its success was entirely not a surprise to FX Content and FX Productions chairman John Landgraf, who says the show received a universally positive response in a test screening of the season before its debut. Having said that, Landgraf adds, "We thought we were making a kind of small, bespoke little jewel box. I didn't know it would be the most watched comedy we've ever had in our history as a channel."
"The Bear" isn't simply a domestic hit, according to Landgraf, but performs well internationally. As FX watched the conversation around the show expand he landed on a theory as to why it has such a broad appeal.
Liza Colon-Zayas as Tina in "The Bear." (Matt Dinerstein/FX)
"Part of that is just the cast, which is a really amazing, diverse cast," he told Salon. "But that's one part of it. Then I realized, almost everybody has had an experience of either working in a restaurant or with a sibling or a friend or a spouse that's worked in a restaurant. That's the job that most people have in their lives, growing up. And so there's something that's resonating to them on a very personal level about a personal experience they've had in their lives."
But he doesn't discount the overall quality of the writing, the acting, and the story's quickened pulse for its appeal. "It's a family show like 'Cheers' or 'Taxi,' where a group of people come together in one place, and are fractious, complicated, but then ultimately, deeply interconnected. It's universal, but it's very specific in terms of its time and place and its character. So that's kind of the gold standard."
---
Want a daily wrap-up of all the news and commentary Salon has to offer? Subscribe to our morning newsletter, Crash Course.
---
That also explains why the bar for success may be a little higher in the second season, which picks up after Carmy and the crew find a way to save The Beef from going under, prompting Carmy to embrace the opportunity to transform the humble sandwich show into his creation.
The actors and producers were purposefully vague on the details about the coming season's arc beyond its creator and co-showrunner Christopher Storer saying, "It's about balance in a lot of ways, between time and what it means to start fresh and how can you start in a healthy direction."
Storer added, "I feel like if we continue to tell an honest story and we try to be low to the ground like we did last time, I at least think our hearts are in the right place. "
The first season of "The Bear" is currently streaming on FX on Hulu. The second season will be served up in early summer.
Read more
about "The Bear"