The night after seeing "The Menu," my partner and I went out to dinner. Not to a fancy place. A place with good food, but one with a price tag within the reach of a writer and journalist, a place where one could comfortably wear jeans and sneakers without attracting dirty looks. Still, after the appetizer arrived, my partner spread out his hands and froze me with the declaration, "Do not eat!" It took a beat before I recalled the rest of the line, the line that comes next in the movie. "Taste." I will give this to "The Menu." We will joke about it for a while.
The Mark Mylod-directed film, written by Seth Reiss and Will Tracy, based on a story by Tracy, is a critical darling, with some outliers. Both critics at KPCC describe the film as "contrived" while critic Wade Major labels it "very familiar," saying of its formulaic nature and surface-level story, "It looked and felt and seemed a whole lot better than it really is." In the Huffington Post, Candice Frederick calls the film "a profoundly empty viewing experience." 
That's a reoccurring theme, as even its positive reviews acknowledge there isn't a lot of there there. As Christy Lemire writes on Roger Ebert, "You may find yourself feeling a bit hungry after this meal is over." One of the ways "The Menu" leaves a bad aftertaste? Its odd declaration of who among the characters has privilege and who doesn't, and its lack of a position about why.
In "The Menu," Ralph Fiennes plays Chef Julian Slowik, the chef at the exclusive, high-end restaurant on a remote island where diners are ferried in for a one-of-a-kind dining experience. A young couple visits and realize on this night, as with the Hotel California, you can check out but you can never leave.
Julian has had enough, and he's going to bring down the diners at his fancy restaurant, those patrons he has grown to loathe, along with him and his entire, very large kitchen staff. As such, he has carefully selected the diners — a captive audience, if you will — for his final meal. While the film is perhaps meant to be a rather heavy-handed satire, and Julian its villain, viewers have rallied behind him, calling the film a take-down of the rich. But who is it taking down exactly? Let's see.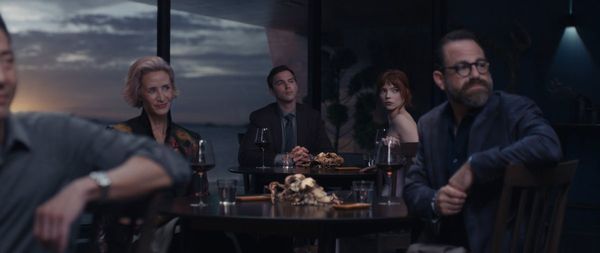 Janet McTeer, Nicholas Hoult, Anya Taylor-Joy, and Paul Adelstein in "The Menu" (Courtesy of Searchlight Pictures)Like a seasonal menu, the chef's patron selection has been meticulously curated. The film mentions this fact repeatedly. The guests for this tasting are a table of men in finance, a famous food critic and her eager-to-please editor, an older couple who are restaurant regulars, a movie star past his prime and his young assistant, and young foodie Tyler (Nicholas Hoult) and his date, Margot (Anya Taylor-Joy). Julian's elderly mother also occupies a table in the corner, slowly drinking herself to death.
The film takes a very retro view of privilege, aligning with the chef who longs for ye olde hardscrabble days of flipping burgers and the idealized, manic pixie dream sex worker.
These are the wealthy we are skewering (rather literally). Of all the guests, the food critic (Janet McTeer) is the most grating, blasé and entitled. But her editor (Paul Adelstein) goes along with things out of a sense of self-preservation. He needs his job. The same may be said of actor's assistant Felicity (Aimee Carrero), though she has no student loans. Multiple yes men and women face the wrath of the chef, which doesn't seem fair, nor something the character who expresses repeatedly he had to pay his dues with "s**t work" would carry out. But Julian's empathy extends only to traditionally attractive sex workers and high-end service workers.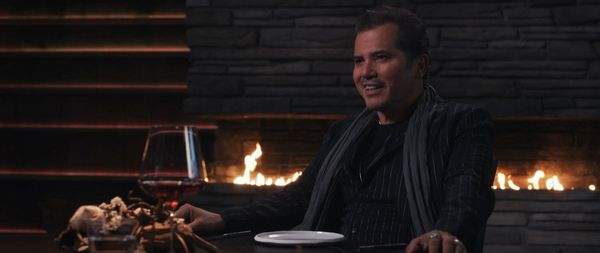 John Leguizamo in "The Menu" (Courtesy of Searchlight Pictures)Is George (John Leguizamo) really condemned to death for the crime of making a bad movie? That would take out most people in Hollywood. George is far from an abusive star, and treats his assistant kindly when she admits she's taken money from him. Elderly regular Richard (Reed Birney) has cheated on his wife Anne (Judith Light) and engaged the services of a sex worker. Putting aside the judgement this seems to make about sex work, Anne is long-suffering. Her crime is . . . staying with a cheating man? Again, a decision some women are forced to make in order to survive.
Anne is the most sympathetic character of the bunch, her allying with the sex worker her husband employed one of the few moments of emotion in the film. Encouraging the younger woman to go, to escape and live, Light looks very, very tired. And while the demise of a table of embezzling finance bros would not be a great loss to some, these characters are all men of color. In a world of Elon Musk and Donald Trump, a world with Harvey Weinstein and Jeffrey Epstein and many more of their ilk, are these really the folks targeted for takedown? The ones the chef carefully selected for punishment? He didn't have any human traffickers or murders or child abusers on his list? 
We're so into where our food comes from now. But what about where our stories come from?
The white, male chef has more privilege than some of his diners, especially the characters of color. But the film takes a very retro view of privilege and class, aligning with the chef who longs for ye olde hardscrabble days of flipping burgers and the idealized, manic pixie dream sex worker. That character, Taylor-Joy as Margot, is a source of sympathy (and gross fascination) for Julian, but the woman whose husband employed a sex worker will get none. Margot was a last-minute replacement. We don't find out anything about the woman her date intended to bring, but the chef was perfectly fine killing her. 
---
Want a daily wrap-up of all the news and commentary Salon has to offer? Subscribe to our morning newsletter, Crash Course.
---
Critics have called out the film for lacking a point of view, that such rudderlessness may be the source of the lite feel of "The Menu." But there is also no reckoning, despite the flambé at the end. No character learns anything. No one is likely to change (or gets the chance to). The diners aren't so bad and the workers aren't so good, but the ending and the overall film feels hollow, like that bread course.
We're so into where our food comes from now. But what about where our stories come from? Who are the best creators of stories about privilege and its opposite? Perhaps the emptiness reviewers and audiences of the film have pointed out is what happens when one does not have lived experience of the central issues inherent in their tale. "The Menu" is a send-up, sure, but a shallow one. Who gets to tell the tale of privilege? Who gets to live to tell?
"The Menu" is currently streaming on HBO Max.