"PBS NewsHour" co-anchors Amna Nawaz and Geoff Bennett took the reins on Jan. 2, smoothly transitioning from Judy Woodruff's era as the face of PBS' nightly newscast by maintaining the institution's high standards. If you didn't notice much of a change, that's the point. Aside from its reputation for journalistic integrity and expansive, contextual coverage of issues half-hour newscasts merely touch upon, the mark of "NewsHour" is its reliably straightforward presence, cultivated over the nearly five decades it has aired.
Woodruff remains part of the "NewsHour" team as its senior correspondent and hosts the segment titled "Judy Woodruff Presents: America at a Crossroads." Her approachable impartiality, which earned her industry-wide respect, is a reason the program's changing of the guard was drama-free. During a Sunday conversation with Nawaz and Bennett in Pasadena, where PBS introduced them to reporters attending the Television Critics Association's Winter Press Tour, the pair sang her praises without prompting. 
"I think it's worth really emphasizing how generous Judy has been during this whole process," Bennett told Salon. "I didn't know her previously, but I admired her work from afar. And the first time I met her, she said to me, 'How can I be of help to you?' When you're stepping into a role like this, that is precisely what you want – not just the blessing of someone who happens to be a legend, and the previous anchor of this broadcast, but to also know that she has our back and really is there as a resource whenever we need it."
Nawaz and Bennett represent the first time "PBS NewsHour" has been co-anchored by two people of color. Nawaz, the daughter of Pakistani immigrants, is the first Muslim and first-generation American person to assume that title. Bennett is the first Black man in the "NewsHour" weekday co-anchor chair. They follow in the footsteps of the late Gwen Ifill, Woodruff's partner from 2013 until Ifill died in 2016.
Nawaz points out that this is merely one aspect of what these award-winning journalists bring to the public television institution. An Emmy and two-time Peabody Award recipient, Nawaz is familiar to "NewsHour" viewers as the primary substitute anchor, a role she's played since she joined the newscast in 2018. Before joining PBS' news team, she was an anchor and correspondent at ABC News and a foreign correspondent and Islamabad Bureau Chief for NBC News.
Bennett came to PBS from NBC News, where he served as a White House correspondent as well as subbing in as an anchor on MSNBC, and was part of the NBC team that won a 2022 Edward R. Murrow Award 2022 for overall excellence. Prior to that, he covered Congress and the White House for NPR. Both expressed a passion for continuing to meaningfully connect their viewers and the communities in which they live, with the domestic and global information directly impacting them.
In a wide-ranging conversation with Salon, we discussed their plans for "NewsHour" as the United States barrels toward the 2024 presidential election as well as the challenges they face in delivering the news at a time when misinformation is rampant. 
This interview has been edited for length and clarity.
Let's talk about how you two would like to shape "NewsHour." This is the first time in the program's history where two non-white co-anchors lead the broadcast, who can bring your perspectives to covering the news. How might your personal perspectives shape or impact the breadth of coverage?
Amna Nawaz: One of the things I've always said is that I bring my full self to this job. And that means my professional self and my personal self. I think journalism is better when you're really throwing your entire self into it and show up in your full self. I have had years overseas reporting as a foreign correspondent, I bring that experience to this. I'm a first generation American, I bring that experience to this.
I've spent years in Washington now covering power and politics, and out in the rest of the country, and seeing how those policies impact people in their homes. I bring all of that experience to this. So while yes, Geoff and I are making history in this institution in this way, I think we both have our own unique backgrounds as journalists in the field, bringing our reporting to this work. And that's a key part of our role as anchors as well, which means we're going to continue to get out there and see how the policies and power in Washington impacts and ripples across the rest of the country. Because I think that's what "NewsHour" has always done best, is reflect and report on the communities that we're there to serve.
Geoff Bennett: Absolutely. And I will say, this isn't true of just "NewsHour." I think in every newsroom I've ever worked, I have always been one of few people of color, and certainly one of few Black men.  So the thing I'm always attuned to is giving voice to the people who aren't represented in a specific newsroom, however that manifests. And in some ways that can be a burden. But it's also a blessing, and it's a responsibility. . . . I've covered politics for most of my career, but in talking to people in their communities, I have access to people and stories that other journalists don't. And so, you know, I'm always keeping my eyes open for those kinds of stories, where can I add value just based on the virtue of my experience. And to the degree that I'm able to do that at news hour, I think it will be great.
I was just looking at the coverage around Judy's departure. And one of the things I wanted to pose to you was something she observed in the New York Times about how divided people have become politically. [Specifically Woodruff said: "When I made the decision to stop anchoring, I asked myself, 'What are the most important questions that journalists should be answering? It was right there in my face: How did we end up so divided, so at each other's throats, families divided, work colleagues divided, neighborhoods divided?"]
As we're moving into this new age of "NewsHour," what are your thoughts about how the newscast can contend with those shifts and contend with audiences who may viewing mainstream news differently than, let's call them "outlets," that they believe more than conventional information sources?
"It's mission-driven work. And good journalism sits at the center of that," said Bennett.
Bennett: The "NewsHour" is really well positioned for this era that's rife with misinformation and disinformation. Because from where I sit, the antidote to that is more information. It's more context, it's more transparency. It's thoughtful framing, and the "NewsHour" has been doing that for nearly 50 years. . . . I think moving forward, the thing I'm particularly attuned to is knowing that the way people receive the news is not always the way that we program it. And so people might be seeing news, our tweets alongside their friends' feeds and TMZ and The Daily Wire and everything else. And so it's particularly important to make sure that the language is clear, because people don't always have the time and sort of the discernment when they're getting all this push media to make choices about what's accurate and what's not.
Nawaz: I think it's also important to stress when we talk about the "NewsHour" as a show, it's obviously our daily show, but it is so much more than just that hour that we program every day. We have incredible content online across all of our social media platforms. We are now on TikTok. We have primetime specials, we do long form documentary work as well. And I think all of that falls under the news, our brand in terms of us meeting our audience, wherever they are.
Geoff and I are the same generation. We're in our early 40s. We have young kids. We consume our news very differently than the generation before us, and very differently than the generation after us. And I don't even know what my kids will do when they start consuming news. So we're attuned to that; I think we have to meet people where they are in terms of putting our content in front of them.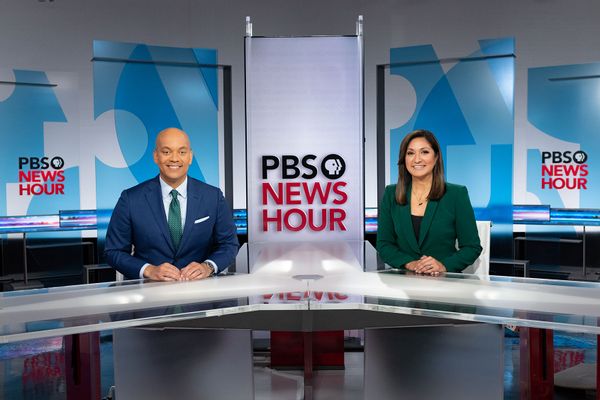 PBS NewsHour hosts Geoff Bennett and Amna Nawaz (Courtesy of PBS NewsHour/Mike Morgan)
PBS News is viewed by the public as trustworthy. As we head toward the 2024 election, what challenges do you see in terms of maintaining that centrist status? Because I think that's becoming more difficult for a lot of newsrooms.
Bennett: I really think it's building on the foundation that exists. The key reason that the "NewsHour" has that reputation of being the most trusted brand in media, is because at the center of it is a mission to provide reliable reporting and strong storytelling. It's mission-driven work. And good journalism sits at the center of that. And if you were to call into any one of our editorial meetings, that's always the focus: How can we give our viewers the clearest, most accurate distillation of the facts and the news of the day? And whether it's a presidential election of the midterms or a hurricane, that is the prism that we use to cover the news. And that won't change.
The news cycle has gotten a much faster, and it's been difficult for a lot of newsrooms to sort information that rises up online. I don't even mean straight disinformation. I'm talking about just strange things where – well obviously "NewsHour" is not going to be reporting on, say, the NyQuil Chicken challenge or anything like that. But –
Nawaz: Things like that come up in our editorial meeting, actually.
Sure. There's a rise in made-up "trends" on TikTok or social media that attract coverage. Many are completely unsuitable to be elevated. But there are some subtle enough to insert themselves into otherwise serious news coverage that have risen to gain the attention of national desks that have reported on them in some way. Even if their purpose is examine and question what it is and possibly debunk it, maybe they're also elevating something that shouldn't necessarily be elevated at all.  In this role, how do you foresee looking at those situations and evaluating what needs to be kind of chased down? Because sometimes those are connected to greater issues.
"People have questions, and we need to replace that void with facts," said Nawaz.
Nawaz: Geoff and I both have had experience at commercial network. We know what it is to work in public media. And I will say that "NewsHour" is the most thoughtful newsroom I've ever been. And I don't mean that to disparage anywhere else I've been. They're incredibly thoughtful journalists, and incredibly thoughtful journalism is being practiced everywhere I've ever worked. But we have the benefit of a little bit more space and time, and a reputation for applying that more thoughtful prism to the stories that we do. And that's a standard we hold ourselves to. That's not to say that we are not responsive to questions and things that are in the zeitgeist, I think we are so deeply connected to the audience that we serve. We hear from them regularly. And we know if there's something that they have questions about, if there are things that are popping up that seem like they're interested in, we have a duty and responsibility to look into it. Whether or not it makes it on the show is another issue.
But you know, if people are talking about the NyQuil Chicken challenge and are worried about it, or it suddenly takes on a new light. And –
I'm so sorry I brought that up.
Bennett: It is a good example, though.
Nawaz:  – the issue of elevating misinformation, we talk about this all the time in our meetings. There's a very fine line, it's a very thin tightrope to have to walk to say, we don't want to elevate it. At the same time, people have questions, and we need to replace that void with facts. We have to put the good information out there to combat the bad sometimes. That's where the editorial discussion comes into play. Sometimes we let it play out a little while longer to see what happens, and we have the benefit of that with the space and time. But sometimes those things have to be tackled head on, especially in this age.
---
Want a daily wrap-up of all the news and commentary Salon has to offer? Subscribe to our morning newsletter, Crash Course.
---
As you said, you hear a lot from your viewers. In your view, what is the biggest challenge you're encountering, not just anchors, but as professional journalists, in terms of negotiating public's level media literacy right now?
Bennett: When it comes to media literacy – and this isn't specific to the "NewsHour" audience, this is just what I've encountered overall – is that people don't understand how sourced stories come together. . . . I think it's really important for us to be as clear to the audience as we can when it comes to those kinds of stories, about the bona fides of those sources, and to be very transparent about why we're not sharing who those anonymous sources are. I think that's one of the things that has changed dramatically in just political coverage over the last five to six years.
Nawaz: One of the things we hear a lot from our viewers is on any given day, along the lines of media literacy there's an assumption of bias with a lot of media. We hear that too. We do hear from our viewers all the time. I would say the best part about that is that some days, we are accused of being too liberal and other days, we are accused of being too conservative. And that, to me, says that we're doing something right, because over the course of our reporting, if you watch us over any given week, clearly anyone who's showing up consistently with us will see that the facts are what's driving the reporting, and there isn't a partisan bias there in any way.
If we were to chat again a year from now, what would you hope that we'd talk about, in terms of what you've achieved?
Bennett: I would hope that by this time next year, that people will turn to the "NewsHour" and encounter stories and interviews that either make them think differently about their own lives, or give them a greater understanding for how issues and policies affect them directly. I view myself as a political journalist, even though I'm the co-anchor of "NewsHour," and  for me, there is no higher calling than that helping people understand how politics affects them directly and why they have a vested interest in paying attention.
Nawaz: I'll also say just on the political front, when you have this divided government, and we've seen what can happen in the past, especially when you look at these last two years, and what we saw in the midterms, it feels like a lot of the legislative muscles have shifted to the States as well. So if you can expect us to be featuring a lot of those leaders, the governors and the mayors and the folks who are on the frontlines of that policymaking that impacts people in their real lives.
A year from now, I will say I hope you're sitting down and saying to us, "Man, that was a great interview you did with the President of the United States. And I'd like to talk to you about that, Geoff and Amna."
"PBS NewsHour" broadcasts on all PBS member stations. Check your local listing for airtimes. It also streams live online nightly at pbs.org/newshour beginning at 6 p.m. ET. 
Read more
about the news and media