If you ask him about the state of Mexican-style cheeses in the United States, Arturo Nava will tell you that "Hispanic cheeses are where Italian cheeses were 30 years ago."
In the '90s, thanks to cookbook authors and TV hosts like Lidia Bastianich and Mario Batali, increased interest among general audiences in authentic regional Italian cooking heralded an influx of Italian cheeses to American grocery stores. While home cooks used to have to visit specialty stores for varieties like Taleggio, Fontina and burrata, those items are now often found at supermarkets alongside bagged shredded mozzarella and powdered "shaker" Parmesan.
According to Nava, who is the senior marketing director for Hispanic Cheese Makers-Nuestro Queso in Kent, Ill., all signs point to a similar explosion in interest in cheeses like cotija, Oaxaca, panela, queso blanco, queso fresco, queso de freír and queso quesadilla.
"Mexican-style and Caribbean-style authentic cheeses have been growing double digits for a few years now, while the overall cheese category growth is flat," he told Salon Food.
Several factors are contributing to this increase in demand, all of which are underscored by shifting demographics in the U.S. The 1990 Census tallied 4.3 million immigrants from Mexico, while in 2021, there were 10.7 million Mexican-born individuals living stateside, according to the Migration Policy Institute.
"Mexican-style and Caribbean-style authentic cheeses have been growing double digits for a few years now while the overall cheese category growth is flat."
As Bill Esparza wrote for "Roads & Kingdoms" in 2017, Mexican food in America has been shaped by waves of immigration, resulting in almost innumerable examples of regional Mexican-American cuisines built from — or in spite of — American ingredients and limitations.
"At home, pochos brought in their own traditions, even as they began to cook American dishes, resulting in a uniquely Mexican-American cuisine," Esparza wrote. "Grilled cheese sandwich? It needs salsa. Lunch meat and Kraft singles? Put it in a tortilla. Government cheese made for some memorable quesadillas, and those flavorless, industrial flour tortillas absolutely came alive with a little salsa, guacamole and Imo-brand sour cream, a sour cream 'substitute' popular in the '60s."
Grated yellow "industrial cheese," as Esparza put it, soon became synonymous with Mexican-American food — found on regional dishes ranging from Tex-Mex puffy tacos to the Midwest's walking tacos — and was cemented as America's taco cheese thanks to fast-food chains like Taco Bell and Del Taco.
"Yellow cheese is ubiquitous, as it is with other Mexican-American cuisines, as regional Mexican cheeses weren't available until recently," Esparza wrote. (He proceeded to note that those "orange globs of industrial cheese product covering our plates will remain. Why, you ask? "Because it tastes fu**ing awesome.")
The regional cheeses Esparza mentions are the types of cheeses that Mexican and Mexican-American chefs such as Pati Jinich, Rick Martínez and Estaban Castillo increasingly call for in their recipes found, respectively, in critically-acclaimed cookbooks like "Pati's Mexican Table: The Secrets of Real Mexican Home Cooking," "Mi Cocina: Recipes and Rapture from My Kitchen in Mexico" and "Chicano Eats: Recipes from My Mexican-American Kitchen."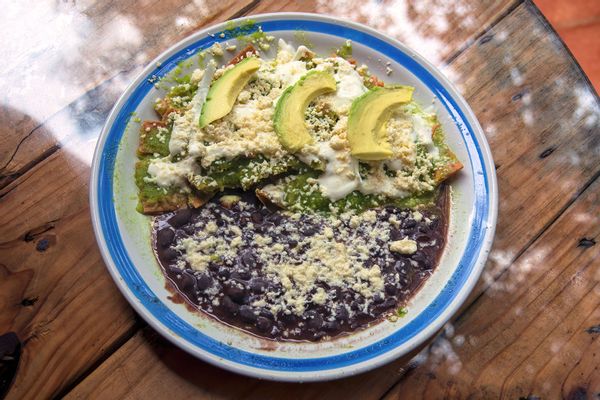 Chilaquiles with salsa verde, cotija cheese, crema, onion and avocado, and a side of refried black beans (Getty Images/Simon McGill)The addition of these cheeses, of course, reflects how these chefs — and many Mexican and Mexican-American residents — cook at home. As Castillo wrote in the introduction to his cookbook, "Open up my fridge and you'll notice leftover arroz con frijoles, plenty of salsa (de la que pica, of course!), queso Oaxaca for those nights I've had one too many micheladas and I'm craving a quesadilla, queso Cotija for those early morning chilaquiles."
But the fact that these cheeses are more readily available also points to an increasing desire among American home cooks to have a "global pantry," a term that Navneet Alang defined and described for Eater in 2020 as such:
We are living in the age of the global pantry, when a succession of food media-approved, often white figures have made an array of international ingredients approachable and even desirable to the North American mainstream — the same mainstream that, a decade ago, would have labeled these foods as obscure at best and off-putting at worst. This phenomenon is why you now see dukkah on avocado toast, kimchi in grain bowls and sambal served with fried Brussels sprouts. It's a kind of polyglot internationalism presented under the New American umbrella, with the techniques and raw materials of non-Western cuisines used to wake up the staid, predictable flavors of familiar Americana.
It's a phenomenon that continues to raise some thorny questions about cultural appreciation and appropriation — namely, as Alang writes, "Who gets to use the global pantry or introduce 'new' international ingredients to a Western audience?" — but one that has inspired a new wave of food media, including the docuseries "Taco Chronicles" and "Taste of the Border," that more accurately depicts Mexican food as kaleidoscopically varied from region to region.
Regardless of the reasons for the increase in demand, several American-based Mexican-style cheese makers have had to expand their operations in order to keep up with demand.
---
Want more great food writing and recipes? Subscribe to Salon Food's newsletter, The Bite.
---
Earlier this month, Cacique Foods announced plans to open an $88 million 200,000 square-foot facility in Amarillo in April, where it will produce Mexican-style cheeses, creams and chorizo. In an interview with the industry publication FoodNavigator-USA, Cacique chief executive officer Gil de Cardenas noted that the brand had "expanding appeal to second-generation immigrants and mainstream shoppers."
"Once consumers try them they love them and then look for them at grocery stores, we expect the Hispanic cheese category to continue to grow fast in the years to come."
Meanwhile, Hispanic Cheese Makers-Nuestro Queso significantly expanded its Illinois facility in 2020.
"The expansion project was needed to meet increased demand for the company's high-quality Mexican, Caribbean and Central American cheeses," Nava said. "The $15 million investment includes new processing and packaging equipment, expanded cooler space and additional capacity to meet demand for further expansion in the future."
Nava anticipates further expansion in the future.
"Once consumers try them they love them and then look for them at grocery stores, we expect the Hispanic cheese category to continue to grow fast in the years to come," he added.
Salon Food writes about stuff we think you'll like. While our editorial team independently selected these products, Salon has affiliate partnerships, so making a purchase through our links may earn us a commission.