"Luther" has given its audience at least three natural endpoints. The first and perhaps most satisfying closes the third season with Idris Elba's DCI John Luther, a hunter of psychopaths, tossing his signature overcoat into the Thames and strolling off with his unshakable frenemy Alice Morgan, a genius-level killer played by Ruth Wilson.
This was a suitable goodbye kiss until the two-part special that interrupts the character's leave of absence, returning him to the force. Five years after that we drop in on the intrepid vigilante detective for what should have truly been his last bow.
Neil Cross even writes a line in the fifth season finale that speaks to this when Luther frustratedly tells Alice, his shadow, his ally and his ethical downfall, "You keep coming back, and coming back and coming back, but you're never going to get what you want, Alice. Never. From this, from me and you."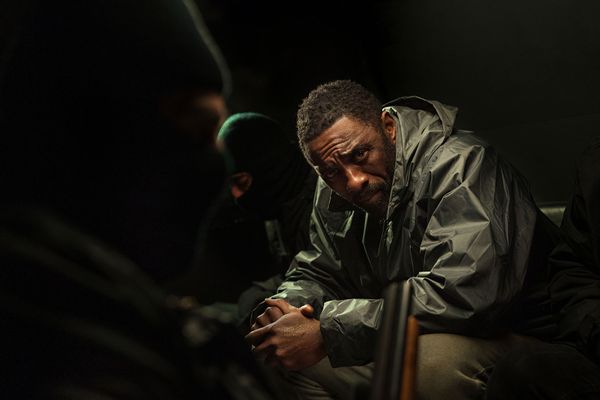 Idris Elba as John Luther in "Luther: The Fallen Sun." (John Wilson/Netflix)
Events made it appear Alice is unlikely to resurface, let's put it that way. But you never know. Cross always finds a way to keep Luther coming back, and coming back and coming back. There will always be twisted murderers knocking about, and Luther can't resist when they bait him.
Given the way Netflix's latest foray, the movie "Luther: The Fallen Sun," resolves it's probably unwise to assume Cross and Elba intend to put their by-any-means-necessary DCI to rest at long last. But they should, if only to let the character go out strong. 
"The Fallen Sun" is not a wasted effort, to be clear. It proves that Elba deserves to carry a movie franchise, preferably one that isn't related to a comic book.
This may sound confusing because, since the character's introduction in 2010, "Luther" has been inextricably associated with the actor and propelled by his appeal. He's played many roles since, nearly all of them in ensembles, save for the odd parts like his 2022 part in the safari horror flick "Beast" which, among other attractions, dangled the promise of seeing Elba punch a CGI lion in the face. 
Still, he deserves better, and has reached what Chris Rock once described as the point in an actor's career where he should be courting Denzel Washington-caliber roles, which encompasses both Oscar bait and a couple of turns as "The Equalizer." Elba and Cross have bandied about transitioning John Luther from television to the movie since at least 2012, originally planning the third season as a lead-in to the movies. Why bother chasing another title character?
"The Fallen Sun" answers that question, in that it feels less like an extension of the TV series than an audition for future action films. This is not unprecedented; one can easily connect Christian Bale's work in "Equilibrium" and "The Machinist" to his eventual assumption of Batman's mantle.
That also gives this feature a not quite one thing, not quite the other feel, in that it's too unwieldy to function as a perfect "Luther" episode and too reliant on the show's beats to feel like a true film. (This makes some sense since it was directed by Jamie Payne, who helmed the fifth season's episodes.)  Either way, it is a fine showcase for Elba's magnetism and his ability to hold aching concern, regret, and wrathfulness in a single armful without breaking his stride.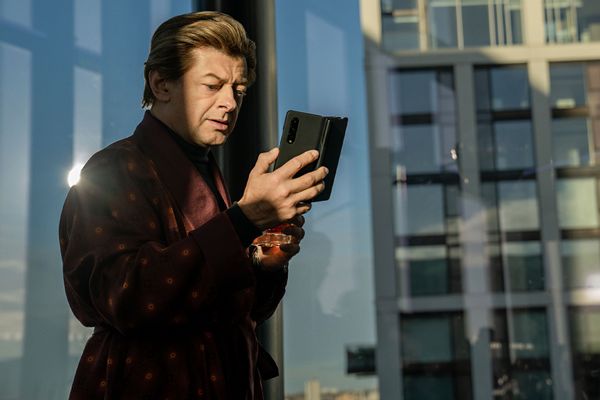 Andy Serkis as David Robey in "Luther: The Fallen Sun." (John Wilson/Netflix)
Here longtime friend/enabler Detective Superintendent Martin Schenk (Dermot Crowley,the only actor and character to carry over from the show) crosses paths with the astronomically disturbed man of means named David Robey (Andy Serkis) and crosses swords with now-retired Schenk's replacement DCI Odette Raine (Cynthia Erivo).
Superb casting makes "The Fallen Sun" watchable, and Serkis' villain matches and in some ways exceeds the series' most extreme malefactors and their capacity to make a person's skin crawl. And these adversaries speak to the caliber of antagonist whatever future starring Elba eventually takes on should merit.
The performances in "Luther" have always carried it through its slacker plots, so it follows that "The Fallen Sun" would meet that expectation. It also backs up the notion that Elba's fans were on to something when they campaigned for him to replace Daniel Craig as James Bond. Craig's version of Bond distinguished the spy from previous incarnations by making him rough and tumble and not shy about wearing his scars.
"The Fallen Sun" shows Elba's capacity for advancing that take, only Elba's spy wouldn't merely be a hard hitter but a bulldozer: Luther rampages through a prison riot and breaks through a line of fully armored guards to bust out.  
After that, he's stabbed several times, marched through the arctic cold in little more than that tie and that overcoat and nearly drowns. Long before those agonies rain down on him, he looks absolutely exhausted, as one would expect of a guy fresh from the clink. Lesser men would have been pushed into early retirement.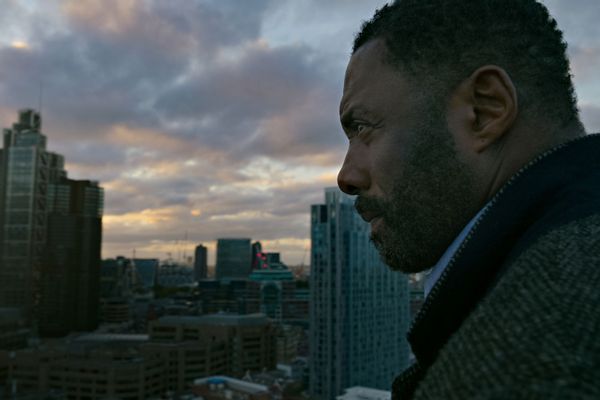 Idris Elba as John Luther in "Luther: The Fallen Sun." (Netflix)
But the character's grave weariness should not bleed onto the actor or influences his perceived variability.
To see Elba as the next 007 would be the ultimate wish fulfillment for many people, of course. He slays a tux. But he's also past the age most Bond actors first reported for duty and is frankly too good for the role. At any rate, some studio other than Netflix needs to avail themselves of Elba's dramatic muscularity. It keeps us returning to watch his obsessed copper despite whatever signs of diminishing returns are showing in Cross' plots. A definitive goodbye for the character seems right, mainly because it's long past time for us to greet the actor as someone memorably new who makes us want to say hello again and again.
"Luther: The Fallen Sun" is streaming on Netflix.