"Tommy," the short-lived character driven procedural starring Edie Falco, opens with a demonstration pitting pro-immigration protesters against anti-immigration agitators.
Falco's hard-nosed top cop walks into the eye of this storm and asserts herself as an even-keeled agent of authority, calm and in control as she steps in to protect the cause of the uproar, a young undocumented woman.
Mind you, in this storyline the young woman and the politics surrounding her situation are little more than incidental. They serve the season's central arc pitting Abigail "Tommy" Thomas, the first female, openly gay police chief of the Los Angeles Police Department, against corrupt L.A. politicians. The migrant is a target here, but her role is to make Tommy appear humane and righteous; she is the gateway to narrative surrounding Tommy's quiet political war.
But she at least she has more worth to the story than the protesters, who are basically the human version of a house fire into which Falco's character can bravely charge.
Meanwhile, the antihero hacker at the heart of "Mr. Robot," Elliot Alderson (Rami Malek), upends the system and watches society devolve into a rolling party-slash-riot at the end of the first season. In the midst of its third season he uses a protest staged outside of the sinister corporate headquarters of E Corp as a distraction to carry out a mission and escape those looking for him.
The third season of "Westworld" ends by transforming the world into a burning ball of anarchy as its dubious liberators, the android Dolores (Evan Rachel Wood) and her human general Caleb (Aaron Paul), destroy the hidden artificial intelligence controlling humanity. In crashing the invisible maze of fences, chutes and ladders herding each person's destiny – the vellum-thin contract to which we presume each of us is bound –vanishes, instantly transforming everyone, regardless of race or social class, into a looter, a vandal, or prey.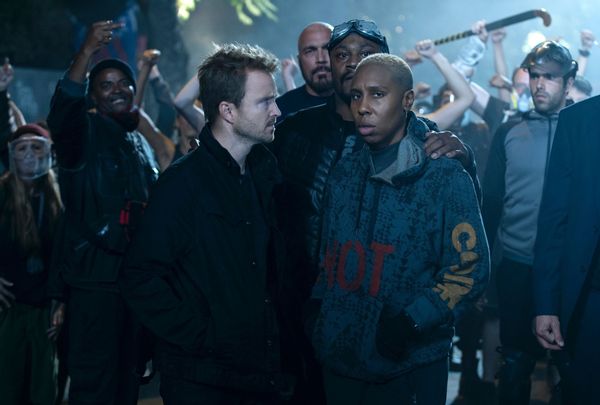 Contrast this to how recent days have filled our screens and our eyes with visions of armored and armed police officers spraying protesters with rubber bullets, running into them with vehicles, flinging them to the pavement like rag dolls or yanking them from cars as they taser them into submission. The world witnesses this alongside buildings burning, corporate logos vandalized, and faceless looters of indeterminate identity breaking into chain boutiques and big box stores and helping themselves to merchandise.
Predictably in uninformed conversations about these acts of civil disobedience disrupting life, it is the protesters and the movements associated with them that take some reflexive blame for any destruction that accompanies their demonstrations. It doesn't take a SpaceX engineer to come up with reasons as to why that is, besides years upon years of quick-hit, slapdash TV news coverage of protests and the movements that inspired them.
But a portion of blame rests in how protests and protesters are portrayed within scripted series, be they comedies or procedurals. If the audience can't define a peaceful act of civil disobedience turned violent by outside agitators from a mindless riot, that may be due to the fact that our primetime dramas and the odd half-hour comedy fails to find much of a distinction between one and another.
On prime time, TV demonstrations are unruly obstacles for heroes to exploit to their own ends or navigate in order to discover their main mission. They're dangerous distractions from workaday normalcy or an excuse for aimless kids to break glass or deface property.  On a 2008 episode of "Law & Order" an immigration rally is a cover for a murder, the reason Detectives Lupo (Jeremy Sisto) and Green (Jesse L. Martin) are brought in to investigate a body found in a dumpster. In this context, the fact that Dick Wolf's flagship cop drama chooses immigration as a flashpoint riling up New Yorkers 12 years ago is less important than the rally's role in smoothing our way into a homicide investigation that is neatly (but not too neatly!) resolved by the hour's end.
On June 1, Vulture's Kathryn VanArendonk compiled a list demonstrating the sprawl of police dramas across all of TV, reminding us that at all hours of any day, it is possible to find a police procedural somewhere on broadcast and cable TV. It goes without saying that they're eternally accessible via streaming on a variety of platforms. Salon has covered this as well, including by way of a recent breakdown by Color of Change as to ways that the unrealistic and at times irresponsible portrayals of policing on these series may be thwarting justice system reform efforts.
The common thread in all of this coverage is that countless hours of scripted content have been dedicated to valorizing these characters and connecting us with their humanity, each man and woman with his strengths and flaws. The casual "Law & Order: SVU" viewer can toss off a few of Olivia Benson's defining character traits because her stories are ubiquitous; Mariska Hargitay even shows up in the odd sketch comedy skit. People have a similar passing familiarity with Mark Harmon's Special Agent Leroy Jethro Gibbs, the central protagonist of "NCIS."
And when I say people, I mean humankind. "NCIS" is the one of most-watched shows on Earth, exported to countries and cultures around the globe.
The activist, on the other hand, has few such commensurately developed representatives. To be honest, I had to reach out to my friend and colleague Alan Sepinwall, a walking encyclopedia of TV, to get his help in finding series containing regularly featured characters who identify as activist or community organizers.
There's anti-gentrification organizer Marisol Sanchez on Starz's recently departed "Vida"; there's Abby Parker on HBO's  "The Deuce," which is also done; and Malika Williams on Freeform's "Good Trouble," cleared for a third season, is a bartender and activist. Two out of the three of these characters are on out-of-production shows that ran on premium cable, limiting their audience size.
At least they exist beyond the odd eat-your-vegetables miniseries broadcast networks air as a mitzvah every now and again such as 2017's "When They Rise," ABC's low-rated paean to America's history of LGBTQ advocacy starring Guy Pearce.
Is it any wonder that for all the millions of us are watching the protests underway in our cities with empathy and solidarity, there are millions of others defaulting to dismissal and branding these exercises of the right to assemble as chaotic, opportunistic, and disorganized?
Some of what's fueling this view is a simple matter of bigotry, let's be clear. But part of it comes from decades of conditioning by way of CBS's crime-time TV franchises and Wolf's ever-expanding library of spinoffs, all of its progeny of "Law & Order" and "Dragnet," that cops are heroic and generally just.
This is why the social media campaign spearheaded by "Blue Bloods" actor Griffin Newman, who challenged fellow actors who portray law enforcement to donate to causes dedicated to justice system reforms and civil rights, seems significant. The cast of NBC's "Brooklyn Nine-Nine" collectively donated $100,000 to the National Bail Reform Network. 
And yet, in the same time frame that this heartwarming effort was occurring, Wolf was forced to fire one of the writers he hired for his upcoming "Law & Order" spinoff returning Christopher Meloni's Elliot Stabler to television. Craig Gore had posted a photo of himself on social media brandishing a weapon and declaring that he would "light mother***kers up who are trying to f**k with my property."
Gore has previously written for CBS's "S.W.A.T." and Wolf's "Chicago P.D."
Writers and writers' rooms approach depictions of civic action with various levels of care, of course.
One of the best episodes explaining the complex history of Black protest movements, from the civil rights era of the 1960s to the Black Lives Matter demonstrations in Ferguson, is the 2016 "Black-ish" episode titled "Hope," which ABC re-aired this week.
NBC's short-lived series "The Carmichael Show" also grapples with Black Lives Matter in its "Protest" episode, but with a broader comedic flair; both are available to stream on Hulu.
"Hope" and "Protest" are two half-hours that take the point of view of movements and against thousands of ballads to detectives. No community organizer characters appear to magically explain everything. Instead, we're presented with debates in which motivations for participating in protest or sitting them out receive thoughtful, provocative exploration. Each series critiques the flaws and inequities of a system that fails to adequately protect its citizens and its law enforcement.  
"Hope" ends with half of the family opting to join the local demonstration together, as a unit, while the youngest children stay at home. We don't see them marching, but arguably we don't need to. The demonstration is in the discussion, the activism in these episodes' very existence. They are brilliant and powerful, and so very outnumbered.