"Dear White People" could not have asked for a better concluding coincidence than the parallel between this season's show-within-a-show "Big House" and the current cycle of "Big Brother," the CBS reality show it parodies.
The 23rd round of "Big Brother" is set to be the first in the show's existence in which a Black player will win. This is all thanks to The Cookout, an alliance of Black players who secretly agreed to stick together near the top of the season expressly to achieve that purpose.
Reactions to The Cookout have fallen along predictable lines, with an offending slice of the "Big Brother" viewership boo-hooing about this alliance's supposedly racist underpinnings. This intentionally ignores all the prior seasons' history of treating racism as a sideshow attraction and white players excluding people of color with a regularity you can set your watch to.
Before The Cookout only one Black person made it to any Fiinal Six over the past 11 seasons, as Reality Blurred's Andy Dehnart reports in his concise breakdown of the team's extraordinary run. Now that "Big Brother" is down to its final three candidates the gender breakdown becomes a fascinating factor, since the choices are between two men, Derek Frazier and Xavier Prather, and a woman, Azah Awasum.
Obviously "Dear White People" creator Justin Simien and showrunner Yvette Lee Bowser did not think such a turn was possible, although the show's parody, "Big House," ends up crowning a Black champion who wins by force, and whose victory is itself a part of the farce.
---
Want a daily wrap-up of all the news and commentary Salon has to offer? Subscribe to our morning newsletter, Crash Course.
---
Representing the Netflix show's fictional Ivy League school Winchester University in "Big House" are Colandrea "Coco" Conners (Antoinette Robertson), the Black student community's embodiment of assimilationist striving, and her best white friend Muffy Tuttle (Caitlin Carver).
Muffy is the walking representation of clueless white girl privilege, the type of girl who means well but can never entirely understand why her Black friends are so upset over the state of the world. She and Coco have their ups and downs but always find a way back to each other. Nevertheless, taking part in "Big House" snaps their bond as the gameplay breaks down, predictably, along racial lines manipulated into the storyline by the show's producers. One of the first casualties of the season is the other Black woman, who the white kids and producers goad Coco into betraying.
What goes down inside "Big House" isn't central to the fourth and final season of "Dear White People," but it fulfills the same purpose as previous seasons' show parodies by becoming a metaphorical mirror to the main theme. In this last season the Armstrong-Parker students are in their senior year and finding themselves with a surfeit of choices, many of them forcing each characters to weigh their integrity against guarantees of career success, fame and for some, huge paydays. It's also a 1990s-style musical building toward a theatrical production that is, yes, a 1990s-style musical.
The storyline leaps between the future and the core ensemble's senior year, when the honor of producing Winchester's traditional Varsity Show falls to Armstrong-Parker House for the first time. An opening scene from the future (where, sorry to say, the pandemic is no longer a societal bug but a feature) hints that creating the show leads to a falling out between Sam (Logan Browning) and Lionel (DeRon Horton). Others, including Troy (Brandon P. Bell) merely fall out of touch.
The exception to this is Sam's friendship with Joelle (Ashley Blaine Featherson), still going strong after graduation. This is worth noting in the context of Coco's future, where she holds political office but doesn't appear to have many friends.
Structuring the entire season around pop interludes has proven to be a polarizing, at least among critics. Such the case with musicals: people either love them wholeheartedly or tolerate them in doses.
But if you follow the original urging by Giancarlo Esposito's narrator, and watch closely from another angle, the melodic approach makes sense.
"Dear White People" draws its season-long arc from contemporary conversations about racism and race relations in America. That's been the case since Simien's 2014 independent film of the same name, from which the first season recycles and expands core characters, story and structure.
Subsequent seasons build upon Simien's original critique of mainstream culture's devotion to the convenient myth of a post-racial America, with Season 2 questioning our devotion to legacy and the third presenting cautionary tales about hero worship. But the show's focus on how white audiences perceive Black people and how that view contributes to the way they're treated by their peers, by law enforcement and political and social systems, remains constant.
It's the reason "Dear White People" treats the fourth wall as permeable, with characters frequently cutting their eyes in the direction of the camera as a silent inquiry, acknowledging they know we're watching and hoping, perhaps, that we're seeing situations as they do.
The description for this technique is Brechtian, named for playwright Bertolt Brecht, and a term Future Lionel drops and defines both for the audience's edification and Sam's. (He also shades Sam for getting so far in her filmmaking career without knowing this technique's proper definition.) Lionel applies the term to a project they're mapping, but it also explains the finale season's creative direction.
Brechtian technique and epic theater are intellectual concepts one would most likely learn about at a place like Winchester, so of course it guides "Dear White People" from Esposito's narration to the musical numbers that define this cohort's senior year.
Even if the series never mentioned the term, the show parodies bring attention to its principle of calling attention to the viewer and questioning our objectivity. Mainly, though they're simple, edgy satires designed to give the students a reason to be in community.
In Season 1 the show's "Scandal" parody "Defamation" is must-see TV for Armstrong-Parker House residents, transforming the dormitory common room into a neutral, welcoming space.
This changes in the second season when a fire forces the historically Black hall to integrate. During gatherings to watch the drama's "Love & Hip Hop" equivalent "Traphouse Tricks," the "Empire" spoof "Prince O' Palities," or "Dereca: Set Me Straight," white students treat the Black characters in these shows as comic stereotypes, making their Black peers uncomfortable.
Calling attention to our love affair with problematic entertainment is precisely what these joke shows are supposed to do, hand in hand with entertaining us. In case that point isn't apparent, the third season's in your face clones of "The Handmaid Tale," "Queer Eye" and Simien's exaggerated minstrel figure Mista Griggins set it off in neon.
"Big House," then, is a fitting last act to the in-story metatextual lineup. Instead of existing in tandem with the lives of Winchester students it absorbs one of them, Coco, into its terrarium. Nobody can look away from what happens.
The fact that Coco's character is on a reality show that takes place inside a season where everyone else spontaneously bursts into song is uniquely absurd. At the same time, it all makes sense.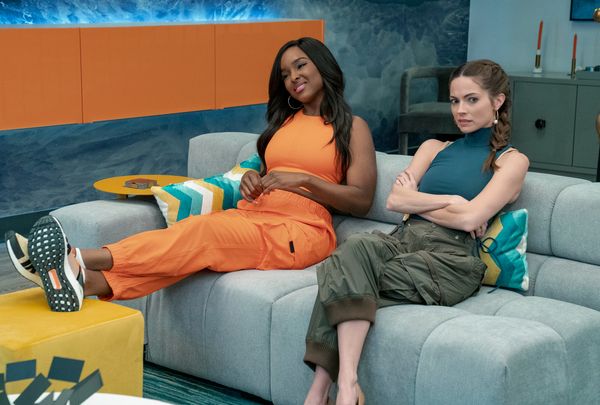 Antoinette Robertson and Caitlin Carver compete on "Big House" in "Dear White People" (Lara Solank/Netflix)
Out of everyone at Armstrong-Parker, Coco is the one who is most concerned with how she looks, how she's perceived and how many people are watching her at any given moment. She goes to ridiculous lengths to insert herself in white spaces early in the series, but as she's matured her experiences with white students at Winchester and her own people make her more ruthless and obsessed with setting herself up for long term success. That give her the edge in "Big House."
At first she assumes a nice girl persona to avoid being painted as another aggressive, unapproachable Black woman. But another Black girl who could be her twin enters the house, and that woman has a British accent, which in Coco's mind places her one step closer to whiteness.
Out of self-preservation Coco throws in with Muffy, assuming her white college friend will save her come election time. (Hmm, why does that sound familiar?) She doesn't . . . but a production-inserted twist does, because the self-serving persona Coco creates is too good to let go.
Discussing his parodies with Vanity Fair in 2018, Simien pointed out how they fit the show's overall exploration of "the dichotomy between the roles that we play and who we really are. And the thing that conditions us is our culture and the things that we watch on TV."
With that in mind, let's return The Cookout and examine why the team's success on "Big Brother" feels like a true victory, whereas the win scripted for Coco is, by intent, hollow. Start with the reason this Black contestant bloc came to be on "Big Brother" in the first place, which was the result of CBS' 2020 diversity pledge that its reality show casts would henceforth include at least 50% Black, Indigenous and people of color representation.
That merely got folks in the door. Without making the choice to act with an eye toward achieving a goal history indicates none could fulfill on their own, we wouldn't be looking at an all-Black final three heading into the season-ending episodes. It goes back to what Cookout compatriot Tiffany Mitchell said when the alliance initially formed in July: "Everything is not about the game."
Derek agreed with her, saying "It's not! We're here to also change the culture. Think about the year we just had."
Some of this conversation is self-serving strategy, since winning on "Big Brother" and similar competition shows that employ social elements requires people to display loyalty to other players until that loyalty has outlived its purpose.
Still, it's telling that Derek, the man who spoke about playing for a purpose greater than himself, also prevented the final three from being a complete sausage fest. Azah went into Thursday's eviction episode outnumbered three to one by her male housemates, but Derek voted to save her – a move Xavier claimed as a product of his manipulations.
The how and why of it matters less than the knowing the outcome places a Black woman within reach of $750,000 for the first time "Big Brother" history.
Coco also secures the "Big House" crown, which comes with a portion of fame she parlays into a political career. But at the friends' future reunion she forlornly admits she wishes she had the luxury of, as others describe it, doing one project for "them" – i.e., to pay the rent – and one for personal fulfillment.
"'Big House' was the last time I let them be generically powerful white people," Future Coco says very sadly, "But it was for them."
The last players standing at The Cookout have no such reason to hang their heads, which makes me wonder whether Coco's meta debut would have turned out differently if they had showed up on CBS even a year or two earlier. But while this may not be the last time "Big Brother" has a non-white winner, The Cookout is likely a one-time phenomenon.
Whereas "Dear White People" and its in-show satires gaze at issues that existed before the series and will be with us years from now, asking through punchlines and meaningful stares at the audience whether the questions asked through the title will ever be answered to everyone's satisfaction.
"Dear White People" is currently streaming on Netflix. "Big Brother" airs Sundays, Wednesdays and Thursdays at 8 p.m. on CBS, and also streams on Paramount+.