Danielle Macdonald often plays formidable characters. In her new, light-as-an-aria rom-com, "Falling for Figaro," Macdonald plays Millie, a fund manager living in England with her boyfriend Charlie (Shazad Latif of "Profile"). When she is offered a big promotion at work, she turns it down, claiming it is not who she wants to be. Instead, she opts to take a year to follow her lifelong dream of singing opera. 
Unschooled, but not undeterred, Millie heads to the Scottish Highlands to seek tutelage from an unorthodox teacher and former diva, Meghan Geoffrey-Bishop (a droll, withering Joanna Lumley). Millie soon finds herself attracted to Max (Hugh Skinner), Meghan's other student, who also works at the pub where Millie is staying. As she practices in the hope of winning the annual "Singer of Renown" contest, Millie makes some decisions about her life.
Macdonald is appealing as a young woman who gets out of her comfort zone. As she finds her voice — and generates acclaim for her performance in a qualifying contest — Macdonald shows how Millie's confidence increases but she still has insecurities. 
The actress recently spoke with Salon about her new film, performing music and comedy, and what gets her out of her comfort zone.
I love Millie's line about being "irresistibly attracted to the tragedy of it all," when she talks about why she loves opera. What drives you as a performer? 
I would say, well, not the tragedy of it all. I fell in love with acting when I was a teenager and it was something that I couldn't explain at all. It drew me in. I love being able to learn new skills and see different perspectives that I wouldn't otherwise if I didn't play these characters and get in the headspace of someone else. It's really kind of amazing.  
Millie pursues opera, which she says is not something she is doing on a whim. If you were not living the dream of acting, what might you be doing with your life?
I don't know. I never had a Plan B. This is what I really love doing. It was always that. If I couldn't act, I'd be involved in the making of films in some way. It's always appealed to me. But all I want to do is act. It's not like I have editing skills. [Laughs] No Plan B for me. 
"Falling for Figaro," like "Patti Cake$" and "Dumplin'," which you also starred in, are competition stories. They certainly provide meaty roles and characters for audiences to root for, but what is the appeal of these narratives of ambition and self-doubt?
There is something about competition movies that allow for the ups and downs in life and the challenges that we face in a two-hour period. I'm really drawn to these kinds of film because they are the ups and downs you experience, just told in different stories with different characters. It just feels like life. There are great moments, there are sad moments, there are funny moments, and there are bad moments — all of them. It's always a journey, so to see the ups and downs of people's lives and thoughts and emotions, and feelings is appealing to me in any movie. I like to see growth in characters. It feels more fulfilling. 
---
Want a daily wrap-up of all the news and commentary Salon has to offer? Subscribe to our morning newsletter, Crash Course.
---
What can you say about your penchant for playing headstrong characters? While I've seen you play vulnerable in "Bird Box," I find you often get cast as women who are not to be challenged. Millie claims she is simple, but she is really more complicated than she admits. What are your thoughts about her? 
We are all a helluva a lot more complicated than we give ourselves credit for. There is a lot that goes into us. At some moments, we feel that we're incredibly boring and other moments, we are facing every emotion under the sun in one go and have to figure it out. It's never easy, to be honest. We are all more complicated. What's interesting about Millie is that regardless of how simple she thinks she is she maybe finds more complications pursuing her dream because she is faced with more challenges. Her heart and her dreams are on the line. Before, maybe she was pretty simple. It was, go work at a job she doesn't really like, and come home. It's very straightforward. Now, the journey we see is Millie finding out that there is more in life, and it is more complicated. And, she is more complicated because she's feeling more. We all come to those stages where we don't know what to do next, and we delude ourselves, but it's about getting through it and learning from the process. 
Do you have any real life experiences that reflect this?
Always! There have been many cases where I think I'm less complicated than I am. [Laughs] I definitely think that there have been times where, realistically in this industry, you have to believe you will book a job that thousands of people are auditioning for. "Yeah, this will be easy, I'll do it, I'll work." Not that it will be easy, but you have to have a sense of bullheadedness and self-confidence in this industry because you face a lot of rejection. You are going to be wrong. You are not right for this or get it. But you have to keep going and convince yourself to keep going.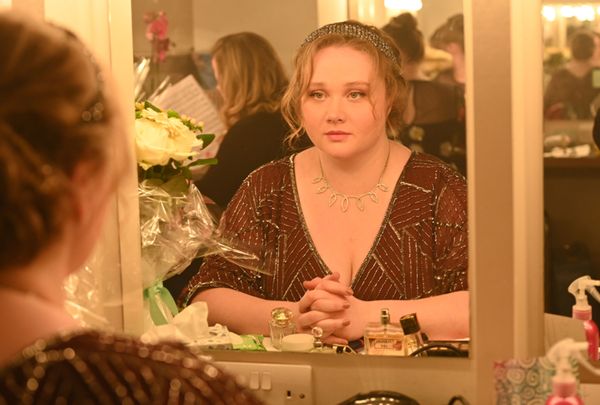 Danielle Macdonald in "Falling for Figaro" (IFC Films)
"Falling for Figaro" provides you with another opportunity to do comedy. Can you talk about playing up the comedy? Millie takes herself and her work seriously, but she's not a serious person.
Yes, she's the straight one in the world of comedy in this film. But at the same time, she does have a playful sense of humor and goes with the flow. She's a very open person. There are so many different experiences she has in the film and she just says, "Yes." That's an amazing quality and very unique for a Type A personality, which she is. That's where the comedy can come in. She is so open to new experiences because she likes to be in control of everything.
Millie takes lessons from Meghan, a teacher who pushes her. Did you ever have a teacher or mentor who molded you or inspired you with tough love? Where do you get your inspiration or motivation? 
A lot of people have inspired me over the years, but there was never one defining moment. I remember the first drama performance I ever did that anyone ever saw. I got to play the funny character in it, and I remember people actually laughing while I was on stage. I thought this is actually working! I was in eighth grade. That was a big moment. After that I thought I can actually do this. There were a lot of people after that who believed in me, and that has helped. I've had a lot of support, and an amazing team, and friends. That support keeps carrying me, but the drive comes from within. 
Millie is made to feel worthless, and asked to suffer for her art. That also extends a bit in her potential relationship with Max. What are your thoughts about how we suffer for our love and art? 
I think there are a lot of benefits that come from being in this industry, but there are some life experiences you won't ever have because of it. I would have loved to have gotten a degree from university, but I had the opportunity to act, so I won't have that college experience that other people have. I had to give that up, but I got to follow my passion and dream. We can't always have everything, so it is picking and choosing what feels right for you. So, if something is a big regret, it's never too late. You can go and do that. If one thing is not making you happy, and something else will make you more happy, I would say that's where to go. There will always be sacrifices, no matter what you do. But we do like to suffer for art and that makes us feel more fulfilled with it. I really felt this one because I really suffered for it! Everyone has their different processes. 
You have now performed rap and opera (sort of) on screen. What can you say about learning the craft of these very different genres?  
They are so different, and they were both very foreign to me. Don't get me wrong, I know some opera, and I knew rap, and liked it a lot, but I didn't know full extent of it. But you never really know the full extent of it until you delve into it, I've discovered. You take one step in, and realize, I had no idea there was so much to this! It was fun. I booked tickets to an opera in LA, "Light in the Piazza," which is an operetta, and then I saw a very traditional Italian, very tragic opera in Montreal right before I started filming — and it was amazing. It was three-and-a-half hours long but the tragedy and dramatic-ness of it, talk about suffering for your art! You feel everything, and it is really entertaining. I loved it. I listened to so many songs and clips on YouTube and kept the repetition up so it would become familiar to me. I immersed myself in the whole world of opera. 
What would you sing if you were to perform karaoke? 
I always do it, and I never do it alone, "Tiny Dancer." That always comes up. The last song I duetted at karaoke was "Stuck in the Middle with You." I have a super eclectic taste in music. I love classic hits, and '80s power pop rock, 2000 pop punk, rap, a lot of different things. 
Can you share something you have you done in your life that has taken you out of your comfort zone?  
I've done so many things that have taken me out of my comfort zone. On every job I have done something that takes me out of my comfort zone as well. Performing is absolutely terrifying to me. That is maybe the number one thing that scares me, and for some reason, I keep doing movies with music in them, and I have to keep performing. I can sing, in my opinion, badly. I learned to rap and performed for "Patti Cake$," but because it's spoken word, it terrified me less. Moving to America, halfway across the world by myself when I was 18, was definitely not in my comfort zone. But when something really scares me, that's when I want to take the leap. Because I know I'm going to grow from it. 
What haven't you done that you want to do?
There is so much I want to do. I want to travel to many countries, and I want to become fluent in Italian. I am learning Italian, but I am not there yet. So hopefully, that will take [root] one day.
"Falling for Figaro" is in theaters and VOD on Friday, Oct. 1.