What makes the perfect breakfast sandwich? As with every question, the answer depends on whom you ask. But if you're talking in terms of broad likeability and scientifically engineered eatability, you have to at least mention McDonald's Egg McMuffin. 
I pondered this as I dug into my current favorite breakfast sandwich, which lives at Kasama — a modern Filipino restaurant and bakery in Chicago's Ukrainian Village neighborhood. This particular sandwich layers a custardy egg soufflé square, a caramelized longanisa sausage patty, an oozing slice of American cheese and a hash brown (if you're going all out) between two squishy potato roll halves. It's just cheffy enough, though it bears a few unmistakable similarities to the Sausage Egg McMuffin. And everyone seems to love it — on a good weekend morning, Kasama churns out roughly 200 of them between 9 a.m. and noon. 
The sandwich's creators are Kasama's married owners, chef Tim Flores and pastry chef Genie Kwon. They always planned to have a breakfast sandwich on the menu — it was only a matter of getting it right. 
"(McDonald's) was our pinnacle, like how close can we get our breakfast sandwich to this?" Kwon recently recalled to me.
Interestingly, "pinnacle" here applies as much to efficiency as deliciousness and eatability, largely because this little indie eatery opened amid a pandemic (and subsequent staff and ingredient shortages that would prove similarly relentless). As fine-dining veterans (Flores of Oriole and Senza in Chicago; Kwon of Oriole, Eleven Madison Park in New York and Flour Bakery & Cafe in Boston), the pair had to dial back their stubborn impulse to make everything from scratch.
Instead, they took a page from the fast-food industry's efficiency and consistency handbook. The main test for every prototype involved letting the sandwich sit in its foil jacket at least 30 minutes before digging in.
"When we started working on the breakfast sandwich, the biggest qualifications were — is it eatable? Like, can you have it on your lap in the car? And will it sit for a while?" Flores said. 
Some answers came easily. Prior to opening Kasama, Flores spent two years perfecting his longanisa recipe, a Spanish chorizo-esque sausage based on the slightly sweet version you'll find in Pampanga, the Filipino province his dad hails from. Moreover, Flores and Kwon quickly realized that shredding, shaping, par-cooking and frying 500 hash brown patties to order every week with a skeleton kitchen staff made no sense when suppliers had already engineered a consistently tasty frozen version for far cheaper.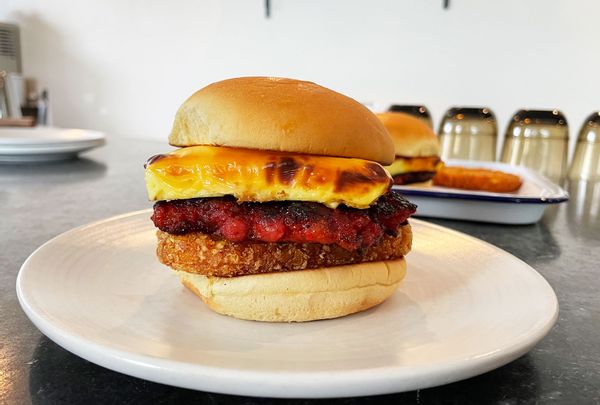 Kasama Egg Sandwich (Maggie Hennessy)
Ultimately, the bread proved to be the biggest obstacle. For weeks, Flores and Kwon tested everything from laminated brioche slices and buns to milk bread, but either the rich bread flaked everywhere or the sandwich's insides squished out. They didn't settle the matter until one afternoon when they dug into cheeseburgers on Martin's Potato Rolls for staff meal.
"We were just like, this bread is the best. Let's do the breakfast sandwiches on there," Flores said. "It's that chewy, I-don't-want-to-say sh**ty white bread you liked growing up. It's squishy and nostalgic — and it allows the textures of the hash brown, egg and sausage to each stand out."
All in, they tinkered with the sandwich for about four months before adding meaty and vegetarian versions to the menu in late February. The rest, they say, is history. 
RELATED: Want creamier scrambled eggs? These are the best dairy products to add for texture and flavor
"There's not a single item on the menu that's gotten a bigger response than this," Kwon said. "It really helped our morning sales and saved some of our days for sure."
I wish I knew how long it took the late Herb Peterson to come up with what would eventually be dubbed the Egg McMuffin, the breakfast sandwich he engineered as a fast-food version of eggs benedict. When Peterson coaxed late McDonald's founder Ray Kroc to his Santa Barbara, Calif., store in 1972 to taste it, he refused to divulge what he'd done, Kroc recalled in his 1977 autobiography, "Grinding It Out: The Making of McDonald's."
"He didn't want me to reject it out of hand, which I might have done, because it was a crazy idea — a breakfast sandwich. It consisted of an egg that had been formed in a Teflon circle, with the yolk broken, and was dressed with a slice of cheese [to replace the hollandaise] and a slice of grilled Canadian bacon. This was served open-faced on a toasted and buttered English muffin. I boggled a bit at the presentation. But then I tasted it, and I was sold."
Is it possible that we haven't necessarily innovated beyond 1972 when it comes to breakfast sandwiches? Some might say the same about the cheeseburger. Sure, chefs go through bouts with wagyu patties and fancy toppings like truffle and foie gras, but we inevitably find ourselves right back at some variation on the Big Mac: two smashed patties, American cheese, pickles and some form of Dijonnaise or fry sauce. 
---
Want more great food writing and recipes? Subscribe to Salon Food's newsletter.
---
Give the people what they want, right? "We just like making regular food," Flores said. "We're not trying to put some spicy mayo or avocado on it. I just want sausage, hash brown, egg and American cheese."
Then again, McDonald's Egg McMuffin doesn't feature Kwon's scratch-made savory egg custard, which she pours into hotel pans and steams 'til set and silky before she slices each rectangle with a tiny, flexible offset spatula. Nor does the McMuffin's pale sausage patty hold a candle to Kasama's fatty pork longanisa, stained red from annatto seed and imbued with garlic, smoked paprika, black pepper and a hint of brown sugar, which ingeniously replicates the effect you'd get from drizzling maple syrup over sausage.
Also unlike McDonald's, Kasama won't cave to demand — including a shameless plea from yours truly — to make it available all day. 
"I like the exclusivity," Flores said. "There's something about having to race into a place because you just have to have it. Plus, once it's noon you want a chicken adobo sandwich instead."
More by this author: