Four University of Idaho students were found brutally murdered in November 2022, rocking the relatively peaceful community. But it wasn't long before a suspect was found who was eventually apprehended. 
Bryan Christopher Kohberger, a 28-year-old Ph.D. student at Washington State University in Pullman, Washington, was arrested on Dec. 30 for the fatal stabbings of 20-year-old Ethan Chapin, 21-year-old Madison Mogen, 20-year-old Xana Kernodle and 21-year-old Kaylee Goncalves. Kohberger currently faces four counts of first-degree murder and a count of felony burglary. He appeared in court on Thursday.
Despite the arrest, much of the case still remains a mystery, including the suspect's relationship to the victims, his motives and why he was taken into custody seven weeks after the crime. Law enforcement refrained from elaborating further, asserting that more details in the case would be provided throughout Kohberger's court appearances.
Here's what we know about the case so far, from a timeline of events to findings from court documents:
The November crimes
Per police reports obtained by ABC News, the murders took place between 4 a.m. and 4:25 a.m. on Nov. 13. in a house near the Moscow, Idaho, campus, where Mogen, Kernodle and Goncalves all lived with two other roommates — whom survived the attacks. 
Around 1:45 a.m., best friends Goncalves and Mogen returned home after going out to the Corner Club bar in Moscow. At about the same time, Chapin and Kernodle, who were dating, also returned. Chapin did not live at the house but was sleeping over with his girlfriend. 
According to the affidavit — also obtained by ABC News — Kernodle received a DoorDash order at the house at about 4 a.m. One of the surviving roommates also woke up around 4 a.m. after hearing what she thought was Goncalves playing with her dog. The roommate claimed "she heard someone she thought was Goncalves say something to the effect of 'there's someone here.'" But that may have also been Kernodle on her phone as records showed she was on TikTok at about 4:12 a.m.
The roommate said that "she looked out of her bedroom but did not see anything when she heard the comment about someone being in the house," per court documents. She also heard "what she thought was crying coming from Kernodle's room" followed by a male voice saying "something to the effect of 'it's OK, I'm going to help you.'"
When she opened her bedroom door, the roommate said she heard crying and saw a masked man in black clothes walking past her. The court documents said she stood "frozen" and in "shock." The documents also mentioned that a security camera, located less than 50 feet from Kernodle's room, picked up sounds of a barking dog and "distorted audio of what sounded like voices or a whimper followed by a loud thud" around 4:17 a.m.
Police said the two roommates called friends over to their house a few hours later because they found one of the victims unconscious. In response to a 9-1-1 call made at 11:58 a.m., police found the four victims. Autopsies conducted on Nov. 17 revealed the victims were all stabbed multiple times. 
The suspect
After reviewing surveillance video, police saw Kohberger's white Hyundai Elantra pass the victims' house three times and then enter after the fourth time at 4:04 a.m. Location data from Kohberger's phone also revealed that "he had traveled to the area of the victims' residence at least a dozen times between late June and the night of the killings," authorities said per CBS News.    
Kohberger's car was also traced that night to his place of residence in Pullman, Washington. Police eventually arrested Kohberger on Friday, Dec. 30 at his parents' home in Albrightsville, Pennsylvania, on a fugitive from justice warrant. Kohberger was also charged with four counts of first-degree murder and felony burglary.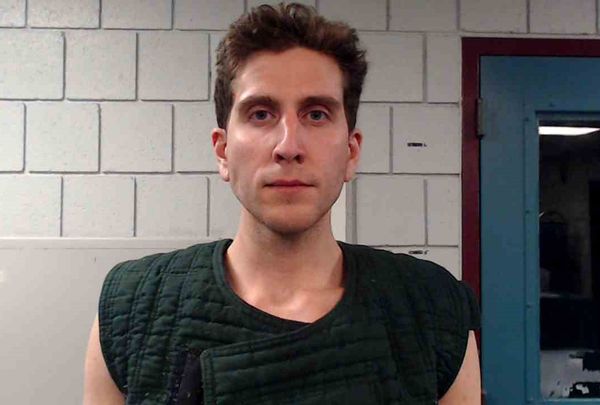 Bryan Christopher Kohberger (AKA "The Idaho Killer") (Monroe County Correctional Facility via Getty Images)
Per CBS News, "Kohberger was arraigned in Pennsylvania in front of a district judge, where bail was denied, and remanded to Monroe County Correctional Facility." He reportedly did not fight being returned to Idaho during an extradition hearing on Jan. 3. Kohberger arrived in Idaho the following day and was picked up by local authorities following a flight from Pennsylvania. He is being held at Latah County Jail.
Kohberger was a Ph.D. criminology student and teaching assistant at Washington State University's Pullman campus. He received a bachelor's degree from DeSales University in 2020 and did his graduate studies at the university until June 2022, per a statement from DeSales. 
Following Kohberger's arrest, Washington State University's Department of Criminal Justice and Criminology released a brief statement: "The Department  of Criminal Justice and Criminology at Washington State University is aggrieved by the alleged horrendous acts of one of its graduate students. We are relieved that justice will be carried out. Our hearts are with the victims' families."
In a statement obtained by CBS News, Kohberger's family said they "will continue to let the legal process unfold" and that they "have fully cooperated with law enforcement agencies in an attempt to seek the truth and promote his presumption of innocence.
"First and foremost we care deeply for the four families who have lost their precious children. There are no words that can adequately express the sadness we feel, and we pray each day for them," they added.
Revelations from Kohberger's initial hearing
Kohberger made his initial appearance in court at 12:30 p.m. ET on Thursday. 
Washington state licensing records and court documents obtained by CNN revealed that Kohberger received a new license plate for his white Hyundai Elantra five days after the November murders. 
Trash from the Kohberger family's residence also helped investigators identify Kohberger as the suspect in the murders. The trash samples were recovered by Pennsylvania law enforcement and then sent to the Idaho State Lab for DNA testing.    
"On December 27, 2022, Pennsylvania Agents recovered the trash from the Kohberger family residence located in Albrightsville, PA," court documents said. "That evidence was sent to the Idaho State Lab for testing." 
The following day, the lab found that "a DNA profile obtained from the trash" matched a DNA profile from the tan leather knife sheath found "laying on the bed" of one of the victims.
"On December 28, 2022, the Idaho State Lab reported that a DNA profile obtained from the trash and the DNA profile obtained from the sheath, identified a male as not being excluded as the biological father of Suspect Profile," the document continued.
Kohberger's phone records revealed that his phone was used at least a dozen times near the victims' residence since June 2022. His phone was also near the scene of the crime hours after the murders, according to court documents.
Court documents also disclosed that Kohberger applied for an internship with the Pullman Police Department in Washington in fall 2022.
Kohberger is slated to be back in court for a preliminary hearing on Jan. 12, 2023.