In volumes of Anne Rice's journals, archived in a collection held in the care of Tulane University in New Orleans since her death in 2021, she details the very early workings of what would become one of her most notable series of books, "Lives of the Mayfair Witches."
Prior to making any serious headway into the first draft of "The Witching Hour," the first book in the series published in 1990, Rice makes note in one particular journal of a conversation she had with a friend in which she gauged what fans of her previous series, "The Vampire Chronicles," would hope to read in a new series about an entirely different set of creatures of the night . . . witches.
"Just asked [redacted] what she expected in a witchcraft novel, historical or contemporary witchcraft stuff (expected from the author of 'Interview with the Vampire' and 'The Vampire Lestat')," Rice wrote. "She said historical. That would be what she would want." 
And Rice followed her suggestion, going on to craft 1,056 pages that led readers through a highly detailed account of generations of witches that felt more like a biography than a novel. 
Switching from writing about vampires to writing about witches seemed effortless to Rice, who breathed as much life into the Mayfairs as she did her beloved Louis de Pointe du Lac, Lestat de Lioncourt and their daughter in blood, Claudia, a character inspired by the death of her own daughter, Michele, who died of leukemia at the age of five.
Rice opened reader's minds to an all-together new variety of witch that is just as human in their daily lives as they are otherworldly in their gifts, much like she did with her vampires.
Introducing the Mayfairs in "The Witching Hour," Rice made it clear that she had no desire to follow the "double double toil and trouble" tropes of witches portrayed in literature and film as we've come to expect, but rather open readers' minds to an altogether new variety of witch that is just as human in their daily lives as they are otherworldly in their gifts, much like she did with her vampires.
"The Witching Hour" centers on a long line of witches, with gifts of their own that are enhanced by an entity attached to their family named Lasher, as each generation passes their wealth and gifts down and down to the youngest in the line, a 13th witch more powerful than any to come before her, Dr. Rowan Fielding/Mayfair, played by Alexandra Daddario in AMC's "Anne Rice's Mayfair Witches."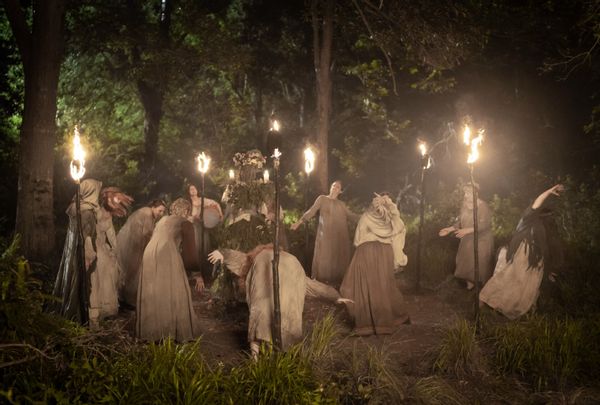 Mayfair Witches ancestors (Alfonso Bresciani/AMC)In a 1989 interview conducted as part of the Tennessee Williams & New Orleans Literary Festival, Rice talks about "The Witching Hour" prior to it being published, highlighting what sets it apart from her earlier novels, and other portrayals of witches within the genre.
Describing "The Witching Hour" as a "supernatural novel about a family that inherits a witching power in every generation, a psychic power to communicate with spirits," Rice talks about her house on 1239 First Street, which she purchased, in part, using her advance for the book, and which she used as inspiration for the house the Mayfairs lived in within the series.
"It's set both now, in the present, and in the past," Rice said. "Strangely enough, the novel was set in an old crumbling Garden District house on Philip Street, and I wound up coming back here and buying a house on Philip Street. Now I've moved the setting and I'm buying another house on First Street and I've already incorporated that house into the novel."
Rice, who was born in New Orleans, spent a chunk of her formative and early adult years in Texas and San Francisco with her husband Stan Rice and their son, Christopher, before moving back to New Orleans after the death of their daughter.
---
Want a daily wrap-up of all the news and commentary Salon has to offer? Subscribe to our morning newsletter, Crash Course.
---
"The Witching Hour" is Rice's first novel written about New Orleans while actually living there, which helped to further aid in the biographical feel of the book, and the fresh take on witches and witchcraft from a southern perspective rather than from the well-covered coastal perspective of historic Salem and the like. American Horror Story's "Coven" has Rice to thank for this. 
"This is the first time I've actually been able to write with the sound of the rain falling on the banana trees and the smell of the river breeze coming in the window, and it's really been wonderful," Rice said back in 1989. 
In The New York Times review of "The Witching Hour," it describes the book as a "huge and sprawling tale of horror," which points to Rice having achieved what she set out to accomplish in terms of adding her own special spin on the subject of witches, although the rest of the review is less than kind. In the previously referenced interview, Rice goes on to mention that New York critics were rarely kind to southern writers at that time, with the interviewer chiming in to note that the Times once referred to her prose as "humid," not meaning it as a compliment.
To expand upon a topic most commonly associated with black cats, pointy hats and Halloween and have it be called "huge and sprawling" by a writer not trying to do you any favors at all in a review, seems like double the win.
In the fourth episode of the "Mayfair Witches" series, titled "Curiouser and Curiouser," Dr. Rowan Fielding is just starting to learn the full extent of her powers, where they come from and how to control them. Now that her mother Deirdre (Annabeth Gish) has died, the entity Lasher (Jack Huston) is transferring his attachment over to her, but she's stronger than she knows, and definitely stronger than he could ever have anticipated.
Explaining what Lasher is, and what role he plays in the lives of the Mayfair women, Rowan's aunt Carlotta (Beth Grant) describes him as "an extension" of Rowan, and the female ancestors who came before her.
Rowan, and the previous Mayfair witches, don't do spells. They, more so than not, are magical themselves. They control a person's inner workings with their minds, just as Lasher's influence controls them from within whenever he's near.
Trying to rewrite witches, a concept cemented in our minds as a certain concrete image since childhood, seems as daunting as trying to breathe new life into New Orleans itself, but Rice did it with "The Witching Hour," and then expanded upon it with the books that followed, "Lasher" (1993), "Taltos" (1994), and the crossover books "Merrick" (2000), "Blackwood Farm" (2002), and "Blood Canticle" (2003). 
In an interview conducted by her son in 2015, Christopher asks his mother if she had any plans to further the Mayfair story, and she said she felt like she said all there was to say in the final book in the series. In a sense, the spell had been sufficiently cast, and with AMC's adaptation of them, we're all still under it.