Few people care about the truth and pursue it as doggedly as Richard Belzer, who died recently at 78 years old. Belzer spent most of his career honing a hard-boiled persona, edged with caustic skepticism and a wry smile, that defined everything he did: his routine as a stand-up comedian, his two-decade run playing Detective John Munch, and his work as an author of conspiracy theory books. Beneath his wise-guy cynicism, however, Belzer harbored hope that the world could become a better place, especially for the most vulnerable among us.
"He did not suffer fools quietly."
"He hated bullies and he looked out for the little guy," Warren Leight, former showrunner for "Law & Order: Special Victims Unit," told Salon. "He did not suffer fools quietly."
Belzer's anti-authoritarian streak developed early and ran deep. His mother abused him. He got thrown out of every school he went to. The military released him after less than a year of service. "I was discharged under honorable conditions for being too funny to carry a gun," he told one interviewer.
Before he got discharged, Belzer worked as a radio intercept operator. His job, which required a top secret clearance, was to monitor and decipher codes transmitted by enemies during the Cold War. The simple fact that there were forces at work to keep the truth from people, and that those with the right skills and knowledge could detect and decode that truth, stayed with him for the rest of his life.
Having flunked out of college and stumbled through a number of dead-end jobs, Belzer decided to give comedy a try. Between the war in Vietnam and the Watergate scandal, the time was ripe for cynical material. George Carlin and Robert Klein, both at the height of their popularity, had done away with stale Borscht Belt mother-in-law gags in favor of smart, edgy comedy, and Belzer was inspired. 
"In the '60s, for the first time, Americans were suspecting the government of lying and were disagreeing with institutions on issues like birth control," Belzer wrote in "How to be a Stand-Up Comic." "So comedians made fun of things that had been strictly taboo until then."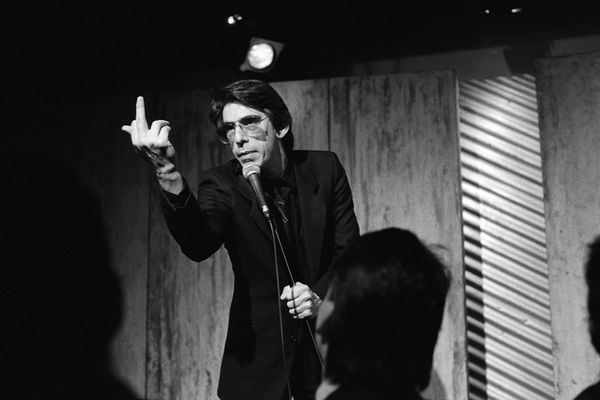 American actor and comedian Richard Belzer performing his stand up comedy routine at Caroline's Comedy Club on May 4, 1988 in New York City, New York. (Catherine McGann/Getty Images)In the early days of the comedy club boom, Belzer paid his dues, performing sets at The Improv and Catch a Rising Star, where he eventually became the master of ceremonies. His act included observational jokes, impersonations and plenty of references to his Jewish background, but the lion's share of his stage time went to smart political comedy.
"Our current president is from Hollywood," Belzer joked about Ronald Reagan in the early 1980s. "He's an actor. He's not really the president, he plays the president. He's the guest host of the country for four years."
Working at a frenetic pace on stage, Belzer could go from highbrow social commentary to gutter humor in the blink of an eye. "According to the Jewish religion, when you have a bar mitzvah, you become a man," he once joked on an HBO special. "Now, when you are a kid in the street and they say, 'Are you a man, yet?' it means, 'Did you get laid, yet?' So, I figure what a great religion. You turn 13, you get laid."
Belzer's character — a cynical, wise-cracking, conspiracy theorist — bore a strong resemblance to his comedic stage persona.
At Catch a Rising Star, Belzer never knew how much time he would have to fill between comedians when he was working as MC, so he mastered crowd work, talking to audience members and ad-libbing bits based on their feedback. The practice helped him develop lightning-fast comedic reflexes. Hecklers never stood a chance against him. Once, when an audience member shouted sarcastically "Nice jacket," Belzer responded immediately and without any mercy, "I got it on sale at your mother's vagina."
In 1993, Belzer's career took a left turn when he was cast as Det. John Munch in the gritty cop series "Homicide: Life on the Street," a show with nonfiction roots that tried to expose the ugly reality of Baltimore police work. Belzer's character — a cynical, wise-cracking, conspiracy theorist — bore a strong resemblance to his comedic stage persona. In episode after episode, Belzer achieved the feat of acting without seeming to be acting, showing up in front of the camera as his full, authentic self.
American actors Richard Belzer, Melissa Leo, Reed Diamond and Clark Johnson on set of television series Homicide: Life on the Street. (Evan Hurd/Sygma/Sygma via Getty Images)"On screen he didn't shout for attention," said Leight. "He just drew you to him."
He described himself as a conspiracy theorist, a term he believed was created by the CIA "to discourage people from seeking the truth."
Thanks to Belzer's portrayal, Det. Munch became such an iconic character that after seven seasons on "Homicide," he joined the fictional NYPD on "Law & Order: SVU" for a decade and a half. Astonishingly, that was only the beginning of what became an epic series of appearances for Munch. Belzer took his truth-seeking, case-closing character across an unprecedented number of series, networks and television franchises, appearing on "The Wire," "The X-Files," "30 Rock," and "Arrested Development," among several other shows. Munch is one of the longest-running characters in television history.
Belzer's increasing fame gave him a platform, and he used that platform to address the body politic, writing or co-writing five books on subjects he held close to his heart, from extraterrestrial cover-ups to mysterious airplane disappearances. He described himself as a conspiracy theorist, a term he believed was created by the CIA "to discourage people from seeking the truth," as he wrote in his book "Corporate Conspiracies."
Belzer felt that so much of the world's suffering derived from our collective refusal to acknowledge the corruption all around us. He earnestly wanted to end that suffering, and to that end, he was committed to solving cases both on screen and off. He investigated the assassinations of President Kennedy, Bobby Kennedy, Fred Hampton, and Martin Luther King, Jr., as well as the death of Marilyn Monroe. He studied the evidence for the existence of UFOs, and he looked for hidden health dangers associated with industrial chemicals.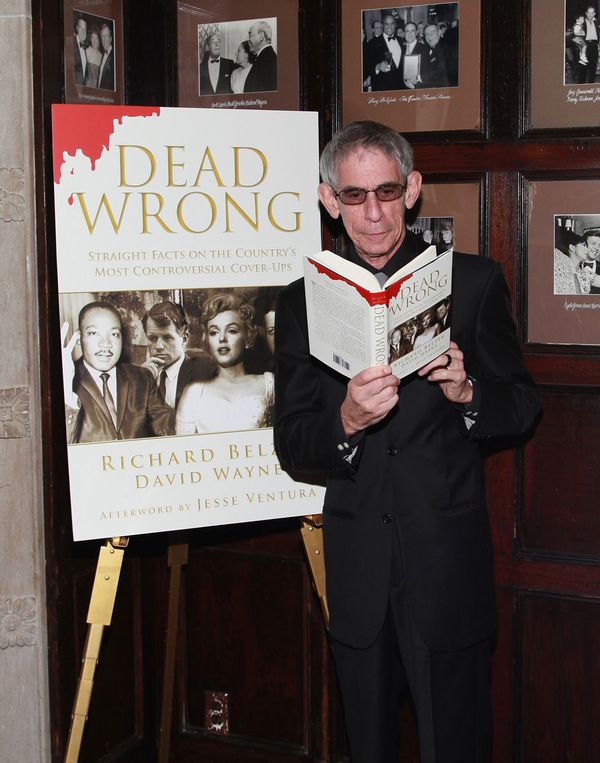 Actor, comedian and author Richard Belzer poses with a copy of the book 'Dead Wrong: Straight Facts On The Country's Most Controversial Cover-Ups' by Richard Belzer and David Wayne during his Friars Club Book Warming at the New York Friars Club on October 5, 2012 in New York City. (Taylor Hill/FilmMagic/Getty Images)"I read six newspapers every day," Belzer wrote in "UFOs, JFK, and Elvis." "I am still hoping that one day one of them might give me something other than all the news the CIA thinks is fit to print. Fat chance."
With his final breath, Belzer defied death's ultimate authority.
As obsessed as he was with chasing the truth though, there was much more to Belzer, who Leight described as "warm and generous."
"His conspiracy theories were occasionally the subject of a dressing room or on-set riff," Leight said. "But what sticks in my mind was his arm around my shoulder, being called 'kiddo,' being told I was welcome."
---
Want a daily wrap-up of all the news and commentary Salon has to offer? Subscribe to our morning newsletter, Crash Course.
---
According to Belzer's longtime friend, writer Bill Scheft, the comedian, actor and author's last words were "F**k you, motherf**ker." How fitting that with his final breath, Belzer defied death's ultimate authority. How appropriate, too, that in doing so he gave voice to a sentiment that could easily have been lifted straight from his nightclub act or delivered by Det. Munch to some entitled perp in handcuffs.
"We're not powerless," Belzer wrote in "Corporate Conspiracies." "We have many democratic vehicles at our disposal. Let's use them. Let's take back control of this Republic — take it out of the hands of the megacorporations who now can literally buy their influence from the politicians — and put it back into the hands of We, The People where it belongs."