Many recipe writers, when describing the relative ease of a dish, will advertise the fact that it doesn't require an already beleaguered home cook to pull out the blender. For too long, I also bought into the lie that using a blender or food processor was a schlep. That it was a bulky, loud piece of equipment that was awkward to store and even more awkward to clean.
But then I picked up a mini food processor, a $20 Ninja Express Chop from Target, specifically to test a "shortcut pastry" recipe (which worked out beautifully, by the way). Even after I'd finished my tests, I found myself continuing to reach for it as I cooked in subsequent weeks. It makes food prep feel way easier, and it also has inspired some particularly creative pantry meals.
Here is a quick guide to using your food processor — or blender — for weeknight-approved cooking.
The difference between food processors and blenders
Though food processors and blenders share some functions, they're not interchangeable.
According to KitchenAid, "primarily, a blender is used to purée or crush ice. Use a blender if your final product is something you can drink, such as a mocktail or protein shake, drizzle or dip. In addition to pureeing, a food processor can slice, grate, shred, dice and more. As a general rule, use a food processor if the outcome will be eaten with a fork or spoon."
Now, I'm a little more relaxed about the differentiation between when and how to use a blender versus a food processor. Many home cooks have one appliance or the other — not both. If that's you, don't worry. As long as you get to know how to use your particular model, you'll be just fine.
How to use a food processor for prep work
I have an autoimmune condition that already makes me a little achy on occasion, but then I got COVID earlier this year. After getting sick, my joints would just randomly burn, to the point that the last thing I wanted to do after spending a day typing was pick up a knife and chop vegetables. That's where my food processor made — and continues to make — prep work so much easier.
Most of the produce I reach for on a day-to-day basis, like peppers, onions and carrots, does great in the food processor. Make sure, of course, that you've removed any skins, stems and seeds. Some food processors and blenders have a pretty expansive settings panel, allowing you to chop, blend, purée and crush ice. My little guy is a simple one-button model, and it honestly works great for my style of cooking.
Regardless of what style of food processor you select, start low and slow with a few pulses to better gauge its power. Often, that's actually enough for a rough chop on most produce. For a finer cut, add a few more pulses. This takes the work out of ricing a head of cauliflower, for instance, and makes mincing garlic and ginger less of a chore.
Once you start adding cooked vegetables to the mix, there are even more opportunities for speeding up prep work. I use my food processor a couple of times a month to make a batch of garlic paste from roasted cloves, olive oil and salt. In the winter, it makes root vegetable purées really easy — no potato masher required.
My food processor has also been the key to getting me to eat better salads at home. At the beginning of the week, I use it to whip up a really nice dressing (Bon Appetit's tahini ranch and green goddess dressings are both winners) that I can jar and use for the next five or six days.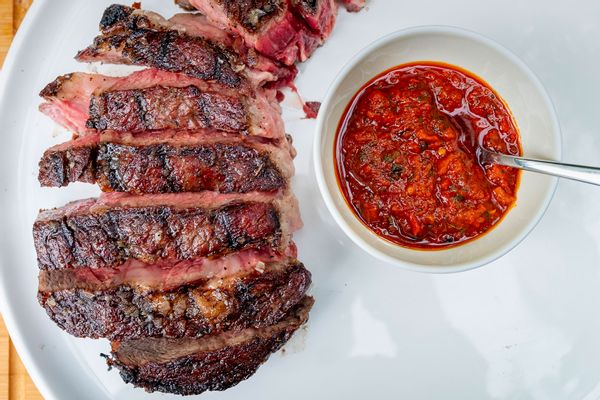 Red chimichurri and steak (Tom Gallagher)
How to use a food processor for more creative pantry meals 
My food processor has also served as the shortcut to a lot of nice pantry meals, especially during the earlier waves of the pandemic when we were all adjusting to grocery stores being closed and the food supply chain being in flux. Andy Baraghani's blended miso pesto — made with spinach, cilantro, white miso, sesame oil and a little pat of butter — has served as a great template for other quick "green sauces" made using whatever languishing greens and herbs I have in my crisper drawer. I spoon them over some pasta or grains, and I have a meal ready in 15 minutes.
Blend up jarred roasted red peppers, sun-dried tomatoes, some crushed almonds and some stale bread for a punchy romesco sauce to pair with fish, rotisserie chicken or roasted vegetables. Or perhaps try this red chimichurri, meant to pair with rich cuts of beef (though, take it from me, it is just as delicious paired with soft scrambled eggs and a nice piece of golden-brown toast).
When I stopped looking at using my food processor as a chore and rather as an opportunity to quickly play with flavor and texture, my world of weeknight cooking really opened up. If you need a little inspiration, try Googling "blender sauces" and "blender soups" for starters.
Cleaning 
Again, everyone makes cleaning your food processor or blender out to be some kind of Olympian feat, but many models are designed in such a way that you can simply toss the jar and the blade into the dishwasher — though don't ever put any electric or motorized parts in the dishwasher. You can then run a soapy rag over the rest of the appliance and let it air dry. 
---
Want more great food writing and recipes? Subscribe to Salon Food's newsletter, The Bite.
---
For stubborn stains, or if you don't have a dishwasher, here's a quick tip: Immediately after using your food processor or blender, fill it with warm water and one to two teaspoons of dish soap. (If you're facing a particularly gnarly stain or messy food, feel free to add a shake of baking soda to the mix). Blend the soapy water for about 30 seconds, or until you see any caked on ingredients pull away from the sides of the food processor. 
Leave the food processor to soak while you finish cooking and then, when you're ready to finish cleaning it, give the soapy water another 30-second blend before rinsing it out and allowing it to air dry. This typically takes care of any mess, but feel free to repeat the process if necessary. 
Complete your meal
with these weeknight-friendly desserts
Salon Food writes about stuff we think you'll like. While our editorial team independently selected these products, Salon has affiliate partnerships, so making a purchase through our links may earn us a commission.