Before spiraling into the everything bagel that is Sunday's telecast of the 95th Academy Awards it's somewhat illuminating to look back at a few insights from Academy of Motion Picture Arts and Sciences voters.
There are approximately 10,000 of them, but a few anonymously revealed which performances and films they selected for various publications and why. Many were honest but polite, some were brutal and candid. One, an actor who, according to EW.com, has played roles "in critically heralded prestige dramas, biting mainstream thrillers, and on Emmy-winning TV shows" is outright racist and sexist.
To a person, they provide a view into the thought process behind all awards season wins, and the Oscars especially. Taken together, they explain why the smart money has been on "Everything Everywhere All at Once" since this awards season kicked off.
The Daniels' multiverse epic had 11 nominations and garnered seven wins, including for best picture, best actress for Michelle Yeoh, a best supporting actor statue for Ke Huy Quan, and, in something of a category upset, a best supporting actress Oscar for industry veteran Jamie Lee Curtis.
The Daniels, aka Daniel Kwan and Daniel Scheinert, also scored hardware for best director and the best original screenplay, with Paul Rogers winning for best film editing.
Each of these winners is a first-time Oscar nominee, with Curtis earning both her nod and the award after more than 46 years in the business. Each win is the product of a work that is bold, creative and inimitable.
This being the Oscars, though, there will always be that everything bagel element where one puts all their hopes and dreams, weak tea punchlines, a guy in a Cocaine Bear costume, the adorable miniature donkey co-star of "The Banshees of Inisherin," sesame, poppy seeds, and salt, onto one very expensive night. When that happens, something is going to collapse in on itself.
Because, as we've learned, when you really put everything on a bagel, it becomes the truth, which can be both glorious and infuriating. The 2023 Oscars ceremony was too long but entertaining while reminding us that the industry's biggest awards night is a popularity contest dominated by white people. 
Now, how can this be so in a year that the best picture winner, with its majority-Asian cast, beat "Top Gun: Maverick," an "Avatar," a war movie, a film about Elvis, and a biographically influenced work from Hollywood emperor Steven Spielberg?
How could this possibly be true in a year in which Quan completed the comeback awards season marathon on top after decades of being shut out of the business entirely, and Yeoh bested perennial nominee and two-time Oscar winner Cate Blanchett in her category? It's somewhat hinted at in those anonymous ballots – although those wins seemed like a lock, none of it was guaranteed.
If the most influential voters had decided that these wins were not the story the body as a whole should be telling, this year's ceremony would have left a very different flavor in our mouths instead of the palatably bittersweet yumminess many experienced.
As we've learned, when you really put everything on a bagel, it becomes the truth, which can be both glorious and infuriating.
Overall the telecast itself, though more than three-and-a-half hours long, struck a decent balance between entertainment and self-congratulation. Three-time Oscars host Jimmy Kimmel didn't try to swing for the fences with his material, perhaps to avoid controversy. Last year's telecast provided enough of that with The Slap, which Kimmel gently prodded in his monologue and a couple of times during the ceremony.
"We want you to have fun. We want you to feel safe. And most importantly, we want me to feel safe. So we have strict policies in place," he said. "If anyone in this theater commits an act of violence at any point during the show, you will be awarded the Oscar for best actor and be permitted to give an 18-minute long speech."
He then added, "Seriously, the Academy has a crisis team in place. If anything unpredictable or violent happens during the ceremony, just do what you did last year: nothing. Maybe even give the assailant a hug."
But there's something to be said for the host striving to be forgettable on a night that was predicted to be memorable for many reasons. This year's batch of Oscar nominees featured many first-timers, which increased the likelihood that history would be made.
Not only did Yeoh become the first Asian woman to win best actress, but Telugu sleeper hit "RRR" (which stands for "Rise Roar Revolt") yield the first original song from an Indian film to win an Oscar with "Naatu Naatu."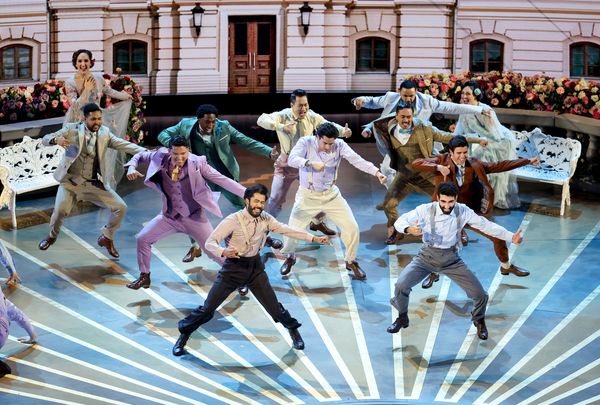 Dancers perform "Naatu Naatu" from "RRR" onstage at the 95th Annual Academy Awards held at Dolby Theatre on March 12, 2023 in Los Angeles, California (Rich Polk/Variety via Getty Images)
That these wins happened in a year in which Oscar nominations for "Top Gun: Maverick" and "Avatar: The Way of Water" acknowledge each worldwide sensation's role in reminding audiences of the theatrical experience's necessity in terms of fully experiencing their spectacle and scope. Either could have easily muscled "Everything Everywhere All at Once" off its pedestal.
Then again, neither Tom Cruise nor James Cameron showed up – "The two guys who insisted we go to the theater didn't go to the theater," Kimmy quipped – no doubt suspecting there would be no reason for them to rise from their seats. (If that's the case, they're partly right, since "Top Gun: Maverick" snagged the Oscar for best sound editing and "Avatar: The Way of Water" swam off with the visual effects award.)
Evoking the importance of being in a theater, however, were the strong musical performances. Together they enlivened the telecast as opposed to bringing them to to halt, save for the odd killer moment from the likes of Lady Gaga.
She delivered again, face stripped of makeup and disrobing from her couture to wear a simple black t-shirt and ripped jeans to perform "Hold My Hand" from "Top Gun." It's best to get out of Rihanna's way, I suppose, who sparkled in her performance of "Lift Me Up" from "Black Panther: Wakanda Forever."
That had stiff competition from the pure frenzied precision that was the live performance of "Naatu Naatu," outdone only by its composer M.M. Keeravaani breaking into his version of The Carpenters' "Top of the World" while accepting his Oscar.
In terms of sheer charm and weirdness, David Byrne and Stephanie Hsu's duo on "Everything Everywhere" single "This Is a Life" may have stolen the evening. It was lovely and harmonious, revealing itself to be the evening's gratifying condiment when Byrne waved his hot dog hands in the air. A complementary contrast was Lenny Kravitz performing "Calling All Angels" during the In Memoriam segment, lending it an air of sweet remembrance as opposed to dirges of yesteryear.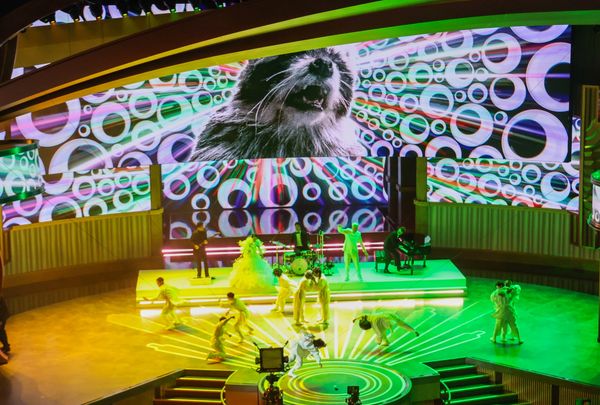 Stephanie Hsu, David Byrne, Raccacoonie and more perform "This Is a Life" from "Everything Everywhere All at Once" at the Oscars on March 12, 2023 (Myung J. Chun / Los Angeles Times via Getty Images)What's so terrible about any of that? (Save for the usual significant omissions from the memorial lineup, including Anne Heche, Paul Sorvino, and the problematic Tom Sizemore, among others.) Little to nothing. It's the notes of burnt garlic on the other side of a bite when we contemplate who wasn't there and who didn't win.
During his monologue, Kimmel acknowledged that Viola Davis' and Danielle Deadwyler's work in "The Woman King" and "Till" are nomination-worthy without specifically pointing to the Andrea Riseborough of it all, which he never would.
Indeed, the typical Oscar viewer knows and cares little about studio "For Your Consideration" campaigns and understands why that nomination over the others was controversial. What people should understand, however, is the way that the notion of certain people being "overdue" for an award favors some actors more than others and brings out some of the Oscar voters' most irritating and regressive habits. Curtis' Oscar and Brendan Fraser's best actor win over category favorites Colin Farrell for "The Banshees of Inisherin" and Austin Butler for "Elvis" evince this.
---
Want a daily wrap-up of all the news and commentary Salon has to offer? Subscribe to our morning newsletter, Crash Course.
---
Curtis won over Angela Bassett, whose nomination for her stellar performance in "Black Panther: Wakanda Forever" made her the favorite to win in this category. Certainly, Disney poured a queen's ransom into campaigning for her. But if some of the cattiest murmurings hold any veracity, it seems that a major studio doing this for a Black actress is somehow viewed less charitably than a smaller one doing the same, hand-in-hand with a charismatic cast and directors working the public.
Curtis and Bassett each gave outstanding performances, but in the "How hasn't this person gotten an Oscar yet?" pageant, the decks have long been stacked in Curtis' favor.
Curtis and Bassett each gave outstanding performances, but in the "How hasn't this person gotten an Oscar yet?" pageant, the decks have long been stacked in Curtis' favor. She's had a great many leading role opportunities in her career and is the face of a decades-spanning horror franchise.
Bassett has been working for nearly as long, receiving an Oscar nomination for "What's Love Got to Do With It" (which she should have won for) and famously slaying it in "Waiting to Exhale." Those were two blockbuster parts compared to . . . how many for the Scream Queen?
Fraser's win highlights a different Oscar voter tendency, one in which actors of average build are rewarded for disappearing inside of prosthetics and performing their hearts out through layers of spirit gum and latex. In "The Whale" he delivers a moving performance while drowning in a fat suit made to make him look like a 600-pound man. Fraser also disappeared from Hollywood for years, making a methodical comeback over the past few years by appearing in very select roles.
However, the paramount criticism of "The Whale" is that it is fatphobic. Fraser is extraordinary, by most accounts. Butler also disappeared into the persona of King for "Elvis" to the point that he couldn't shake his accent. But Butler is a newcomer relative to Fraser, who is "overdue" . . . right? In any case, it was a win destined to be loved and hated in a single pass.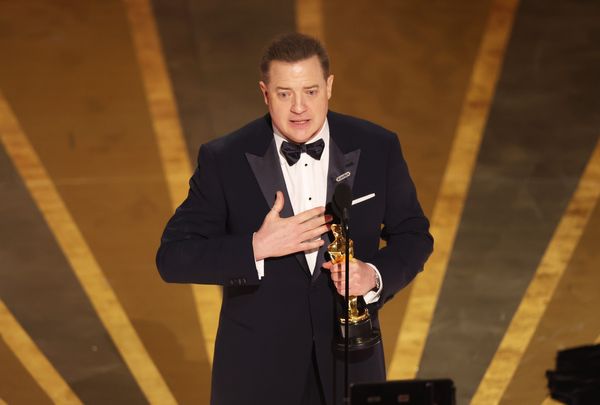 Brendan Fraser at the 95th Annual Academy Awards held at Dolby Theatre on March 12, 2023 in Los Angeles, California (Rich Polk/Variety via Getty Images)
Millions of us watch the Oscars each year nevertheless for its confluence of magic, heartbreak, inspiration and gossip fodder. Quan, in his tearful speech, reminded everyone watching, "Dreams are something you have to believe in. I almost gave up on mine. To all of you out there: Please keep your dreams alive." Seconds later, Curtis won her prize, with Bassett refusing to mask her dismay at losing.
Still, when best cinematography presenters Michael B. Jordan and Jonathan Majors looked at her and said, "Hey, Auntie. We love you," they spoke for the many people watching and feeling the same frustration.
This Oscars was not marred by fighting or controversy or victories by the undeserving, but it may be remembered for who wasn't in the room and maybe should have been if all things were truly equal. At least there was some justice and joy in Yeoh and Quan claiming their gold, with Yeoh echoing her co-star in telling the world, and women specifically, to never give up. That may land differently for a deserving veteran for whom such glory remains elusive no matter how hard she works. For people who support such an artist, acceptance speech bromides can be inspiring, exasperating and true – all of these, all at once.