In 2022, Colin Farrell appeared in no fewer than four films:  Kogonada's sci-fi drama, "After Yang," Ron Howard's retelling of the Tham Luang cave rescue "Thirteen Lives," Matt Reeves' "The Batman" in which Farrell plays The Penguin and "The Banshees of Inisherin."
That last movie scored him his first ever Oscar nomination for Best Actor and reteamed him with "In Bruges" costar Brendan Gleeson and writer/director Martin McDonagh, both of whom also received nominations.
At the recent Oscar luncheon – in which Farrell was asked to take five photos – he responded that "he didn't have five facial expressions. He favored two: smile and smolder." But that's hardly true; the actor has shown over the course of his career spanning over two decades that he has considerable range. 
While his Hollywood efforts include several genre films, from "Minority Report" and "The Recruit" to "S.W.A.T." and "Miami Vice" as well as remakes of "Total Recall" and "Fright Night," it is Farrell's low-key performances — such as his role in "Banshees" — that showcase him at his best. Farrell's quiet intensity is exciting to watch because he has the capability to explode with enthusiasm or anger at any moment. Farrell fans also acknowledge that he often acts with his bushy eyebrows, which emphasize the expressions in his dark brown eyes.
Here is a look at some of Farrell's best "smile and smolder" roles.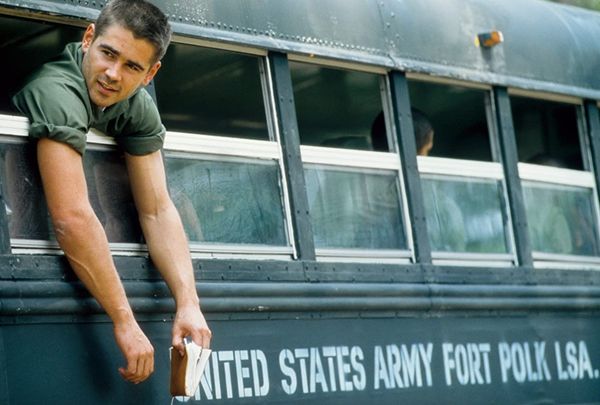 Colin Farrell in "Tigerland" (Monarchy Enterprises)
Farrell's star-making performance as an insubordinate recruit in director Joel Schumacher's gritty antiwar film shows his magnetism as a leading man. In 1971, Roland Bozz (Farrell) is in an infantry training program to prepare for Vietnam. Bozz has nothing but contempt for his superiors, which makes him kind of a folk hero among his fellow soldiers. He helps two cadets, Pvt. Cantwell (Tomas Guiry) and Pvt. Miter (Clifton Collins Jr.), get out of the army, and as he listens to their stories of hardship, Farrell absorbs their pain. His empathy is deep; he walks away from Sgt Filmore's (Michael Shannon) demonstration on how to electrocute a Vietnamese person claiming he would never do that to another human.
But it is his friendship with Pvt. Paxton (Matthew Davis) — they support each other and talk about courage and bravery — that reveals his true character. Bozz also has an escalating feud with Pvt. Wilson (Shea Whigham) that comes to a head in several intense scenes, but Farrell often plays Bozz as having grace under pressure. He may be unflinching when his superiors yell at him for his latest indiscretion, but his defiance is inspiring. So too, is Farrell's phenomenal performance as a man who "couldn't soldier if he wanted to."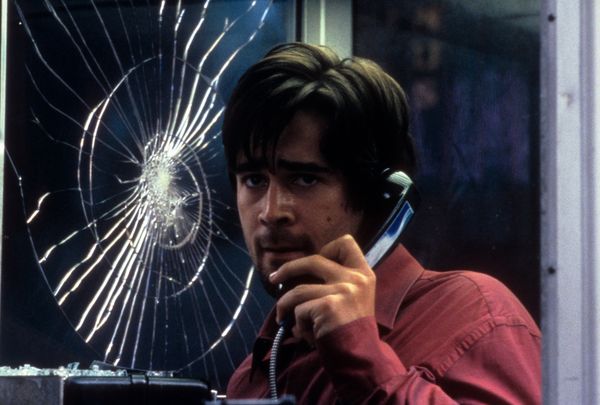 Colin Farrell holds a phone to his ear in a scene from the film 'Phone Booth', 2002. (20th Century-Fox/Getty Images)
The thriller penned by veteran B-movie screenwriter Larry Cohen reunites Farrell with "Tigerland" filmmaker Schumacher. Stu (Farrell) is a fast-talking publicist who is caught in a trap when he gets a call in a phone booth from "the caller" (Kiefer Sutherland), an anonymous, disembodied voice who threatens to kill Stu if he hangs up. The caller is wielding power over Stu, a man who is abusing his power and manipulating others — taking Stu down for being "guilty of inhumanity to his fellow man."
Farrell, sporting a thick Bronx accent and attitude, gives an unrelenting performance, as he encounters angry sex workers or tries pathetically to spin the truth using avoidance or deception. As the caller tightens the noose, gunshots are fired, and the cops get involved. Farrell's best moments are when he is humbled and confesses his sins. Schumacher employs a spinning camera, split screens, and picture-in-picture to keep this taut film moving, but it is Farrell's showy performance — equal parts flop sweat and bravado — that makes this scrappy, albeit dated, film watchable.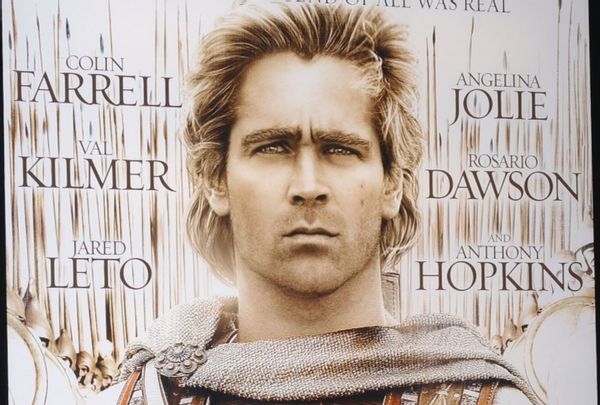 "Alexander" movie poster in Arclight Hollywood, 2004 (Stephen Shugerman/Getty Images)
 Oliver Stone's craptacular epic features a golden-locked Colin Farrell as the King of Macedonia. Not even trying to hide his Irish accent, Farrell whispers affections to Hephaistion (Jared Leto) and shouts inspiration to his men before going into battle. Farrell is impassioned, playing Alexander with both arrogance and reckless abandon. He camps it up with his seduction of Bogoas (Francisco Bosch), a Persian eunuch he loves, and rages both at Philip (Val Kilmer), his father, and Cleitus (Gary Stretch), an officer who insults him. He is rousing when he is strategizing, but also has fits of madness. But his best exchanges may be those with Olympias (Angelina Jolie), his mother, who goads Alexander to gain power and whom he kisses in a most risible moment. Farrell is not miscast in the unhinged "Alexander" – it is more that he delivers a "you must see it to believe it" performance.
04
"A Home at the End of the World" (2004)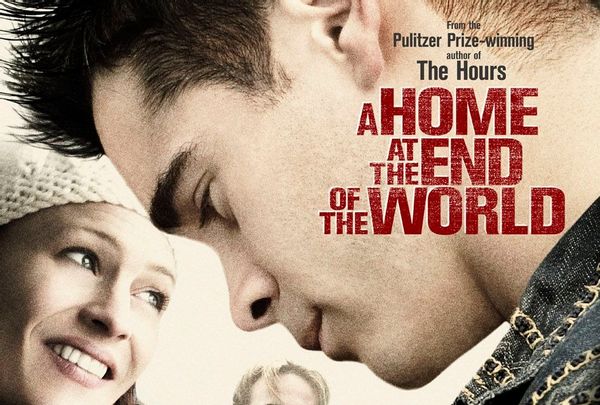 "A Home at the End of the World" poster (Warner Independent)
Farrell gives a tender performance in this underappreciated 2004 film adaptation of Michael Cunningham's novel. As Bobby Morrow, a young man whose only brother and parents die while he is an adolescent, he folds himself into the family of his best friend, Jonathan (Dallas Roberts). Bobby "catches whatever happens to blow through," and his openness, expressed by Farrell's thoughtful, shy performance, is why Jonathan, as well as Jonathan's mother Alice (Sissy Spacek), and Jonathan's East Village roommate Clare (Robin Wright) all fall in love with him.
Watching Bobby crying while losing his virginity to Clare, hugging Alice tightly, or dancing with Jonathan are heartbreaking moments that showcase not just his love of his chosen family but his inability to be alone. Farrell's guilelessness is appealing (although his bad wig is not) in this understated performance.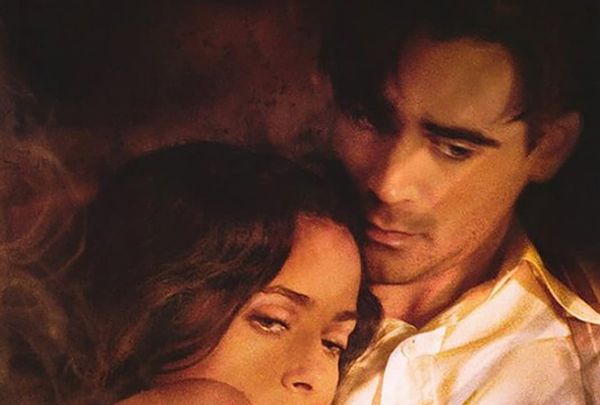 "Ask the Dust" poster (Warner Bros.)
Farrell is positioned as a romantic lead in this melodrama adapted from John Fante's celebrated novel by "Chinatown" writer/director Robert Towne. The handsome actor certainly looks the part of Arturo Bandini, a broke, down-on-his-luck writer in 1930s Los Angeles. When he goes to spend his last nickel on a cup of coffee, he meets Camilla (Salma Hayek) and insults her. Their love-hate relationship forms the spine of this film, as they fight and make love with equal vigor. (One scene has them riding ocean waves naked at midnight.)
After Arturo meets Vera (Idina Menzel), a damaged young woman who professes her love for him, she helps him articulate what it is about Camilla that bewitches him. His speech about her purity and his fear of corrupting her is touching. But Arturo, mad at the world, also has moments of rage. Farrell gives a mostly sedate performance here imbuing Arturo with a quiet dignity. His shame, when he resorts to stealing milk (that turns out to be buttermilk) contrasts with his strut after being paid for a short story. Farrell also looks dapper in and out of his period wardrobe.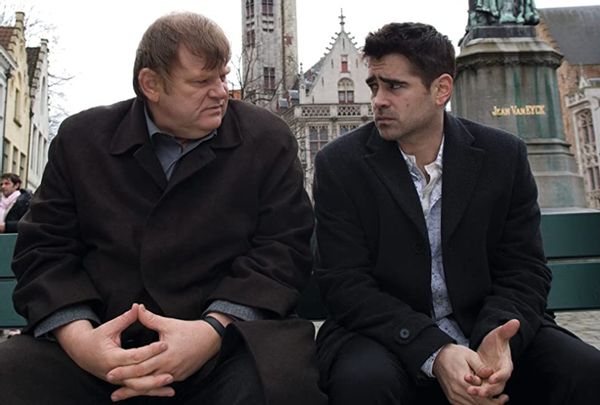 Brendan Gleeson and Colin Farrell in "In Bruges" (Focus Features)
As Ray, a hitman who has a crisis of conscience after a job, Farrell's character is described by his pal Ken (Brendan Gleeson) as being moody "like a five-year-old who's dropped all his sweets." And Ken's right; Farrell's fidgety performance — which won him a Golden Globe — is all anxiety and despair. Farrell squints so hard at times his bushy eyebrows form a barrier on his forehead as if he's trying to keep the world or at least his dark thoughts out of his head. When he speaks, he is often rude to everyone, including Ken, and impatient. He just doesn't want to be exiled and forced to go sightseeing in a quaint medieval Belgian town awaiting Harry's (Ralph Fiennes) call. But when he meets Chloe (Clémence Poésy), Ray turns on the charm — even though he says some inappropriate things, and even punches two Canadians (Zeljko Ivanek and Stephanie Carey) while on their dinner date.
Farrell displays a remarkable dexterity with writer/director Martin McDonagh's hyperverbal script. The way he emphasizes the word "tip" in one line about culture is very funny, as is his punctuating much of his speech with f-bombs and other profanities. Farrell's role also allows him to display some moments of sensitivity, shedding a tear over an accidental death he caused. It is an accomplished performance that proves how the actor is able to balance big showy moments with small interior ones, especially playing an inchoate male character who is not too bright but feels things deeply.
---
Want a daily wrap-up of all the news and commentary Salon has to offer? Subscribe to our morning newsletter, Crash Course.
---
07-08
"The Lobster" (2015) & "The Killing of a Sacred Deer" (2017)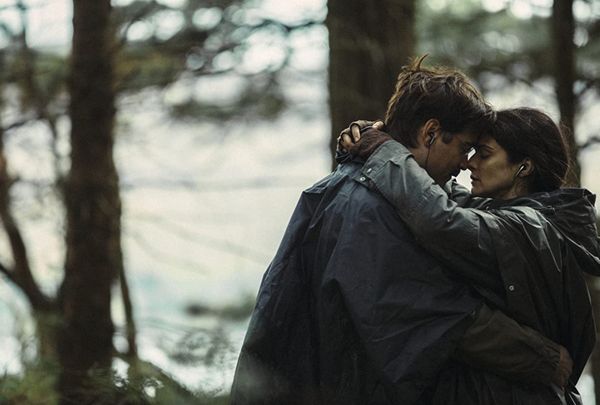 Colin Farrell and Rachel Weisz in "The Lobster" (Despina Spyrou/Element Pictures)
As David, Farrell deliciously underplays in Greek Weird Wave director Yorgos Lanthimos' absurdist love story. A paunchy, bespectacled, depressed widower with back pain, Farrell oozes melancholy as he checks into a hotel where he hopes to make a love match in 45 days or be turned into the titular animal. His deadpan line deliveries as he tries to romance the Heartless Woman (Angeliki Papoulia) are dryly amusing, but so too is his response checking in when he is asked if he wants to register as heterosexual or homosexual — Farrell takes an uncomfortably long pause as he weighs his options. The actor also gets to do some physical humor, brushing his teeth and taking off his trousers with one hand tied behind his back, but mostly his performance is in a low-key mode. David often reflects on his situation and what he must do to maintain a sense of self-worth in this dystopian future. "The Lobster" shifts gears in its second act, where David escapes the hotel and finds community and love with the Short Sighted Woman (Rachel Weisz). Watching Farrell spin tales of imagined Mediterranean holiday destinations, or do things for the woman he loves, is achingly poignant. Farrell is deeply moving here in a performance that shows his range as an actor by showing how restrained he can be.
Farrell reteamed with Lanthimos for "The Killing of a Sacred Deer," a somber drama about Steven (Farrell) a cardiologist who acts fatherly towards Martin (Barry Keoghan, Farrell's Oscar-nominated "Banshees" costar), the teenage son of a late patient of Steven's. Steven introduces Martin to his wife Anna (Nicole Kidman) and their children, Bob (Sunny Suljic) and Kim (Raffey Cassidy), and bonds start to develop between the youths. But things are awkward when Steven has dinner with Martin and his mother (Alicia Silverstone). Eventually, Martin tells Steven, threateningly, that he must sacrifice a member of his family. Farrell speaks in a flat, emotionless tone, hiding his expressions behind his heavy, graying beard, as if he has absorbed all the guilt he feels about the death of Martin's father. He is also anxious about his current situation. As his children become paralyzed and stop eating, Steven becomes unnerved, descending into madness and behaving rashly. Farrell gives a tightly controlled performance here, with outbursts that express his emotional pain and suffering. He modulates Steven's crisis of masculinity from big confrontational scenes with Martin to smaller moments, as when he rejects the sexual advances of his wife. As with "In Bruges," Farrell's work here informed his performance in "Banshees."
Colin Farrell in "After Yang" (A24)
Don't be fooled by the fabulous dance-off during the credit sequence, mono-monikered writer/director Kogonada's sci-fi film is a slow-burning meditation on grief as Jake (Farrell) tries to save Yang (Justin H. Min), an android companion for his adopted daughter Mika (Malea Emma Tjandrawidjaja). One of the loveliest scenes has him talking about his love of tea with Yang; he even gets to do a Werner Herzog impression.
But Farrell is strongest in silent mode, as when he contemplates his emotions walking through a forest after spending time with Ada (Haley Lu Richardson), a clone Yang knew. "After Yang" is deliberately paced, allowing Farrell to give a small, quiet mild-mannered performance. And it is fun to see him reunited with his "Tigerland" costar, Clifton Collins, Jr., who plays a friendly neighbor.
10
"Banshees of Inisherin" (2022)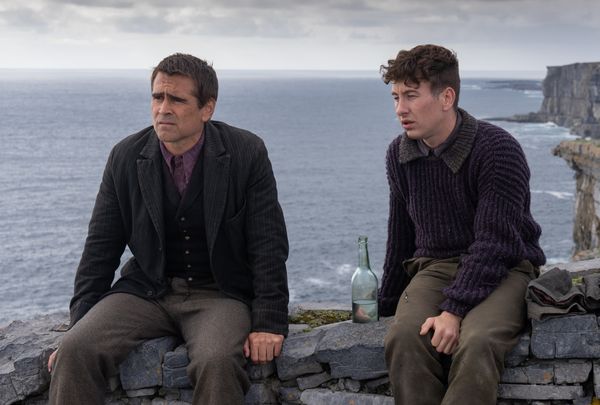 Colin Farrell and Barry Keoghan in the film THE BANSHEES OF INISHERIN (Jonathan Hession/Fox Searchlight)
When Colm (Brendan Gleeson) tells his best friend, Pádraic (Colin Farrell), "I just don't like you no more," it sends shockwaves through him as well as their island community. As Pádraic reacts, Farrell contorts his face as if he was going through all five stages of grief. The comment gets under Pádraic's skin in a way he can't shake, and Farrell's performance makes his dejection and emotional pain palpable. His demeanor changes at almost every turn — he gets angry and withdrawn, jealous and hopeful. He is determined to fix a situation he just can't accept, and his cockeyed optimism in the face of a harsher reality is why Farrell's performance here is among his best. Farrell's intelligence and maturity as an actor is why he can make this not-too-bright man sympathetic and pathetic. When Pádraic goes from being punched to crying in the space of a single scene, it is a powerful bit of acting. Moreover, a drunken speech Pádraic has, railing against Colm in a pub about not being nice, is likely to be his Oscar clip. But it is Farrell's ability to look with incredulity at everyone who tries to get Pádraic to leave Colm alone shows why his work here is pure gold.