In the fifth episode of "Queen Charlotte: A Bridgerton Story," Violet Bridgerton (Ruth Gemmell) and Lady Agatha Danbury (Adjoa Andoh) take in an art exhibit of the latest oil paintings, including a few lushly rendered nudes. One moves a flustered Violet to launch into a passionate conversation about, ahem, "gardening."
"It seems my . . . garden is in bloom," she confesses to Agatha, who is confused at first, before picking up Violet's code: the mannerly widow is feeling unexpectedly merry again. "It is blooming out of control," she continues. "I am becoming dangerous, Agatha. I almost asked a footman to lie on top of me today!"
These ladies are talking about sex, in case the innuendo breezed by you. But a broader interpretation of Agatha's wisdom applies to women in an era: Desire doesn't fade with age, and nourishing it is our birthright until we die.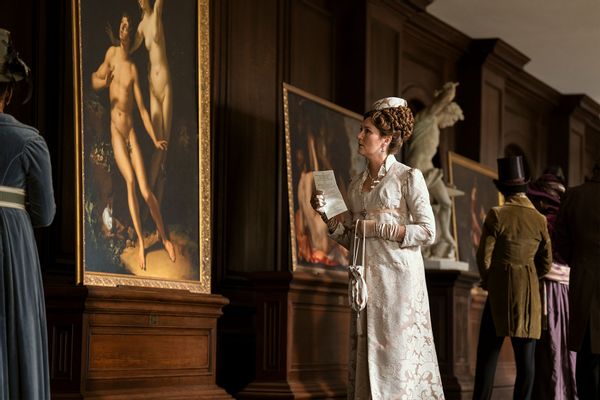 Ruth Gemmell as Violet Bridgerton in "Queen Charlotte: A Bridgerton Story" (Nick Wall/Netflix)
"Queen Charlotte" primarily romances the pre-"Bridgerton" London of the past, when Lady Danbury and Charlotte are young women and Violet is a girl, all of ages popularly associated with love stories and glamour.
But with "Gardens in Bloom," Shonda Rhimes defends a mature woman's right to satisfaction, too. "We all have gardens, Violet," Lady Danbury says. "My garden did not die with my husband because it had never been planted. I did not even know I could have a garden. It did not bloom until after he was gone. And when it did, I nurtured it fiercely."
A woman has a right to be horngry and show out well into her so-called "golden years" and have a good time doing it. Those notions collided this week when Sports Illustrated revealed 81-year-old Martha Stewart as one of its swimsuit cover models. But it's also flashed through popular culture over the past few years.
Stewart's swimsuit edition debut joins the renaissance of Jean Smart on "Hacks," where her character Deborah Vance picks up a hot younger man (played by 44-year-old Devon Sawa) at a bar. Actually, it's the other way around – he comes on to her. "I like older women," the one-night stand tells a skeptical Deborah. "Is that a bad thing?" 
It brings the heat Emma Thompson radiated in last year's "Good Luck to You, Leo Grande" a little closer to reality, although arguably Thompson's character, a recently widowed retired teacher, codes a lot closer to the average person than Stewart. (The same goes for Aunt Vi on the recently ended "Queen Sugar," who shared a deeply romantic marriage with her more-than-a-decade younger husband.) It's the "get this" energy we want for J. Smith-Cameron's "Succession" diva Gerri once she extricates herself from Roman Roy's toxic orbit.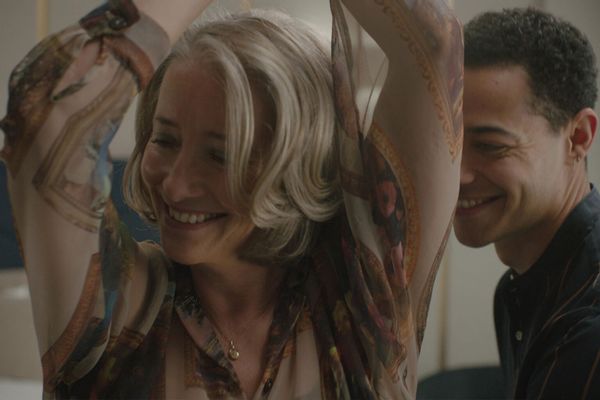 Emma Thompson and Daryl McCormack in the film "Good Luck To You, Leo Grande" (Photo Courtesy of Searchlight Pictures/20th Century Studios)
The seeds of rethinking the mature woman's sexuality and appeal have been sprouting across culture over the past few years, perhaps in reaction to decades of Hollywood and Wall Street worshipping older men with much younger wives as virile and powerful. Granted, it will take a century, if not longer, for sexy women in their 40s, 50s, 60s and beyond to reach cultural parity with the silver foxes of the world. There's a reason ABC is testing the dating competition waters with "The Golden Bachelor," an AARP-qualifying spinoff of "The Bachelor," before welcoming "The Golden Bachelorette."
But there's something to be celebrated, for instance, in seeing the nearly 54-year-old Jennifer Lopez parkouring over rolling obstacles and leaping from car roof to car roof in Netflix's thriller "The Mother" without breaking into more than a glow. And yes, stunt doubles, blah blah blah, but those defined biceps and triceps are entirely hers. 
It was recently announced that Halle Berry, who co-starred with Keanu Reeves in "John Wick: Chapter 3 – Parabellum," is joining Angelina Jolie in "Maude v Maude," an action flick described as James Bond meets Jason Bourne. Age was never an issue with the Bond franchise – for its male co-stars. Berry co-starred with Pierce Brosnan in 2002's "Die Another Day" – he was 49 at the time, and she was 36, in a town where most actresses' opportunities dwindle to nothing the moment they turn 30. Whenever "Maude v Maude" premieres Berry will be at least 57; Jolie turns 48 in a couple of weeks.
But these are action movies, not magazine spreads, right? Except both call attention to the physicality, athleticism and appeal of their stars; each necessitates an examination of bodies, vigor and power – therefore, sex.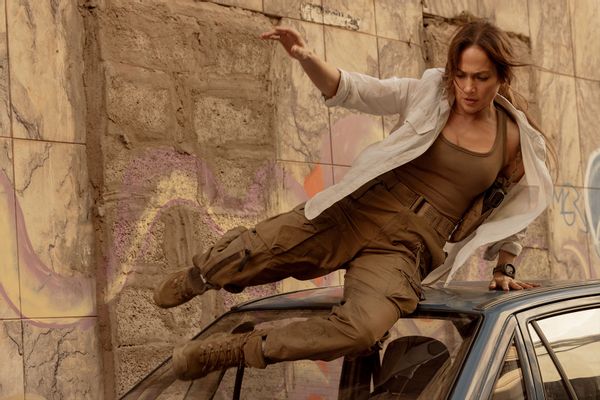 Jennifer Lopez as The Mother in "The Mother" (Ana Carballosa/Netflix)
Everything that critics are saying about Stewart's swimsuit issue debut and the achievements of the performers we just mentioned is true: they are the exception, not the rule. Ageism remains as rampant in the entertainment industry as it is across all professions, with a woman's career mobility and earning potential narrowing at a younger age than that of her male counterparts. Jolie and Berry aren't likely to deny that, especially considering that Jolie's 59-year-old ex-husband is still a sex symbol headlining high-octane blockbuster, whose career is likely to be as long as Harrison Ford's, age 80.
Like him, Stewart's version of 81 is as rare as her wealth and access. Her physique is a product of lifelong image-sculpting that began when she professionally modeled. Never has there been an era in which she hasn't been rigorously aware of her appearance both in terms of her body and her output as a domesticity influencer.
Regardless of whether she's had any of the cosmetic surgical procedures she insists she hasn't, the average woman has neither the time nor the cash to receive weekly facials, let alone ones administered by skincare guru Mario Badescu.
---
Want a daily wrap-up of all the news and commentary Salon has to offer? Subscribe to our morning newsletter, Crash Course.
---
Also, and this cannot be stressed enough, one can hydrate and slather themselves in sunblock, and landscape their forms with Pilates, Pilates, Pilates. Nevertheless, at some point genes become a main determinant in not only how we look but how we feel as we age.
Adjusting our lenses a bit, however, is this not Stewart simply preaching the same impossible lifestyle image she always has? What's true of her fashion shoot is true of those drool-inducing glimpses of the vivid blooms and greenery at Turkey Hill back in the 1990s. Yet again, this is her saying, "Look at my garden. Do you not aspire to such neatly pruned hedges and controlled rows?" And maybe, like we did back then, we can say sure, yes, while prizing every tomato we harvest and understanding that we don't have the staff to hold back the inevitable weed takeover.
Provided a person accepts themselves in their own skin — to borrow Stewart's catchphrase, her Sports Illustrated layout is a good thing. It provides the same pump that watching videos of 88-year-old DJ Sumiko Iwamuro spin at a club does, or basking in 60-year-old Michelle Yeoh's grace, or thrilling at one of the many times Angela Bassett did the thing.  They show that advanced age does not resign a woman to gray blandness.
What's true of Stewart's fashion shoot is true of those drool-inducing glimpses of ...Turkey Hill back in the 1990s. Yet again, this is her saying, "Look at my garden. Do you not aspire to such neatly pruned hedges and controlled rows?"
Between the camps of "Martha Stewart is breaking barriers" and "Martha Stewart, tool of the patriarchy, is hawking impossible standards of female attractiveness" is a part of the debate people aren't digging into: famous, mature women who aren't white or grotesquely rich and defying the stereotype of what older women look like aren't lauded with an eighth of the flowers that Stewart gathered last week for baring some skin on a beach.
The 64-year-old Bassett has been strutting around killing it for years, looking virtually the same as she did when she played Tina Turner in "What's Love Got to Do With It" three decades ago. Where's her SI cover?
Closer to Stewart's age, if you'd like, is model, actor, singer, and all-around iconic blueprint Grace Jones, who just turned 75. Stories of Stewart nightclubbing with Snoop Dogg are charming anecdotes that make us like her more, but we hear a lot less about the fact that Jones still headlines live performances where she sustains a level of physical exertion that would challenge people half her age.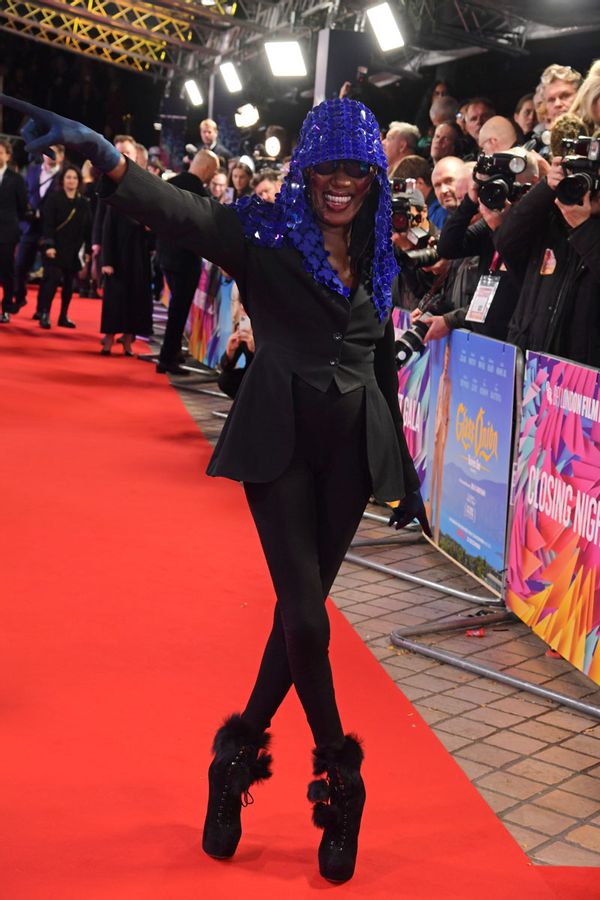 Grace Jones attends the BFI London Film Festival closing night gala for "Glass Onion: A Knives Out Mystery" at The Royal Festival Hall on October 16, 2022 in London, England. (Dave Benett)
Jones is legendary on a mythological level, and to a degree that most of the magazine's target audience couldn't handle. To know her is to understand wild fabulousness has no upper age range even if Grace Jones is a singular flower in this world, a woman carrying on the tradition of some fantasy queen, except she's real and walking among us, someone from whom we can draw inspiration.
"We are full of gossip and story," Lady Danbury tells Violet. "But as women, we are never the topics of conversation. . . . We are untold stories." And that's the beauty of deciding what to glean from these visuals – when we do tell stories about ourselves to ourselves, they loosen the limitations of what the accompanying illustration could look like. They remind us that our gardens are worth tending until the day we return to the Earth.