Between awards season and the Super Bowl, we can typically rely on some celebrity's midwinter show to remind us of where our culture stands socially and politically speaking. This time that dubious honor fell to – or to be more accurate, was forced upon – Madonna and Rihanna.
Different circumstances surrounded each but they are tangentially related. The Grammys enlisted pop music's elder stateswoman to introduce Sam Smith, a nonbinary performer, and Kim Petras, a trans woman, on the occasion of their history-making Grammy win for their chart-topping duet "Unholy." But that moment's significance was swallowed by the shock over, yes, Madonna's face.
One would think that over four decades we would have acclimated to her various transformations, sartorial or surgical. Apparently not. Twitter came alive with horrified reactions to her taut skin, line-free brow and cheekbones not chiseled by nature. The reception for Rihanna's halftime show debut of her baby bump, announcing a second child on the way, was much warmer. Who doesn't love a bombshell pregnancy reveal? People who demanded that a very pregnant woman dance like Beyoncé and sing unassisted by a pre-recorded track, that's who.
The consensus is that Rihanna was singing into a live mic with a backup track underneath, by the way, which is standard for all Super Bowl performances. The NFL requires artists to pre-record their sets as a safeguard against live broadcast fumbles. Regardless, even among those who accepted that were disgruntled murmurs that she didn't prance enough while standing on a platform suspended in the air, with child, and surrounded by scores of dancers stomping the slats to "B***h Better Have My Money."
There's a vast chasm between the scale of revulsion that met Madonna's altered visage and the perturbation over Rihanna refusal to somersault while gestating a human being. But those opinions originate from the same hopeless place that keeps affirming the widespread belief that a woman's anatomy doesn't entirely belong to her.
The American pop icon's presumed function is to reflect some ideal of who or what we dream of being.
We know this. We've read it all before. Nevertheless, how many people who know better jumped into the fray to attack a 64-year-old woman who has the means to do whatever she wants, including facelifts? How many reacted to the first pregnant woman to star in a Super Bowl halftime show and all but levitate, by expressing dismay at her measured hip grinds and tamed twerks?
The American pop icon's presumed function is to reflect some ideal of who or what we dream of being. That's why we emulate their moves in TikTok challenges and purchase exorbitantly priced tickets to their live shows even if it means a few utility bills will go unpaid. People aspire to capture their essence by wearing their fragrances and makeup, which Rihanna acknowledged by subtly promoting her Fenty cosmetics line mid-performance with an on-camera touch-up. Thanks to Spotify, the art itself is insufficient to pay the bills. RiRi earned her billion-dollar fortune through her product lines.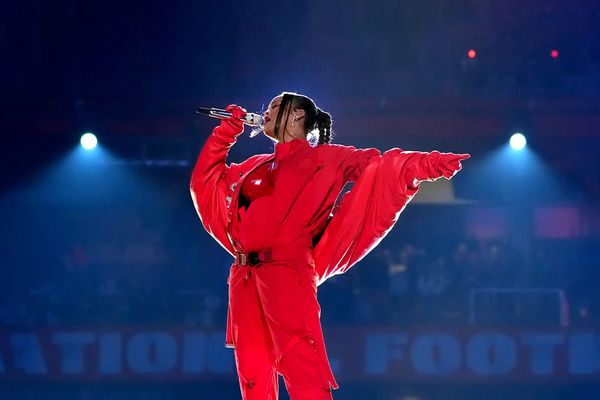 Rihanna performs during Apple Music Super Bowl LVII Halftime Show at State Farm Stadium on February 12, 2023 in Glendale, Arizona. (Kevin Mazur/Getty Images for Roc Nation)
In exchange for this entirely optional tithing we want them to meet impossible standards. If one's brand is sexuality or insurgence, she can never age, never allow her skin to lose its elasticity or let the world see their energy flag. In live shows, a star who performs to full stadiums is not allowed relative stillness or careful movement, even when she surrounds herself with athletic artistry.
This mode of thinking holds that true pop idols should be willing to break themselves on our desires. Whether those people agree doesn't matter – that is the implied bargain. In buying what they produce, we supposedly purchase a say over what they do with their bodies.
By extension this is the bargain forced on women, and while we can't say this is unique to American women we are the ones screaming "my body, my choice" to a Supreme Court who let us know last year that it doesn't agree. We learn at a very young age that however our bodies show up in public, they will be subject to commentary, advice, criticism and on occasion, persecution. 
Both of them are reminding the world, each in their way, that their bodies – women's bodies – are no one's business but their own.
Sometimes, we only realize how effective and insidious those teachings can be when we see them normalized in the public sphere. This is not a proposal that one should feel sorry for Madonna or tut-tut at her devotion to vanity which, again, has always been the case. Rather, I submit that the face that launched thousands tweets and ruminations in respected publications, and from every imaginable angle, is simply a face. One that Generation X and a few Millennials may have worshipped as tweens and teens while knowing we could never keep up with. A face Madonna didn't hide and, in fact, has been showing off on Instagram for some time now.
But celebrity nip-and-tucks have been classic reader bait since long before news consumption was measured in clicks, and pop star outrage pulls in eyeballs. Madonna is a popular target, having already gone through versions of this at different stages of her life.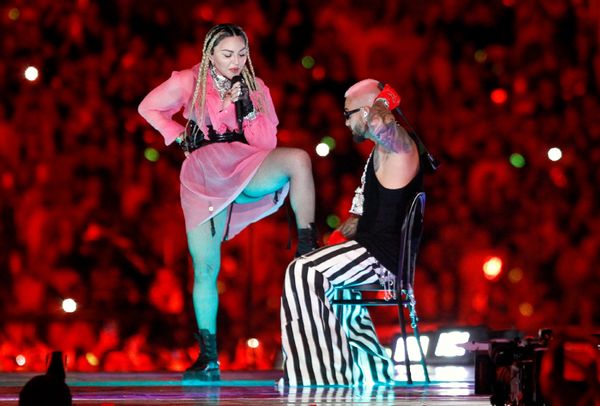 Colombian singer Maluma (R) performs on stage along with pop icon Madonna during his concert "Medallo in the Map", in Medellin, Colombia, on April 30, 2022. (FREDY BUILES/AFP via Getty Images)
Somehow, though, this round feels different from those moments when Cher or Jane Fonda or Demi Moore or Renée Zellweger premiered their latest looks. There was an underlying ugliness in the mildest takes, most of which express noble distress about the double standard women face as they mature.
One charitable if eyebrow-raising take deemed Madonna's face a "provocation," an extension of her decades of shapeshifting and moving culture alongside her change. Trashier takes are easier, as lazy as heckling at a basement comedy club, which is why Rupert Murdoch's New York paper harrumphed, "Madonna's new face is an eyesore and a complete betrayal." But the most sober and sensible take comes from Maria Guido.
Madonna's face is making everyone realize that they too will die some day, and people hate it. We love our icons, but we hate to see them age, and when they happen to be women, we simply don't allow it. So when you have an aging icon, doctors who will do literally anything to your face that you ask, and a lot of people who are not okay with women aging (but also not okay with them trying not to age), you're going to get the uproar like we've seen recently over Madonna's face.
Negative reaction to Rihanna's performance was minimal in comparison, and mainly came from eternally desperate attention seekers or Super Bowl gawkers who know nothing of her catalog beyond the ubiquitous hits. Professions of choreographic disappointment reveal those folks straightaway. Those who know her performance style knew what to expect, and were in awe that she found a way to give more than that. Rihanna's strengths are her voice and her eye for style and pageantry. She sets the mood, commanding it for the world to dance with its beat, hiring professionals to show them the way.
"But Beyoncé," some haters crowed in rebuttal, and predictably. Parasocial fandom loves pitting artists against each other in imaginary rivalries, but this was truly an apples-to-pears comparison. Beyoncé's 2016 Super Bowl performance left the world breathless, yes. But if you want to place one live performance-while-pregnant against another, a better comparison would be her luminous 2017 Grammy performance, pulled off while expecting twins. She dazzled with a flower-strewn set, surrounded by Duncan-style dancers and effected a similar impact with decidedly less movement on her part.
In that appearance, Beyoncé pulled off her riskiest move while sitting in a chair. So: Rihanna only stood at a microphone. On a platform moving up and down, and held between 15 and 60 feet aloft by cables. One wonders how many of the complainers who aren't pregnant get dizzy on the top rung of a kitchen stepladder.
---
Want a daily wrap-up of all the news and commentary Salon has to offer? Subscribe to our morning newsletter, Crash Course.
---
Madonna built her career on sublimating transgression, of which she's determined to remind us by touring; go ahead and assume a few critics will give her lower marks for not matching the stamina she displayed in her 40s. Rihanna has made a fortune by transcending the mundane and probably broke a few hearts by showing us, without saying anything at all, that while she's still determined to fascinate us, our entertainment is not her main priority right now. And that probably ticks off a few people.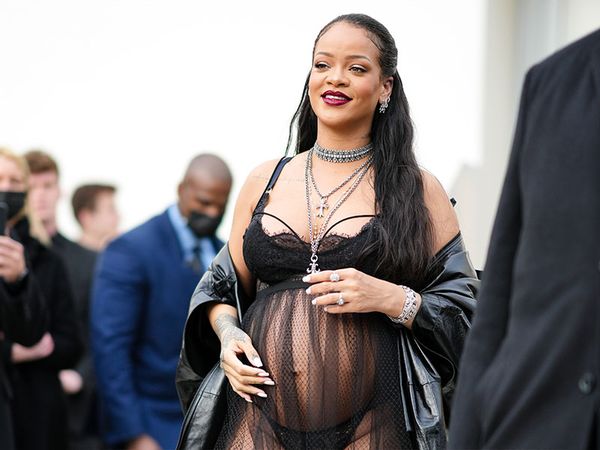 Rihanna is seen outside the Dior show, during Paris Fashion Week, on March 01, 2022 in Paris, France (Edward Berthelot/Getty Images)
Rihanna's pregnancy is acceptable, and there are reams of intrusive legislation worming its way through state governments to back up that statement. Madonna's aging is unacceptable no matter what form it would have taken. There would be no such thing as "aging gracefully," whatever that means, for a star whose music and image defined several generations' youth. We knew that too.
Both of them are reminding the world, each in their way, that their bodies – women's bodies – are no one's business but their own, even when their bodies are central to their material business.
"I have been degraded by the media since the beginning of my career," Madonna responded on Instagram, "but I understand that this is all a test and I am happy to do the trailblazing so that all the women behind me can have an easier time in the years to come. In the words of Beyoncé: 'You-won't break my soul.'"
Rihanna's response has been as strategic as her pregnancy reveal, meaning she's said nothing and let her music speak for itself. Those perpetuating this shallow discourse hooked on cheap shots and psychic corrosion feel they can demand more of her. She knows she doesn't owe us a thing – not a new banger, and certainly not a say in what she does or doesn't do for our satisfaction.