When Tina Turner hit her stride with the release of her 1984 hit album "Private Dancer," MTV had barely been around for three years, which placed the bulk of the generation it influenced in its adolescence. Turner was 44 years old, an age at which most women in entertainment experience a career recession if they aren't pushed toward early retirement.
But to an audience still in awe at seeing their radio stars' hits come to life on TV screens she was just getting started. Turner became one of the first Black artists to be featured on MTV after "Private Dancer" went on to be certified five-time Platinum in the United States, yielding her only No.1 hit on the Billboard 100, "What's Love Got to Do With It."
A year after its release she played to stadiums on a world tour that drew audiences of all ages. Turner also became an action star, playing the regal, daunting Aunty Entity in 1985's "Mad Max Beyond Thunderdome." When she retired from touring after headlining the highest-grossing rock roadshow of 2000, she was 60.
These achievements are not the sum of Turner's 83 years, a rich life defined by resilience, stamina and a refusal to be defined by the hardship and abuse by which others sought to measure her legacy. But in a world that still obsesses over what constitutes a woman's prime, Turner lived and leaves an unrivaled blueprint. Nobody but Tina Turner decided when she was done.
Turner, who died Wednesday after a long illness in her home in Küsnacht near Zurich, Switzerland, was the rare rock icon who meant something to Generation X and their parents in their youths, and adulthoods, up until the day she left us. Her musical style merged soul traditions with a wiry jolt of rock n' roll, making her one of the few Black women to claim her spot, and an especially bright one, in a firmament that primarily venerates white men.
Turner was a force of aerobic power, belting her way through covers of John Fogerty's "Proud Mary" and Sly Stone's "I Want to Take You Higher" as her limbs churned away with precision and in double time. And her voice, a supernatural approximation of molten honey and rough sugar, earned her the role of the Acid Queen in the 1975 film version of the Who's "Tommy."
Nobody but Tina Turner could decide when she was done.
In the 1980s she transformed into an entirely different type of rock star than the fireball powering the Ike & Tina Turner Revue in the 1960s and 1970s – all leg muscle, lion's mane wigs, sparkle, and an afterburner of a voice that could melt you slowly in one moment and blast you with hot diamond dust in the next, with an inhale's space between.
"Private Dancer" yielded some of its decades' defining hits, including "Better Be Good to Me" and its title track. Singles from the albums that followed remain nearly as popular, including "Typical Male, "I Don't Wanna Fight" and her cover of Bonnie Tyler's "The Best." But she also made the "Mad Max" end-credit banger "We Don't Need Another Hero (Thunderdome)" that summer's power ballad to beat, winning a best female rock performance Grammy in 1985 for another single off the movie's soundtrack, "One of the Living."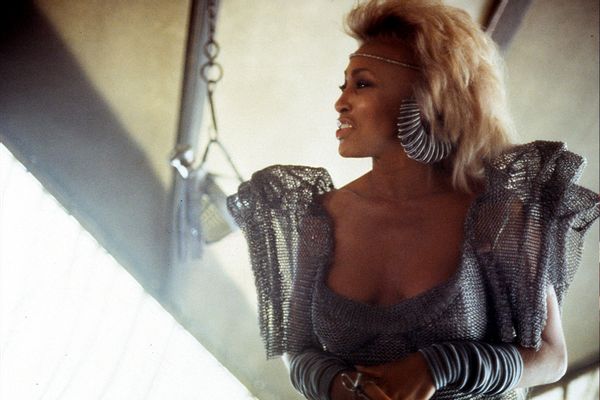 Tina Turner wearing silver attire in a scene from the film 'Mad Max Beyond Thunderdome', 1985. (Warner Brothers/Getty Images)
Over the years Turner stunned video viewers, taking her place within the ranks of rock royalty on the famous "We Are the World" charity single and performing in Live Aid. Her personal story inspired a Tony Award-winning Broadway musical and made her an inspiration for people born a few meters behind the starting line or knocked down by circumstance.
Much of her notoriety as a survivor grew out of her choice to go public with details of her abusive marriage to Ike Turner in her 1986 autobiography "I, Tina," which was adapted into the 1993 movie "What's Love Got to Do With It."  
"It's hard to wrap your head around that the worst parts of your life have been an inspiration," she admits in the 2021 HBO documentary "Tina," which showed the toll that years' worth of reporters' questions about her ex-husband's abuse took on her.
Although those revelations shadowed her for years, her talent for reinvention and insistence on maintaining the excellence she reached the height of her solo career eventually won out.  Her authorized 2021 documentary, designed to serve as her final farewell, establishes this. Turner racked up 11 Grammys throughout her career and shared stages with the Rolling Stones, Chuck Berry, Rod Stewart, and, at the 2008 Grammy Awards, Beyonce.
She was also honored by the Kennedy Center in 2005 and inducted into the Rock & Roll Hall of Fame twice – once in 1991, alongside her ex-husband Ike Turner, and again, deservedly, as a solo act in 2021, placing her in a rare category of female double inductees that includes Stevie Nicks and Carole King.
Turner was born Anna Mae Bullock on Nov. 26, 1939, in Brownsville, Tennessee and raised in Nutbush, as memorialized in her song "Nutbush City Limits." Her parents were sharecroppers who often traveled to work, leaving Turner and her older sister Ruby Aillene on their own.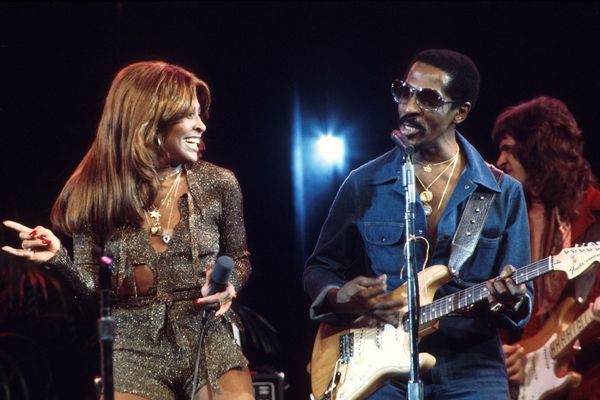 Ike and Tina Turner performing with the Ike And Tina Turner Revue on the American TV music show, 'Don Kirshner's Rock Concert', recorded in Los Angeles, California and aired on 12th March 1976. (Michael Ochs Archives/Getty Images)
She was 18 when she met Ike Turner in East St. Louis when he was the 26-year-old bandleader of Kings of Rhythm. Their partnership was launched in 1957 when the band's drummer Eugene Washington handed Anna Mae the microphone during an intermission. She wound up singing with the band for the rest of the performance and became its featured vocalist. Her first studio recording credit is on Ike Turner's "Boxtop" was released in 1958; she listed as "Little Ann."
Turner lived and leaves an unrivaled blueprint.
After a record label executive suggested to Ike Turner that he make the young singer the star of his show, he renamed her Tina Turner, inspired by "Sheena, Queen of the Jungle." She was thusly reintroduced to the public as the duo got their first major Billboard hit in 1960 with "A Fool in Love," inspiring Ike Turner to create the Ike & Tina Turner Revue. They married in Tijuana, Mexico, in 1962.
But he never designed their partnership to be equal. Ike Turner trademarked Tina's name so that if she were to leave him and the band, he could simply replace her with another singer he'd call Tina Turner. The sheer brightness of her made it impossible for audiences to see the Revue's singer as anything but the main star and the one and only Tina.
---
Want a daily wrap-up of all the news and commentary Salon has to offer? Subscribe to our morning newsletter, Crash Course.
---
The performer fled her ex-husband's violent abuse for the last time in July 1976, hours before a scheduled concert in Dallas, Texas, and with only 36 cents and a gasoline card to her name. When their divorce was finalized in 1978, she ended up with a few physical possessions, rights to songwriter royalties on compositions she had written, and, central to her astronomical revival in the 1980s, the sole right to her stage name.
Two decades into her career's second wind Turner became a beacon of possibility for people who grew up with her and those who grew older with her. In the era of her fame where she co-starred in, among other things, a Pepsi commercial with David Bowie, that king of seemingly ageless changelings, she proved that rock stardom has no time limit, becoming the oldest female solo artist to top Billboard's Hot 100 at the age of 44.
A few years after admitting to her biography co-author Kurt Loder that "I have not received love almost ever in my life . . . I have had not one love affair that was genuine and sustained itself. Not one," she found what had long eluded her when she met German music executive Erwin Bach, a man 16 years younger than she was, in 1986.
They married in 2013 after spending 27 years together, the same year that she became a citizen of Switzerland and relinquished her American citizenship. That year Turner also spoke with Oprah Winfrey (of course) to mark that occasion, who asked her what the legacy of Tina Turner is.
The star's answer? "Endurance," she says, adding, "My legacy is that I stayed on course from the beginning to the end because I believed in something inside of me that told me that it can get better, or you can make something better and that I wanted better."
Turner concludes, "So my legacy is a person that strived for wanting it better and got it."
"Tina" is available to stream on Max.