Who proudly celebrates an obvious snub? Angela Bassett's response to Jamie Lee Curtis' Oscar win for best supporting actress was as honest as it was honorable. 
The 95th Oscars were filled with many memorable moments – as the most notable celebrated ceremony in film returned this year, with attempts to move on from Will Smith open-handedly slapping Chris Rock on live TV in 2022. 
Fans nationwide were excited for big winners like "The Whale" lead Brendan Fraser, and "Everything Everywhere All at Once" stars Michelle Yeoh and Ke Huy Quan – all brilliant actors who performed excellently. But Angela Bassett lost, which sucked the air out of the room for many of her fans, new and old, and lovers of the "Black Panther" wing of the Marvel universe.  
The snub has nothing to do with Curtis and everything to do with the industry – an industry where you can work extremely hard, excel and then be ignored.
The veteran actress was nominated for her role as Ramonda in "Black Panther: Wakanda Forever," which was significantly the first time a character from the Marvel Universe was nominated for an Academy Award – and clearly, there wasn't anyone better. Bassett's undeniable performance pushed the level of performance that actors brought to the table in superhero movies to the next level. At times Bassett made "Wakanda Forever" feel like it was as much a drama as a Marvel movie. Hollywood noticed, and there was plenty of chatter around Bassett finally bringing home the trophy. 
But then the presenters announced Jamie Lee Curtis as the winner.
Curtis exploded with excitement as she made her way to the stage. When the camera cut to the other nominees and their guests, Courtney B. Vance can be seen shooting a confusing smirk as a great husband and celebrated actor who also happens to be a master of craft should have. He knew his wife was the best, and put on the best performance, not because she was his wife, but because it was true. And he, Bassett and their kids had to experience this snub in real time on camera.
Bassett sat calm and still while others in attendance visibly celebrated the Curtis win. Many are acting as if Bassett's reaction wasn't warranted. Was she supposed to jump up and down as if the judging was fair, as if she deserved not to win? Bassett is not a sore loser, but she'd have the right to be if she were. The snub has nothing to do with Curtis and everything to do with the industry – an industry where you can work extremely hard, excel and then be ignored. There is no way to call the voting fair. 
Unless you ignore entirely how racist and sexist the industry has been since its beginning, even after the Academy's DEI attempts, brought on by April Reign's hashtag #OscarsSoWhite – 81% of voters are white, and 67% are male – and those numbers are reflected when analyzing who usually wins. This is why Bassett, who's put on dozens of brilliant performances, hasn't been nominated since playing Tina Turner in the hit biopic "What's Love Got to Do With It" back in 1994. 
When "Hey, auntie" has to be enough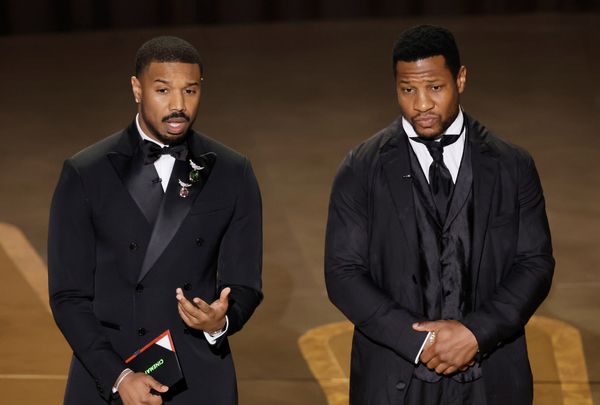 Michael B. Jordan and Jonathan Majors speak onstage during the 95th Annual Academy Awards at Dolby Theatre on March 12, 2023 in Hollywood, California (Kevin Winter/Getty Images)"Hey, auntie," Michael B. Jordan and Jonathan Majors say after taking the stage shortly after the snub, "We love you." 
Every Black artist has a collection of those Hey Auntie, "We see you," moments.
That moment between Jordan, Majors and Bassett provides a glimpse of what we, as Black people, tend to go through in these industries. We deserve the praise but are often only noticed or recognized if it's in a performative manner, which feels just as bad as being snubbed. We want to be rewarded at the highest level but suffer because those judging either don't understand or just look past our efforts.
The love of our people, the Hey aunties, are all we usually have to fall back on, and that has to be enough. 
Bassett is both a queen in the industry and the actual queen of the fictional African country Wakanda in "Black Panther." Jordan plays Erik Killmonger, Ramonda's nephew in the movie, and Majors, who is newer to the Marvel Cinematic Universe ("Loki," "Quantumania"), both realize that they are at the top of the industry because of the history of Bassett's work ethic, bravery and commitment to excellence. 
Every Black artist has a collection of those Hey Auntie, "We see you," moments. Mine came back in 2014 when I was shopping for my first book, "The Cook Up." After being ignored for about two years, a Black woman named Toya, an editor for a major publishing company, connected with my work and invited me in for a meeting. 
"You're kinda early," Toya said, approaching me in the lobby with her hand extended, "I can try to see if she can squeeze you in before our scheduled time." 
I arrived around an hour early because I was extremely excited – this one meeting could change my life forever. I had been rehearsing jokes and exciting stories for over a week in preparation for this moment. Toya couldn't squeeze me in early; actually her boss left me waiting for a few hours after our meeting time. I felt horrible like, Should I even be here? Am I wasting time? 
"This is so disrespectful," Toya fumed, "You are too talented to be treated like this. I wouldn't be mad if you left."
I thanked her and played it cool because this was my only meeting – this was the only publishing company interested in my book, and I was dedicated to getting a deal. Toya's comment replenished me with any confidence I lost while being forgotten about in the lobby. Like Jordan and Majors, she saw me. At that moment, I had enough energy to keep pushing forward, performed well when I finally got into the meeting and signed my first book deal shortly after. 
Like Bassett, I have been snubbed and will continue to be snubbed throughout my career; however, we must use these moments to uplift and support other artists by letting them know that we see far past the meritocracy this industry is; we see their work, we see their talent, we see them. 
Bassett will win the end  because her performance in "Wakanda Forever" will be celebrated for ages. After all, an unknown young guy named Spike Lee once had a film called "Do The Right Thing" be nominated, only to lose to "Driving Miss Daisy." "Do The Right Thing" went on to change cinema and continues to be celebrated worldwide, and who knows where the other movie is?