Krysten Ritter understands how a kickass character and show can be about so much more. While her most well-known role is as the tough superhero-turned-detective in "Marvel's Jessica Jones," the acclaim she earned wasn't just for her performance but also the nuanced portrayal of a survivor still dealing with trauma.
Now, she's behind the cameras as both director and co-executive producer of Peacock's new horror series "The Girl in the Woods," which on its surface is almost as action-packed as her turn as a superhero. The series is a spin on the neo-noir genre following teenage monster-slayer Carrie (Stefanie Scott) as she escapes the religious extremist cult of the Disciples of Dawn, and joins forces with an angsty teen duo in the nearby mining town to stop mysterious monsters from invading the town and unleashing hell. 
Ritter acknowledged that "at face value, it's a monster-slaying show," but she also wanted to do right by depicting the show's small coal-mining town with authenticity while also avoiding gendered stereotypes.
"We start to see more fair representation of women onscreen," Ritter told Salon. "That was something I always kept an eye on, I never wanted the girls to be over-sexualized or victims or damsels in distress."
RELATED: Before binge-watching Jessica Jones, read "Alias," the feminist comic it's based on
Besides Carrie's cult roots, her new friends come from vastly different backgrounds. Tasha (Sofia Bryant) is the daughter of a lifelong coal miner, and nonbinary Nolan (Misha Osherovich) hails from a wealthy family leading efforts to shut down the town's coal mine. But as Ritter points out to Salon, the show is driven by how the characters complement each other through their many, wide-ranging similarities and differences.
Throughout the show, we see Tasha's and Nolan's families often at odds, embodying the different sides of the ever-relevant conflicts about climate change and the coal industry. We watch as Carrie grapples with her past at the Disciples of Dawn and her past relationship with Sara (Kylie Goldstein), the girlfriend she left behind. We also watch as Nolan grapples with how they can safely practice self-expression as they navigate their gender identity in a setting where this isn't welcome. 
Ritter talked to Salon about telling a classic coming-of-age story amid a backdrop of demonic monsters and cults, badass female leads and more queer representation, and the nuance of one of the show's central political conflicts in a small mining town not unlike the town Ritter grew up in.
---
Want a daily wrap-up of all the news and commentary Salon has to offer? Subscribe to our morning newsletter, Crash Course.
---
What drew you to be interested in directing this show? Did Carrie or Tasha remind you of "Jessica Jones" in any ways? 
There were a lot of things from my career that popped up in weird ways in this show, where I felt a connection to the material. I love a badass female centerpiece for a show, and I felt like this was a character in a younger age demographic that I didn't always see. I loved the opportunity to get to tell this cool origin story and have a character at the center who is strong and tough and a reluctant superhero, sort of similar to Jessica Jones. 
I also really loved how it was set in a small mining town, similar to the town where I'm from. And the coming-of-age themes with the Tasha character, and Nolan being in a small town, wanting to get out, and not knowing what that means. So I felt sort of connected to all of our main characters, and then just loved the opportunity for the world-building.
The thing with horror and this genre of being supernatural, it's elevated, you get to make bigger creative swings, make bigger choices with camera movement and stuff like that. It was a really fun opportunity for me to jump in and direct this show. I had such a fun time doing it. It's a tiny little no-budget show, and it was so much fun creatively for so many reasons.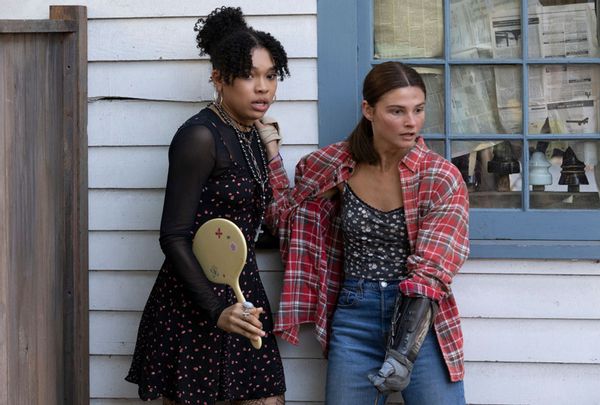 Sofia Bryant as Tasha Gibson, Stefanie Scott as Carrie in "The Girl In The Woods" (Scott Green/Peacock)
When shooting the TikTok videos through which we meet Tasha and Nolan, did you get any inspiration or prepare by watching actual TikToks?
No, I didn't watch a single TikTok and never have and I'm not on TikTok. So, I don't actually know anything about that, but I do live in the world, I'm on Instagram, I see the funny things kids do. We wanted to have a vignette showing these funny scenarios where these kids can express themselves, and work within the limitations of the budget and location.
I wanted these guys to really go for it and be funny, and I showed them clips from "Dumb and Dumber" with Jim Carrey and Jeff Daniels, where they ate the spicy peppers and are shooting ketchup and mustard in their mouths and they just really go for it, so over the top and hilarious. So I was like, what do you guys think if we really do this? And they were so game.
Misha and Sophia were squirting mustard and ketchup all over the place. It was all real, and these guys were so funny and I just encouraged them to bring themselves and their personalities to those TikTok shows. It was the last day of filming for me when we did those videos, so I couldn't wait to do them. At one point there was talk because of scheduling that maybe those videos would get bumped to the next episode for the next director to do it, but I was like, "Absolutely not! I'm never giving up my TikTok videos!" So it was really a good time.
In real life and in stories, there's always been such a fascination with extreme religious cults and what goes on there. Did you do any research or draw any inspiration from elsewhere to bring the disciples of dawn to life?
I mean, I love cults, every kind, every new documentary, I watch all of the things. We wanted to do something that we hadn't seen before, we didn't want to just look like "The Handmaid's Tale" — that show is so fabulous. But what's really great about the opportunity here is you have a character who's grown up with a completely different belief system than we have in the modern world, and then our characters from the modern world, Tasha and Nolan. We were able to have this fish-out-of-water way in to comment on a lot of the things we look at as normal. We wanted to make the colony feel monochrome and loveless and brutal, so, what it was like growing up there for Carrie, our protagonist. It gave us an interesting opportunity to comment on the modern world as well. 
RELATED: "Nobody joins a cult. They join a group of friends": What went down in the "Sarah Lawrence cult"
There's an interesting thread that connects Nolan's experience being perceived as gay and being bullied, and Carrie and Sara's relationship. What was it like to direct their experiences in very different contexts, Carrie in a historical colony and Nolan in a modern mining town?
So, that goes back to having two completely different worlds and belief systems. For Carrie, she was brought up in a belief system where it's about the person, and the person's spirit, never about the gender or any kind of label. So, it was whoever the person you were attracted to. That was really exciting to do.
With Nolan, the first time we meet Nolan, you see them expressing themself and putting on the makeup they want, what makes them feel good, then looking out the window and knowing if they go out into the world as their true self they'll get beat up. It's just heartbreaking, and I wanted to show what that felt like. The writing was there, the performance was there. It's an exciting opportunity for representation in our show.
The show also confronts the conflict that arises from shutting down mining and coal work in a town where that might be the primary employer. This is a very big part of setting the scene. Was there any kind of metaphor between the urgency of fighting climate change and stopping the forest monsters?
I think it was all there in the writing, and what I loved about this story was being able to show both sides, where you have Nolan's family and they're really upset that the town is contaminating drinking water, and trying so hard to fight for the children, but in shutting down the mine, that meant a lot of people are going to be out of work. If you shut down the mine you're basically taking food off of someone's table. 
RELATED: The uncertain future of U.S. coal communities
Showing both sides of that was really cool, and it's not like us vs. them, red vs. blue — it's, let's look at it from both sides, so I really appreciated that tone and sentiment. This is set in a part of the country that's really struggling, and it's important to have authenticity there, and show what it's like for people. I'm from a small town in Pennsylvania, similar to this small town in our show called West Pine, and I wanted to make sure that that felt really real, and not less than, and just really show how people are dealing with these issues.
In their own ways Tasha and Carrie both seem to have lost someone, for Tasha, her mother, and for Carrie, Sara. But they seem to bury or not confront their feelings about this. To what extent is this show about loss, PTSD, facing your demons?
I think the show is really about this trio of teenagers finding their tribe, finding friends in unexpected places. They all complement each other so beautifully, they learn so much about each other and about themselves from each other. Each of them has such different experiences, Carrie being from a colony and a cult with that belief system, Nolan going through what they're going through, and their family being perceived as the rich family trying to shut everybody down, and then Tasha, who is a daughter of a lifelong miner, and there's a Romeo and Juliet battle of the houses going on there. But the fact that all three of them kind of complete each other — with this show, at face value, it's a monster-slaying show. When you get in there, you fall in love with these characters.
"The Girl in the Woods" is a very Halloween-oriented project. What has it been like to see more horror and thriller genre pieces really center and empower female characters instead of just watching them get chased and killed?
Hopefully, those discontinue after things have been so shaken up, and we start to see more fair representation of women onscreen. That was something I always kept an eye on, I never wanted the girls to be over-sexualized, or victims, or damsels in distress. These are tough girls. With Carrie in particular, I wanted her to be very androgynous, and stripped down, not glamorous. I had her wearing zero makeup. Even sometimes if she looked a little too pretty, or flushed in the cheeks, we just wanted to really take her down and make it about the character and her inner life, and that was a fun opportunity for me, something I take a lot of pride in.
What are you working on now and what's next?
I'm on set in Texas filming "Love and Death," which will be out next year. It's a true crime thriller, a great ensemble piece, that stars Elizabeth Olsen, Jesse Plemons, great, amazing cast, Lesli Linka Glatter is directing, David E. Kelly is a writer, Nicole Kidman is producing, so hopefully, next year, this will be the fun new true crime thriller people watch. It's set in 1978, and yeah, that will be out next year.
All episodes of "The Girl in the Woods" are now streaming on Peacock. Watch the trailer below via YouTube.
More stories like this: