It's safe to say Gina Schock has had a fantastic week. First and foremost, her band the Go-Go's were inducted into the Rock & Roll Hall of Fame on Oct. 30. But several days before that, the drummer released a fantastic book, "Made In Hollywood," overflowing with photographs she's taken over the years.
Not only do these snapshots chronicle the meteoric rise of the Go-Go's — who stormed out of L.A.'s late-'70s punk scene and became one of the most celebrated pop-rock bands of the '80s — but it gave the drummer a chance to write stories to go along with them and enlist a few celebs (such as Jodie Foster and Paul Reubens) to contribute their own essays.
"Made In Hollywood" also benefitted from the Baltimore native's extensive archive of ephemera and memorabilia. Among other things, she's kept a daily planner since 1979: "That was helping me a hell of a lot," Schock says now. "That was invaluable in this process."
RELATED: Showtime's "The Go-Go's" film shows the punk side of the pioneering girl group
When reached in San Francisco a few weeks before the Rock Hall induction, Schock notes her biggest stress at the moment was figuring out what to wear to the ceremony. "Everybody's freaking out about their outfits, so I've got to get my s**t together," she says. "I've been so busy. I haven't had much time. I need to dedicate a week to just go into a designer place and picking out something fabulous to wear, I hope."
Post-induction, the Go-Go's have 2022 tour dates planned with Billy Idol in the UK and perhaps some potential music-related things brewing. "We have a couple things cooking," she says, "but I don't think I should talk about things yet because I don't know where they're going to be, but hopefully we'll have some stuff to show you next year." 
---
Want a daily wrap-up of all the news and commentary Salon has to offer? Subscribe to our morning newsletter, Crash Course.
---
In the meantime, Schock is thrilled to be doing two photo gallery exhibitions, one in San Francisco and one in Los Angeles ("I can't believe I'm going to have a gallery opening of my photos," she says. "That's knocking me out too") and is amped to start taking Polaroids again with a new camera.
How did you sit down and figure out how to organize something like this book? Where did you begin?
It was overwhelming to try to put it together, and I needed to find someone to help me with it. Finally, I met a guy through a friend who worked on books, and I flew him up to San Francisco here to take a look at what I have. It blew his mind. He's like, "Gina, we have to write a proposal and get you a book deal right away. This is a treasure trove of stuff here. This is golden what you have on The Go-Go's," and all the ephemera I have. I just collected everything. Everything.
I'm not a hoarder — don't get me wrong, Annie. [Laughs.] Things that have sentimental value to me I keep, and all these things meant something. They were all stepping stones in my life: all these photographs, all the ephemera — the tour books that I have, the calendars, the buttons, and the posters. All those were things that marked a time in my history, and in the band's history. I wanted to somehow, somewhere, document it one time, put it all in one place, so that the fans could appreciate.
The girls in the band, they were just dying to see me put something together for decades. Everybody was behind me doing this. I had 100% support from the band. 
I've said this in other interviews, but it's true, I could start another book tomorrow with the amount of photographs I have.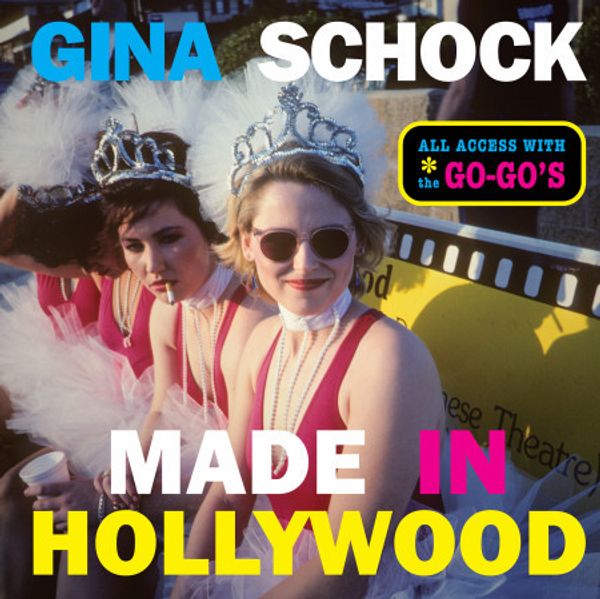 "Made in Hollywood: All Access with the Go-Go's" by Gina Schock (Black Dog & Leventhal Publishers)
I was going to say — you're a true archivist. Every band has that person with an archivist mindset. I'm so glad, so years later you can look back on it and have that amazing history at your fingertips.
Yeah. It's nice to have somebody that still is in possession of all these little gems, because they're scattered through the decades everywhere. Who knows where they all end up, in bits and pieces all over the planet? For me, to get this book together and finally be able to get this out to the general public to see for all our fans, I am super excited about it. I'm so proud of getting this together. I think it turned out really well.
What I like about the book is that there's the mix of things: the cool onstage stuff, but then also the behind-the-scenes stuff and then all of the random things that you wouldn't expect to see, people you've met. I think people really like that: "There's the Go-Go's with David Bowie, that's so cool. There's Billy Joel." 
I had to figure out who to put in and who not. There's a lot more photos with other celebs, but I didn't know when to stop. You know what I mean? I could have 10 pages front and back full of photographs of us with Robin Williams, and Richard Pryor. You name it; we've met them. But over these 40 years, we've come into contact with a lot of other folks in our business that we grew up idolizing, so it's been quite a journey. For me to have carried around a camera and got a lot of this on film — and then came the Polaroid period, where I started taking Polaroids.
Did you have any photography idols growing up? What prompted you to always carry a camera around?
I don't know — I have no idea. I'm a very visual person. I can go some place one time, and I can't remember the names of streets, but I'll have little landmark things that stick out in my mind, and I'll know how to get there. 
Photography in itself fascinates me. You're capturing something in a moment in time that will never happen again, and you have it. I love that. I'm a big fan of many photographers. 
I'm just like the biggest fan of everything. You name it. I'm a huge fan of music. I still get excited when I meet anybody. It's been a pretty fantastic journey for me. I can't believe that all these years later I'm still busy doing Go-Go's stuff, and really it's almost another period of my life that is pretty wonderful. I haven't been this busy since the '80s. [Laughs.] It's a lot going on, and it's all good stuff. 
When you were going over the photographs and arranging everything, were there any surprises? Did anything really stand out to you that you had either forgotten, or anything that really stood out to you that you're like, "Wow, this is really poignant," or profound?
Every single photograph I have in that book I feel that way about. They all were something important to me at that moment that I felt like I had to capture. That's why I had such a hard time with choosing what [went] in this book, because every single photograph I wanted to put in the book. 
There's a series of shots where I just took photographs of my feet with different kinds of socks on. [Laughs.]  It's just weird stuff that I did over the years that I love. I look back at them and I just love them. And I have to have somebody say, "People don't care about that, Gina. Here's what they want to look at." [Laughs.] They all really mean something to me. Don't ask me what it's about, where it comes from. It's just who I am. 
You can do a gallery show just looking at your socks. You could do one now — and then. That would actually be pretty great.
[Laughs.] I have endless photographs of me taking a photograph of myself in a mirror with my camera. Whatever city I'd get into, one of the first things I'd do, no matter what I had on, is just snap a photo in the mirror of wherever I was. I have tons and tons of that. We couldn't put them all in the book — I think I only put two of them in — but oh my God, I have a lot of those. 
You mentioned the love of music. I love how you started off the book talking about all the shows you saw and just how that sparked your interest. I know you loved drummers Charlie Watts and John Bonham and people like that. There's that love of music throughout that grounds the book and really comes through.
Like I said, I'm the biggest fan. I just grew up loving music, waiting for Ed Sullivan to come every Sunday night so I could see who the musical guest was. That was the big thrill of the week for me. And going to the record store and buying all the latest British imports. I spent every penny on buying albums and concert tickets for whoever came into Baltimore. Whoever came into town, I was going to get a seat in that show, playing at the Baltimore Civic Center. It was my main interest. I didn't care about anything else. It was really all about that, all about music, and however much I could just consume.
Do you still have your record collection?
Oh yeah, of course I have them. I put them in my dad's truck when I drove across country [from Baltimore to California]. All of my vinyl I still have. God, I have so many records. When I moved in my house here in San Francisco, I had to have a wall rebuilt to house all of my albums, and DVDs, and VHS tapes, and CDs. There's a whole entire wall. It's like a section in my house where you can get lost because it's endless. [Laughs.] That and books. I have a lot of art books around here too.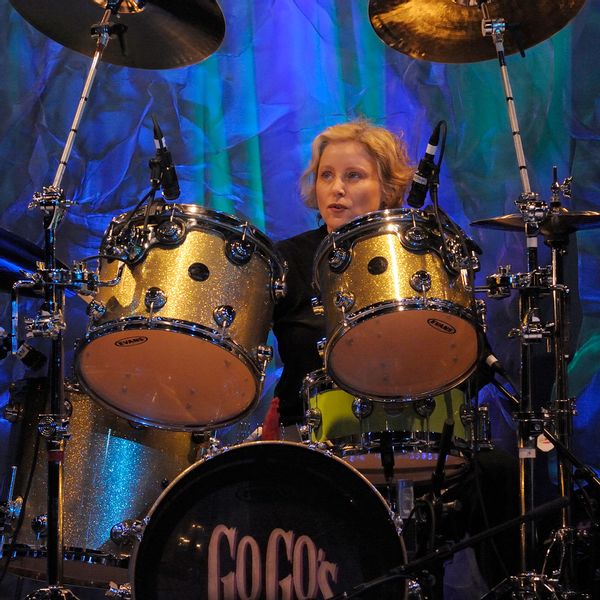 Gina Schock of The Go-Go's on the drums (Photo courtesy of Gina Schock)
I recently moderated a chat with the band The Linda Lindas and they were so thrilled that you drummed with them in September at their show in Los Angeles. They could not say enough good things.
I just want to sweep them up in my arms and steal them. Those girls — I just love them so much. I see The Go-Go's in them so much. I see them turning into the next Go-Go's — and we need another Go-Go's, come on. We need them. And it's even Linda Lindas, Go-Go's, Go-Go's. [Laughs.]
They're going to be playing at my art show up here, I just found out. Of course, it had to be on a Saturday night because they have school five days a week. You have to work around that schedule. But being around those girls, it made me full of joy. I was smiling from ear to ear the entire time I spent with them.
They really did have that effect. There was just so much exuberance.
You can't help it, it rubs off. And when you're with them, that energy that they have when they're together, it's just like The Go-Go's when we're together. There's an energy that happens that's explosive and crazy. That's what I felt with them. 
What do you think is going to change for the Go-Go's, if anything, after the Rock Hall induction? 
I don't know. It's a milestone in our legacy. It's a big deal to have been inducted. So, I don't know what change it will bring about. What do you think? I have no idea. What's it going to do?
I don't know either. And it's funny because I think anyone who's a fan of yours — and I've been a fan of the Go-Go's for decades — you don't need that validation, necessarily, for the Rock Hall to say you all are worthy.
No, we don't. I'm saying what we've contributed is good enough.
But this is sort of the icing on the cake. You know what I mean? It really is. And it's a lovely thing that's happening. I'm grateful for all this. I think the whole band. At first, we didn't give a s**t, and now we're all really excited about this actually happening.
That makes a lot of sense. And for people who are fans of the band, I think there's some validation: "Hey, look, people have been saying for years this band is amazing," and finally everyone's waking up to that.
Yeah. It is about time that we were inducted, but never too late, and I am thrilled that this is all happening. It's just a funny time in your life and things happen when they're supposed to, I guess, Annie. You never know. I guess it's supposed to happen when it's happening. I know that sounds ridiculous, but I do believe things are predestined. They happen when they're supposed to.
It's timing too. 
That's what it is. You never know. You just never know when things are really meant to happen no matter how badly you want them to. It happens when it's supposed to I believe.
What are you most proud of about the book?
That people get to see this band from a band member's perspective, which doesn't happen every day. [Laughs.] You see a lot of photographs of the band over the years, but all this stuff is going to be stuff that I either took the picture or, like I said, all the ephemera I have that's in the book that's just my personal possessions. I want to look back and then remember things. That's just how I am.
Check out these other stories you might like: