Six episodes into the new season of "The Kids in the Hall," corporate overlord Don Roritor (played by Mark McKinney) summons his underling Marv (Dave Foley) to ask him if he knows what Amazon wants from the revived version of the sketch show. 
Yes, Marv answers: "A funny show, but one that is free of targets, topical topics, alarming edginess, or unsettling settings."
"That leaves puns, Marv," replies a nonplussed Don, shortly before bringing in another man to entertain him by repeatedly socking his loyal underling in the gut. 
Provided you've watched all the sketches before this, you'll understand that this entire exchange is a mille-feuille layered joke.
McKinney's executive has already made empty theater out of pretending to listen to women, dismissing a long conference table full of them with the condescending parting gift of a fanny pack. (The Kids are Canadian, making that one a special laugh riot for the Brits, too.) He also speaks in a voice that mimics Lorne Michaels, who executive produces the revival and the five classic seasons coming before it.
Moreover, this back-and-forth comes after sketches that lampoon, among other current subjects, Jeffrey Toobin's New Yorker incident, cultural appropriation, conspiracy-obsessed vigilantes, and post-apocalyptic boredom, all without specifically referring to any of the targets.
RELATED: The problem with Mike Myers
And some will recognize Don Roritor from the troupe's feature debut in 1995's "Brain Candy," whose flop status the revival embraces by describing in the very first scene as having been "dry heaved into existence because of a dark deal with the devil."
To know and love "The Kids in the Hall" means gleaning a twisted guffaw from these winks, but the comedy works even if its crumbs of topical humor slide by unnoticed. And this is the essence of this Canadian troupe's subversive genius, won by shuffling critiques of first-world stupidity into a tall stack of inane.
"The Kids in the Hall" are old and they know it.
"The Kids in the Hall" originally aired between 1989 and 1995, with its original pilot episode debuting in 1988. Its revival is stuffed with callbacks to their greatest creations, including Scott Thompson's popular nightclub host Buddy Cole. Buddy, a controversial character back in the 1990s, is now a gay elder mourning the culturally eradicating effects of gentrification, transforming his former gay paradise into rows of tony cafes and restaurants. But the producers accentuate the keenness of this loss less than his passionate sentimentalizing of the only part that remains of his favorite bathhouse: the Last Glory Hole, which has somehow gained sentience.
 "The Kids in the Hall" are old and they know it. They revel in their age, actually – the group's youngest member, Foley, is 59. But despite the eight-episode return's official reintroduction, which shows McKinney, Thompson, Foley, Bruce McCulloch, and Kevin McDonald being unearthed from their shared burial site by longtime writer Paul Bellini, they're decidedly not dead.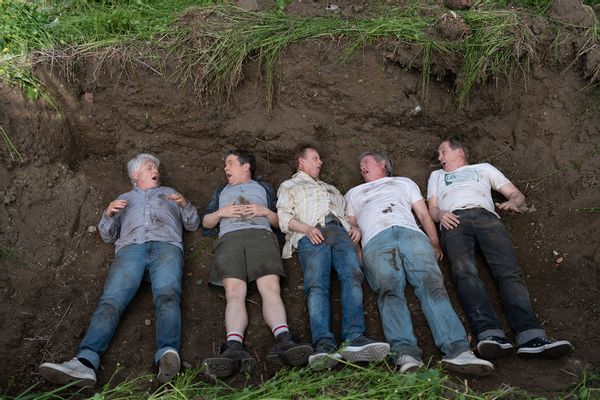 Kids in the Hall (Jackie Brown/Amazon Studios)
This too is a wink, picking up from their 1995 farewell, when they were buried together to decisively end the series. But for Gen Z viewers and millennials who might not have ever heard of them – and many haven't – it's also their way of saying, "Hey folks, here are those Canadians whom Gen X olds used to think were edgy!" 
But they're also reminding the audience of their status as television's premier sketch troupe, one of the few that has found lasting success outside of "Saturday Night Live" (which featured McKinney as a cast member from 1995 through 1997), "Monty Python's Flying Circus" and more recent hits like "Key & Peele." 
"The Kids in the Hall" took advantage of the Gen X tendency to label everything as inauthentic and pointless by occasionally nestling uncomfortable commentary within their whacked-out scenarios.
"SNL" and "Key & Peele" thrive(d) on topical comedy, with the latter going all-in and hard on race and other social issues and the former grinding the bones of that week's headline horror to make its bread. The "Kids," who have been together since 1984, were never that straightforward in the televised version of their act, leaning more heavily on cultivating bizarre and easily imitable characters.
To younger viewers sorting through a waning obsession with all things '90s, here's a sketch troupe that played a role in defining the era by marrying that decade's bastardization of irony with absurdism. "The Kids in the Hall" took advantage of the Gen X tendency to label everything as inauthentic and pointless by occasionally nestling uncomfortable commentary within their whacked-out scenarios. This was mainly the role Thompson's Buddy played, but it also popped up elsewhere, as in sketches featuring characters driven to their edges by baseless and often entirely goofy paranoia.
Miraculously, the reboot captures this spirit without drowning in nostalgia, one of the current era's more toxic indulgences. Familiar and beloved characters pop up in these eight new episodes because . . . why wouldn't they?
For one thing, Amazon prides itself on being a company devoted to meeting the customer's every need, and in a show like this, that translates to fan service. There is no way the show would not dust off weirdos like McKinney's Headcrusher and McCulloch and Thompson's Cathy and Kathie, chatty admins at the "Kids" all-purpose corporation A.T. & Love.
(In my view the "Kids" are among the precious few all-male troupes who pull off playing women by foregrounding those characters' distinct comedic traits without resorting to stereotypes. This is still true, along with the fact that each of them looks fantastic in a wig and fully made-up face.)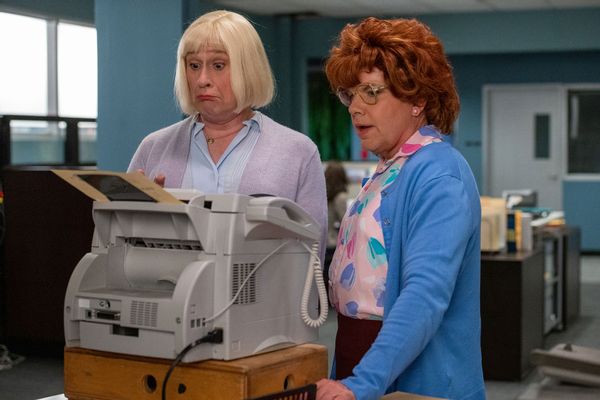 Kids in the Hall (Jackie Brown/Amazon Studios)
Returning to Bellini's visual nonsequitur role, the man serenely traipsing around in nothing but a bath towel underscores their take on aging and physical change. As hilarious as their childishness was as young men, it's even funnier and a tad more haunting when viewed in the form of late middle age folds and sags.
Those wondering why favorites like The Chicken Lady aren't in the mix may take a closer look at the figures they chose to bring back instead, each of which provides an entry to relevant punchlines without sprinkling them in glitter. The fastidious restaurant staffers Tory, Dory, Rory, and Cory, who obsess over correct culinary terms and codes about pooping embody the lunacy of genteel elitism.
When this "Kids" zips back to Hotel La Rut to visit Sylvie and Michelle, they cannot bring themselves to rise from their couch to cross the room and retrieve an iPad. They could be fellow victims of pandemic malaise, or it may be that they're taking their characteristic malaise to the next level; who can say?
Gord (McCulloch) and Jeff (McKinney) were even less popular back in the day, but in 2022 their huckster routine is all too apropos.
Time has redeemed "Brain Candy" into a cult classic, and with the debut of these eight Amazon episodes maybe more people will watch their 2010 miniseries "Death Comes to Town," which aired on a pre-"Portlandia" IFC. And time has changed these men physically, which is also true of the people who loved them 30 years ago . . . and shrink in horror at the realization that our youth is several decades years gone.
---
Want a daily wrap-up of all the news and commentary Salon has to offer? Subscribe to our morning newsletter, Crash Course.
---
The bizarreness of being human has no expiration date, as "The Kids in the Hall" remind us by leaning into their age, and our era, by picking up where they left off and treating time as their ally. Their aging activates a fresh kind of humanity in their characters, letting us reconnect to our goofiness and, in some cases, feel better the inevitable loneliness that drives people to do silly things.
That makes their self-aware approach to repurposing old friends from the show incredibly topical – unsettling, even. But it also comforts by reminding its longtime fans that who we were is still who we are, and that alone makes me hope we haven't seen the last of them. 
All episodes of "The Kids in the Hall," including the original five seasons, are currently available to stream on Prime Video. Watch a trailer via YouTube.
Why stop there? Check out the two-part documentary "The Kids in the Hall: Comedy Punks," which begins streaming on Prime Video Friday, May 20.
More stories like this: