Maybe it was the timing. The New York Magazine issue dropped in mid-December, when schools were about to close for winter break and the holiday daze was settling upon many people with all its associated stress, obligations and financial worries. What better time to absorb oneself in a cover story about kids who had it easy? Whatever the reason, the article "How a Nepo Baby is Born" ignited a firestorm. The accompanying, grotesque photo illustrations of celebrities with adult heads and diapered baby bodies probably didn't hurt. Suddenly everyone was talking about this term. 
"Nepo baby" refers to a child who has benefited from their parents' success in the same industry. "Nepo" is short for nepotism. 
Surprise, surprise. Having a successful parent helps you be successful in all fields, including show business, and the people who rise to great, artistic prominence don't always do so because of talent and hard work. If this is news to you, perhaps you may be shocked to learn of generational poverty? The article was rife with examples, from Dakota Johnson to Lucas Hedges. The internet offered up still more, and some nepo babies loudly defended their careers.
While not known for always representing socioeconomics in a believable way, television can also offer us examples of the nepo baby. But one of the strongest examples in recent years also tries to buck the trend however she can. It's Mindy from "Emily in Paris," and she's out here doing her best. 
"Emily in Paris," now in its third season on Netflix, is, as benefitting most Darren Star productions, the story of a thin white girl without any real problems and with a seemingly limitless wardrobe. In this iteration, the "ugly American" is gorgeous (Lily Collins, speaking of nepo babies): Emily, a young marketing executive sent to Paris as a last-minute replacement. She finds she really likes it there, finds a lot of men to date and maybe eventually she will learn French.
She also finds, quite quickly, a wonderful friend and eventual roommate, Mindy Chen (the magnificent Ashley Park).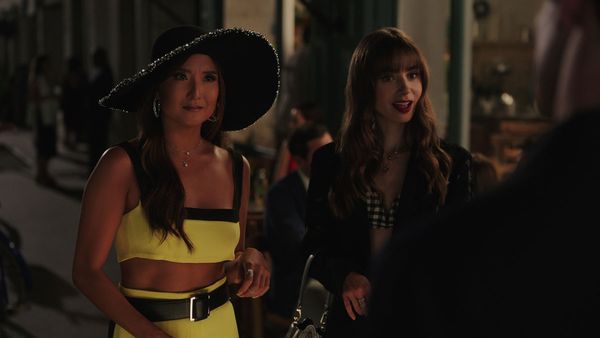 Ashley Park as Mindy and Lily Collins as Emily in "Emily in Paris" (Courtesy of Netflix)
She's working the difficult, thankless job of a childcare provider, and she's not doing super well. 
Mindy is employed as a nanny in Paris when she and Emily meet, but her dream is to be a singer. It's a dream she's been working at and a dream that has been dashed, as Mindy froze while performing on the "American Idol"-like program "Chinese Popstar." It's made her a recognizable laughing stock in her home of Shanghai, the embarrassment magnified because Mindy's family is so well-known. Her father owns a zipper and fastener company, which has made her family incredibly wealthy. (A lot of things need zippers, okay?) Mindy calls her father the "Zipper King." And the tabloids, after her public fall from grace? They've dubbed her the "Zipper Princess." 
She's a nepo baby, baby! At least, she's benefitted from the enormous financial support of her family, even if they haven't made specific inroads into show biz yet (that's for Mindy to do). But Mindy has shrugged that off as much as possible. She's not living on her family's money in Paris; she's working the difficult, thankless job of a childcare provider, and she's not doing super well. 
She's also not following her family's plans for her. Her father wanted to her to take over the family business, but that's never happening. She went to Paris with the intention of going to business school, but once she drops out, her father cuts her off. The Zipper King's plan is that without a stipend, Mindy will be forced to return home.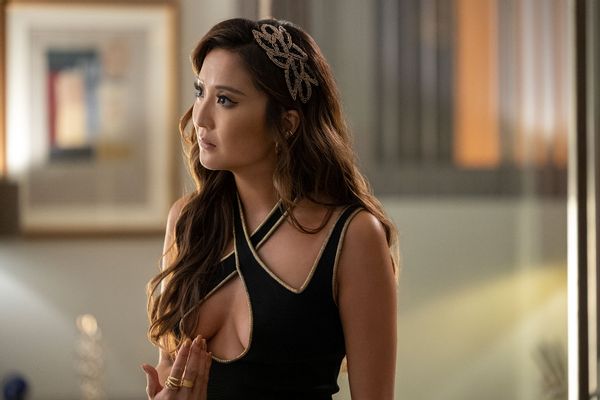 Ashley Park as Mindy in "Emily in Paris" (Marie Etchegoyen/Netflix)But Mindy resists. Her father tries to bribe her with a car and an actual house, but she turns them down. She's going to make her own way or die trying. Fired from her nannying job, Mindy deals with eviction. Luckily, she has a friend — Emily — to move in with (this is a fantasy, after all). She handles other degrading situations, including working as the toilet attendant at a club she had hoped to perform at. She does perform, just in between managing the bathroom. Mindy doesn't exploit her family connections. She's not one to pipe up, Do you know who I am? No one knows who Mindy is, and that's the way she likes it.
Mindy is just more compelling than Emily, a cardboard cutout who keeps falling up.
Except she's destined for stardom. Mindy starts busking on the street, performing in a trio of other musicians, one of whom she dates, Fleetwood Mac-style. The band gets a chance for a real regular (paying) gig, but when it turns out the club owner only wants Mindy, she says no. Mindy has principles, and friends mean more to her than even her dream. This is one way the character deviates from Emily — also, Mindy is just more compelling than Emily, a cardboard cutout of a character who keeps failing up — Mindy puts people before career, before anything. She confronts her boyfriend when he treats her friend, Emily, poorly. If she's made to choose between romance or friends who need her, she'll choose friends every time.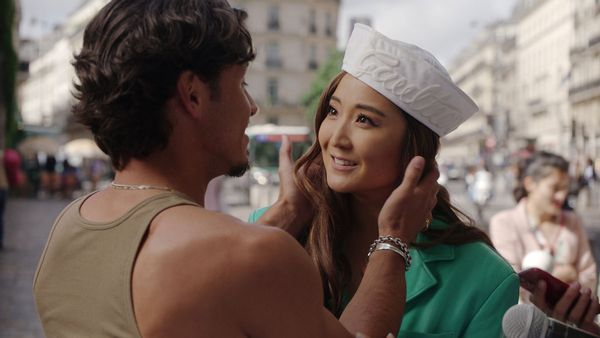 Kevin Dias as Benoit and Ashley Park as Mindy in "Emily in Paris" (Courtesy of Netflix)Mindy takes risks. She's had some wild outfits — all of the characters do in a Star production, of course — but her stage outfits have truly gone there, including a neon green "Tron"-esque bodysuit. Did you know we needed a French language "Shallow"? Well, we did. Thanks, Mindy (the character is fluent in three languages, by the way).   
Park is the real thing too. Allegedly, Star revised the character to include Park's singing prowess (since music is so central to Mindy, you have to wonder what in the flat hell the character would have been like without it). A Tony Award and Grammy Award nominee, Park has starred on Broadway in "King and I," "Sunday in the Park with George," "Grand Horizons" and appeared as Gretchen Weiners in the musical version of "Mean Girls."
---
Want a daily wrap-up of all the news and commentary Salon has to offer? Subscribe to our morning newsletter, Crash Course.
---
Mindy pays her dues. She pays for her friends. She's got the chops and then some. She may have been born a Zipper Princess, but zip off the trappings of the life she was born into, and she's got enough heart, grit and talent to make her own way, maybe even to make it.
Read more
about "Emily in Paris"