Anne Rice was an author who loved her fans and was genuinely interested in hearing their thoughts about her books, more so even than the big name critics paid to review them.
In late night messages written to Facebook or heartfelt letters posted to her website, she would address the millions of people across the world who held her work dear as, "People of the Page," sharing a common bond over the written word and the gift of stories that have lives of their own in a reader's imagination.
In the early part of her career, Rice had many of the same struggles that other fledgling authors do. She worked as a waitress, cook and even an insurance claims examiner, returning home at the end of her shifts to pound away at her typewriter, holding on to hope that one day she'd be able to support herself doing what she was meant to do. And after she gained the level of success she'd always dreamt of with the release of her debut novel in 1976, "Interview with the Vampire," she developed another goal, to one day see her books adapted to film and television. 
In her journals, now archived at Tulane University since her death in 2021, Rice chronicled the many ways in which her initial dealings with studios left a bad taste in her mouth. Try as she might, after years of meetings and bad scripts, no potential adaptation seemed to meet her standards. She warmed to the 1994 "Interview with the Vampire" film starring Brad Pitt and Tom Cruise, but just barely, and that came after an initial repulsion over the casting of Cruise as her beloved Lestat de Lioncourt.
"Even when an author works closely with the director, the writer or the actors, the author's voice is only one of many," Rice writes in one of her journals. "Those controlling the financing for a project can shut the production down. Sometimes those who decide the fate of a production have never read the author's books, and have little or no idea as to what the books are about."
That's the beauty and the pain of imagination. What you see in your own doesn't always translate correctly in someone else's.   
A year and a half before she died, Rice sold the rights to her "The Vampire Chronicles" and "The Lives of the Mayfair Witches" series — a combined 18 titles in total — to AMC Networks, believing she'd found the perfect fit for further immortalizing her work. 
In a statement made after AMC's acquisition, Rice said, "It's always been my dream to see the worlds of my two biggest series united under a single roof so that filmmakers could explore the expansive and interconnected universe of my vampires and witches. That dream is now a reality, and the result is one of the most significant and thrilling deals of my long career."
But while AMC+ did a fantastic job with the first season of their "Interview with the Vampire" adaptation, The "People of the Page" (myself among them) mostly view the "Mayfair" adaptation as a nightmare rather than a dream come true, the only blessing being that Anne isn't alive to suffer through being let down once again. 
Now that both adaptations have been renewed for second seasons, there's hope that AMC+ will continue the good work already established with "Interview," and take the hiatus between now and the filming of "Mayfair" Season 2 to go back to what Rice gave them and let it guide them to do better.
Using quotes from "The Witching Hour" as titles for each section, here are six ways they can go about doing that.
01
"Questions of failure, of haste, all the what if's of life"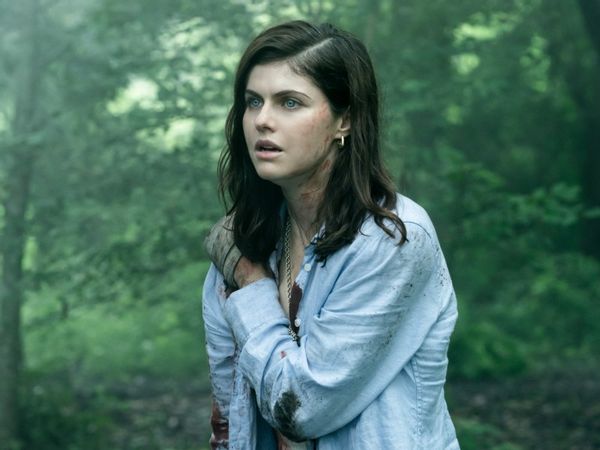 Alexandra Daddario as Dr. Rowan Fielding (Alfonso Bresciani/AMC)
While Alexandra Daddario has been captivating in other roles, namely "
The White Lotus
," she seems befuddled as Rowan Fielding/Mayfair, the lead character in Rice's "Mayfair" books, and this adaptation. 
In the source material, Rowan is described as being "tall and beautifully androgynous with ashen blond hair and piercing grey eyes," but the switch-up in appearances is not what the issue is here.
In terms of her performance in the show, Daddario's looks, as in any other show she's in, could only ever be seen as a benefit. It's her delivery in this role that's the problem. Rowan is supposed to be strong, self-aware, and brave as she comes to learn that she's the 13th witch in a long line of powerful women. 
Daddario rambles through the Spanish moss of New Orleans here, mouth gaping open, as though she's high on goofballs. Rice did, in no way, write her witches as damsels in distress, and Daddario should dive into the books to learn more about how that should be communicated through her acting in Season 2. 
02
"She had understood before she had ever dreamed of a city such as this, where every texture, every color, leapt out at you, where every fragrance was a drug, and the air itself was something alive and breathing"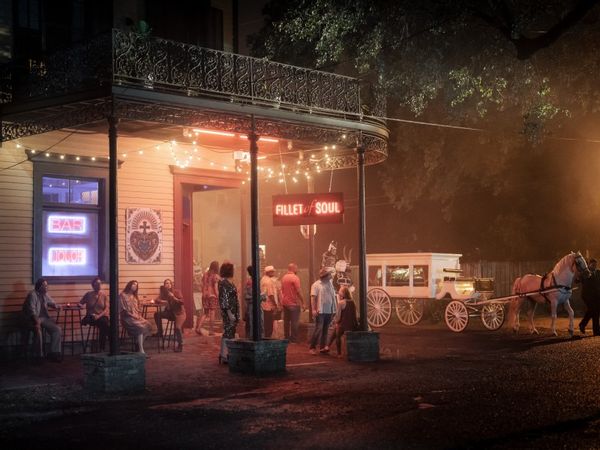 Lasher's World (Alfonso Bresciani/AMC)
 "The Witching Hour" was the first book Rice wrote while living in New Orleans. Although she was born there, she spent a chunk of her formative and early adult years in Texas and San Francisco with her husband Stan Rice and their son Christopher before moving back to New Orleans after the death of their daughter.
"This is the first time I've actually been able to write with the sound of the rain falling on the banana trees and the smell of the river breeze coming in the window, and it's really been wonderful," Rice said in 1989, describing the experience of crafting the world of the Mayfairs while viewing it from outside her own home. 
New Orleans, where I've personally lived for over eight years, is truly a place like no other, and it's easy to see why so many TV shows and movies choose to film here as it can look like a variety of different places from all across the world, depending on what street the filming takes place. It's dark and bright all at once, and can feel both anciently historic and shiplap new, from block to block. But in the first season of "Mayfair Witches," aside from the occasional sweat stains on people's shirts, it's too easy forget that the show is set in New Orleans, a setting that takes center stage regardless of the quality of what's being played out on it, except for in this case, which feels like just one in a series of missed opportunities. The show would benefit from pushing the city itself up on the call sheet. 
03
"Don't gaze into a crystal ball for dollar bills"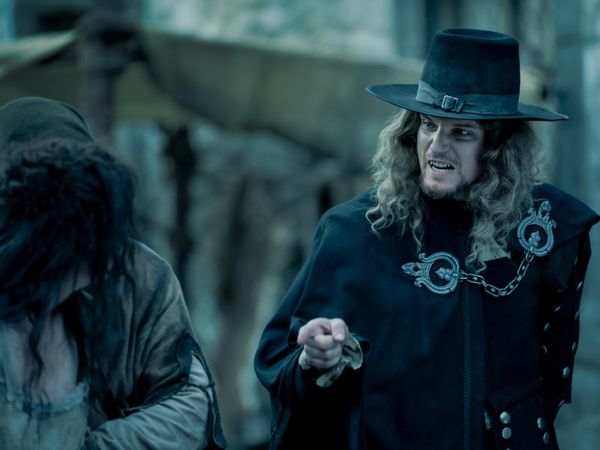 Sam Evans as Patrick and Hannah Alline as Suzanne (Alfonso Bresciani/AMC)
One of Anne Rice's biggest gifts as a writer was to insert grace and a certain poetic dark mystery into everything she wrote. But for as big of a budget as AMC had in making "Mayfair Witches," and for the caliber of its cast, that depth of expert world building did not make its way in.
No TV show or movie could ever compare to what it feels like to read a book by Anne Rice, which has been, and continues to be the main problem with all the adaptations of her work so far. But whereas the "Interview with the Vampire" series that came before this one at least looked the part in terms of the scenery, setting and overall feel, this first outing of "Mayfair Witches" has that soap opera/Lifetime movie cheesiness to it that is hard to describe, but you know it when you see it. Not sure what advice to give in order to fix that for the next season other than to suggest that the showrunners figure it out. 
04
"Give me a man or woman who has read a thousand books and you give me an interesting companion."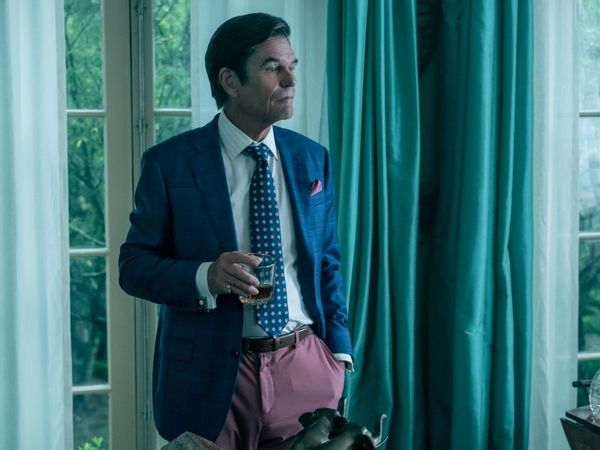 Harry Hamlin as Cortland Mayfair (Alfonso Bresciani/AMC)
During a panel with the cast of "Mayfair Witches" at
Comic-Con
 in October 2022, Harry Hamlin, who plays Mayfair patriarch Cortland Mayfair, admitted to only making it a third of the way through "The Witching Hour," the first book in Rice's "Mayfair" series. 
In an interview with
Cleveland.com
 in January 2023, he didn't claim to have made any further progress there. When asked if he had knowledge of Rice's work prior to signing on to the show, Hamlin stated, "I hadn't, but, of course, I knew of Anne Rice and had seen 'Interview with a Vampire.' I listen to books now more than I read them. I did listen to the first 15 or 20 hours of this book, which is like 56 hours long."
Hamlin isn't alone there, with only Alexandra Daddario claiming to have finished that first book, but in his case it's a glaring mistake that is visible onscreen. Hamlin delivers his lines with the same passion as someone asking for directions at the gas station and, in one scene in the first season finale, his pantomime of Cortland's hands exhibiting early symptoms of ALS reads not like a man who's sick, but like a man trying to flick a sticky booger off his finger.
Learning how to embody the character you're playing by reading the author who created it seems like a great start towards improvement. 
05
"I like you both! And that's better than loving you, for that's expected, you know. But liking you, what a curious surprise"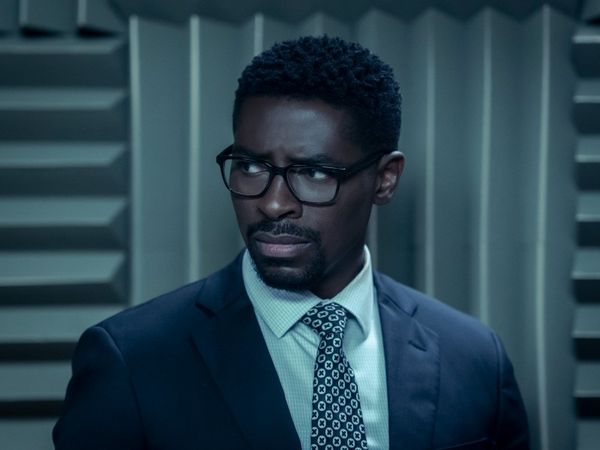 Tongayi Chirisa as Ciprien Grieve (Alfonso Bresciani/AMC)
When I first learned that show creator Esta Spalding had made the decision of combing two different male characters from the Mayfair series into one new one, I was prepared to write this show off as a whole before I'd even watched it, and many other fans of the books expressed a similar feeling. 
The adaptation's new character, Ciprien Grieve, is a creative melding of original characters Michael Curry and Aaron Lightner, which I still view as an odd and unnecessary move, but having watched the first season I've come away from the experience liking Tongayi Chirisa in the role.
But even having said that, it naturally makes me worry for what other big changes to Rice's original storytelling will be coming. As I see it, her books were perfect, why change them at all? Owning the rights to something affords you the ability to make any changes you'd like, sure, but if they go against the creative mapping of the person who wrote what you bought, who or what could that possibly be benefitting? 
06
"He could lift me in the air, yes, lift my body, but I refused him. I turned my back on him. I told him, you go back to the hell from which you came"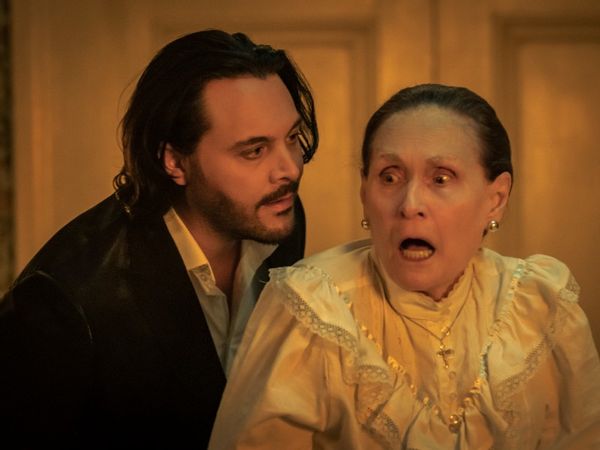 Jack Huston as Lasher and Beth Grant as Carlotta Mayfair (Alfonso Bresciani/AMC)
In describing my issue with the casting of Jack Huston in the role of Lasher, the manipulative and seductive entity attached to the Mayfair women for generations, I wish I could just write "no" and be done with it. It, honestly, would be me saying enough to get the point across, but I'll elaborate. 
In Rice's books, Lasher is more or less the witchy spirity version of Lestat, but in the AMC adaptation he is more akin to someone you'd see working at the Renaissance Festival. Similar to the response to the show's combining Michael Curry and Aaron Lightner, Rice's fans turned their noses up to Lasher not ending up as Rice intended, and barring a recast of the role, it's unlikely we'll see a fix for that next season. I'd suggest we could remedy this by turning away from the screen during Lasher's scenes and reading along from the book instead, but it's not likely that Season 2 will synch up with the book any better than the first season did, so that won't work.