On March 8, 2014, Malaysia Airlines Flight MH370, an international passenger flight, was headed towards Beijing from Kuala Lumpur. Shortly after takeoff, however, the aircraft mysteriously vanished from radars, thus propelling a lengthy yet inconclusive search into its whereabouts.
The case remains a great tragedy to this day, as investigators, online sleuths and loved ones of the departed continue to look into what went wrong. What's known is that MH370 carried 239 passengers — 12 crew members and 227 passengers. Around 1:19 a.m. (MYT), the aircraft made its final contact with air traffic control — now an infamous message — before it disappeared three minutes later. Some say the plane crashed into the South China Sea while others speculate that it vanished in the Strait of Malacca or, even, Kazakhstan. More elaborate theories suspect the captain was at fault or aliens took over the entire aircraft.
MH370 isn't the first major case of an aircraft gone missing. But, it's certainly the most bizarre. Almost a decade after the incident, the mysterious case is revisited in Netflix's docuseries "MH370: The Plane That Disappeared." The three-part series spotlights several theories from investigators, journalists and family members on the plane's disappearance. Keep in mind, "MH370" doesn't offer a clear answer to the mystery at hand, but it does offer some new insight into what may have happened on that flight.
Here are six theories from the docuseries:
01
MH370 pilot Zaharie Ahmad Shah flew a suicide route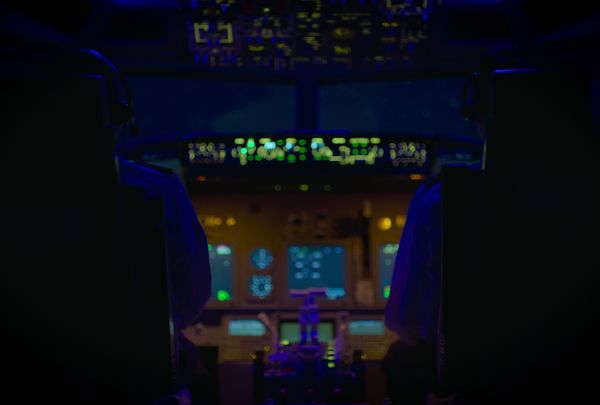 "MH370: The Plane That Disappeared" (Netflix)
Jeff Wise, an aviation journalist, suggests a theory involving MH370's pilot Zaharie Ahmad Shah, who was believed to have deliberately downed the plane. 
Shortly after one in the morning, Shah flew over the South China Sea and sent his final signal to air traffic control in Kuala Lumpur before entering Vietnamese airspace. Wise's conjecture follows: He suspects that Shah then prompted his co-pilot to leave the cockpit and locked its door. Then around 1:20 a.m., Shah turned off all the plane's electronics, causing it to go off radar, and directed the aircraft back towards the Malaysian peninsula.
At this time, Shah is still by himself and his co-pilot remains locked out of the cockpit. It's believed that Shah began depressurizing the cabin, thus causing the emergency oxygen masks to go down in the cabin. Unbeknownst to the passengers, their masks were useless as the plane's oxygen generators only worked for about 15 minutes. Shah, however, wore a more "sophisticated, longer lasting" oxygen mask, which allowed him to continue flying the plane until his fuel ran out. After six hours of flight, the plane's engine stopped running and Shah dove the plane, killing everyone on board.
Despite the plausibility of this theory, Wise still had doubts:
"It is worth pointing out that there have been a handful of cases of pilots who have decided to kill their passengers," Wise said. "But, there has never been a case that someone has taken six hours to commit mass-murder suicide. I started to wonder, maybe it wasn't Zaharie after all."
02
"Tomnoders" believe the plane crashed in the South China Sea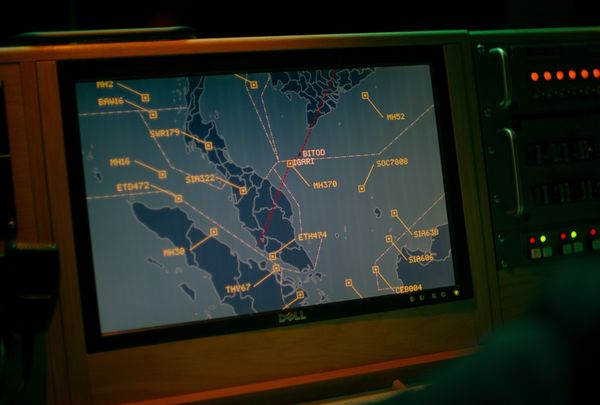 "MH370: The Plane That Disappeared" (Netflix)
A group of online sleuths, known as the "Tomnoders," used a satellite imagery platform called Tomnod to locate the plane's crash site. Cyndi Hendry, a Tomnod volunteer, found bits of plane debris in the South China Sea and identified one piece as MH370's nose cone and another as its fuselage and tail.
"I literally cried because I knew someone had died there. Because I knew that was a part of the plane," Hendry said. "That meant they were no longer alive and that wasn't the answer their family members were looking for."
However, Malaysian authorities were convinced that MH370 flew a different route northwest towards the Malacca Strait.
"I knew that what we had in the South China Sea was the debris of MH370 and I was not going to sit around and not be vocal about that," Hendry said. "I already had notified Tomnod that this debris existed. But I never got an acknowledgement that I tagged debris."
03
The nonsensical theories on social media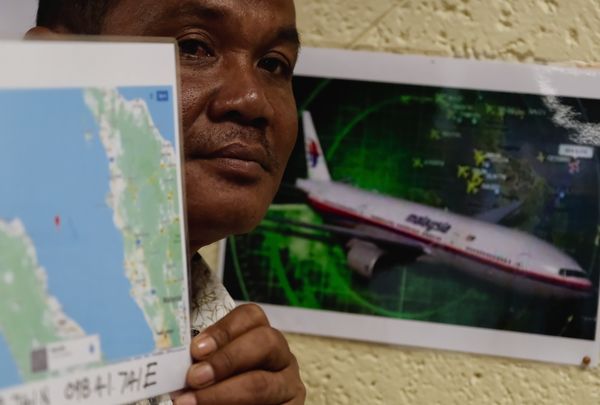 "MH370: The Plane That Disappeared" (Netflix)
A year after MH370's disappearance, more ludicrous conspiracy theories surrounding the plane cropped up across social media. Many people claimed they had solved the big mystery. But in actuality, they were incredibly wrong.
Some said the "real" Malaysian Airlines flight was hijacked and flown to Iran in preparation for a terrorist attack. Others said fire from lithium batteries in the plane's cargo brought it down. A few more theories said the plane's disappearance was tied to an insurance scam, an undisclosed semiconductor technology and, yes, even aliens. North Korea was somehow involved in it all. And a meteorite was also believed to have hit the plane.    
"Sometimes you just feel like you're drowning in horses**t. Because there are so many baseless ideas," said Wise.
04
MH370 was hijacked by three Russian passengers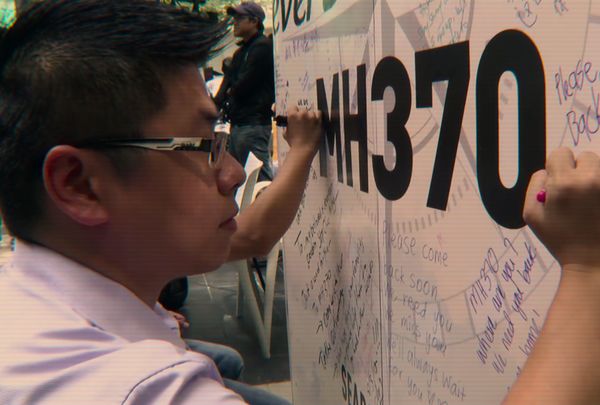 "MH370: The Plane That Disappeared" (Netflix)
On July 17, 2014, a second Malaysia Airlines Flight, called MH17, was shot down by Russian controlled forces in eastern Ukraine. As a result, investigators speculated that Russian spies were involved in the disappearance of MH370. Inmarsat data also suggested that the plane flew north and crashed in Kazakhstan, a client state of Russia.
Upon further investigation, Wise learned that three Russian passengers were aboard MH370. One of them was sitting about 15 feet away from an unlocked carpet hatch that led to the aircraft's electronics bay, where the plane's communication with the Inmarsat satellite could be controlled.     
For Wise's second theory, he believes that the Russian passengers began their hacking operation around 1:15 a.m., when Shah flew MH370 over the South China Sea. The passenger sitting near the plane's hatch was able to access the electronics bay thanks to a ruckus in the first class cabin, which distracted nearby flight attendants. Around 1:20 a.m., the plane was under the control of the passenger, who turned off all the plane's electronics, causing it to go off radar. The passenger then directed the aircraft back towards the Malaysian peninsula and depressurized the cabin. They also cut off the emergency oxygen systems for the pilot and co-pilot.
Prior to the plane's suspected crash, the passenger turned the plane towards the northwest and tampered with the Inmarsat data, which showed that the plane traveled south instead.
05
MH370 was intercepted by two American AWACS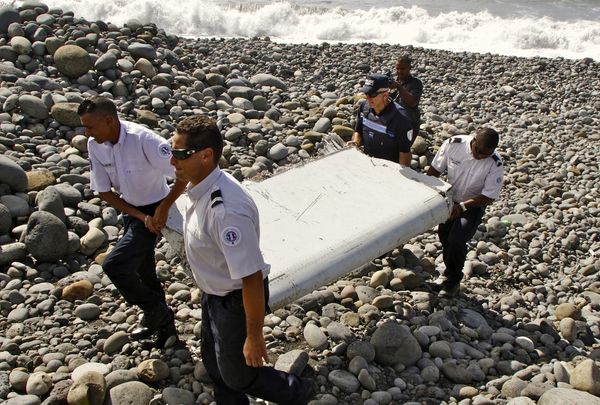 "MH370: The Plane That Disappeared" (Netflix)
Florence De Changy, an author and investigative journalist, proposed that MH370 was interrupted by two US AWACS planes. MH370's cargo list noted that 2.5 tons of electronics, including lithium batteries, walkie-talkies, and accessories, were being carried in the plane. However, the cargo was loaded without being scanned, which caused De Changy to believe that it contained highly sensitive U.S. technology.
De Changy also learned that two US AWACS planes were spotted near MH370. The planes, De Changy said, must have asked Shah to land so they could inspect the cargo. But he refused to do so, thus prompting the AWACS to shoot down MH370 over the South China Sea.
There were a few naysayers to De Changy's theory, including adventurer Blaine Gibson, who found MH370 plane debris on La Reunion Island and in Mozambique. However, De Changy's theory reinforced Hendry's findings in the South China Sea.
06
MH370's disappearance still remains a mystery
"MH370: The Plane That Disappeared" (Netflix)
Two years and 10 months after MH370's disappearance, Malaysian authorities officially stopped the search to find the aircraft, saying it may resume once credible evidence is obtained. 
In 2018 — four years and four months after the disappearance — Malaysian investigators released their final report on MH370, which states that Shah had no involvement and that the case remains unsolved.
But that hasn't stop online investigators and family members of the long-lost passengers from continuing on with their efforts:
"I don't know whether I'll ever get closure but I will try for as long as I can to find my mother, to find out what happened," said Grace Nathan, the daughter of an MH370 passenger.
"I believe there are people out there who know something, who know the true story," said Ghyslain Wattrelos, the husband and father of MH370 passengers. "We're still here and waiting for answers. We want answers."
"MH370" is currently available for streaming on Netflix. Watch the trailer for it below, via YouTube: