Sometimes typecasting works in an actor's favor. Pedro Pascal, for one, has carved out a niche as the season's more desirable bachelor childcare provider. Quinta Brunson's responsible, sensible "Abbott Elementary" persona has been repurposed on "Party Down" and in Hulu's "History of the World, Part II."
Not to be overlooked, however, is Ed Speleers. The name may not be familiar, but the face may jog your memory. A few years ago Speleers was best known as "Downton Abbey" footman Jimmy Kent, "a vain and silly flirt" fired for bedding one of his betters. "Outlander" transformed him from a pretty, vapid romantic into a sinister pirate.
The two major characters he currently plays on Netflix's "You" and Paramount + series "Picard" draw cards from each of those decks, but more pertinent to the topic at hand are the entirely coincidental similarities shared by his "You" author Rhys Montrose and "Picard's" Jack Crusher: both are charmers who aren't entirely in control of their actions and, therefore, can claim they aren't responsible for the terrible things they do.
Granted, the two shows are starkly dissimilar. "Picard" is a futuristic space adventure, while the fourth season of "You" continues the story of Penn Badgley's stalker serial killer Joe Goldberg in present-day London. There Joe embarks on a fresh start as a college professor named Jonathan Moore. As Jonathan, Joe finds Rhys to be the most approachable figure in the upper-class social circle he falls in with. The title of Rhys' bestseller, "A Good Man in a Cruel World," speaks directly to Joe's quest to leave his predatory sadism in his past.  
The latest "Picard" episode, "No Win Scenario," finds Admiral Jean-Luc Picard (Patrick Stewart) and a starship's crew fighting to survive beyond the border of Federation space. The mess they're in is partly Jack's fault since his reputation as a smuggler and con artist makes him a wanted man. The only reason the crew of USS Titan hasn't handed him over to a bounty hunter who has them massively outgunned is that Picard announced that he's Jack's father.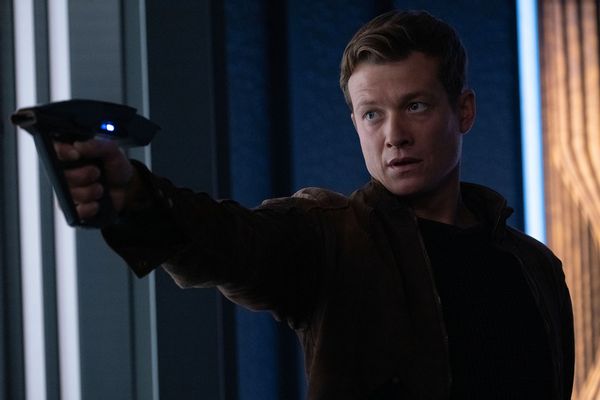 Ed Speelers as Jack in "Disengage" in "Star Trek: Picard" (Trae Patton/Paramount+)
Jack is also transparent about his criminality. Despite this, the latest episode closes with a hint that Jack is hiding a secret: some red-tentacled menace lurks inside of him, and may be overtaking his consciousness.
"You" viewers also may have suspected that Rhys is too good to be true. Sure enough, a midseason twist reveals Speleers' man as the season's villain compelling Badgley's Jonathan to do his worst or suffer the consequences.
When a British accent comes out the mouth of a handsome devil who can wear the hell out of suit, beware.
Rhys' and Jack's divided personalities aren't outliers in the realm of ambitious deceivers, especially at this moment. Our fixation with the Murdaugh trial and the bodies connected to his family explains why characters like this can have a hold on us. The sheer audacity with which Alex Murdaugh, his family, and their accomplices asserted their power and privilege in their South Carolina town is astonishing, certainly.
We may be even more amazed that he was convicted of murdering his son Paul and wife Maggie, especially since part of his lawyer's early defense is that his client's unbridled opioid addiction clouded his reasoning. "Your honor, this behavior does not reflect who I truly am," is a common defense employed by the moneyed and powerful.
Other versions of such characters are astounding enough in their bravado that the harm done by their lies is almost completely outstripped by the extremity of their self-deception. That's why New York congressman George Santos shows no signs of boring the public. He's lied so profusely and assumed so many false personas that he can't seem to keep up with his falsehoods. We continue to pay attention in part because we don't want to miss the moment when the put-on crumbles. The bigger question is, does he even know who that person is?
All this represents a natural progression from our captivation with grifters, which has had audiences in its thrall since the hugest huckster of our time conned his way into the Oval Office in 2016. He fooled millions, but that man knows himself and what he's doing.
When Santos loses his office we'll probably lose interest in him too. But a grifter's pull is eternal owing to their association with panache and cleverness. The popularity of ABC's "The Company You Keep" proves this. But even that show's blend of family drama and glamorous heists hinges its tension on the presumption that the lovers at the center of its game, Milo Ventimiglia's Charlie and Catherine Haena Kim's Emma, are fooling themselves.
Charlie is a thief who assumes false identities; Emma's a CIA agent forbidden to tell anyone, including her family, what she does. Their relationship, such as it is, is based on compartmentalizing their desire for each other from the familial and career obligations intrinsic to who they are. There's no way it can work in the long term without someone's mask dropping. 
If a part of us is cheering for Barry or understands Sally, Rhys, and Jack, it could be that we recognize them as versions of the classic "Dr. Jekyll and Mr. Hyde" horror.
But its tension is circumstantial. The aggression Rhys wages in "You" and Jack is barely keeping at bay is, in a real way, part of an internalized war, like the psychological conflict driving Bill Hader's ex-Marine hitman over the edge in "Barry."
Hader's Barry Berkman also tried to free himself from a murderous path by persuading himself that he could make a new life out of a character of his imagining, that of a nice, safe guy and a solid boyfriend to Sally Reed (Sarah Goldberg). As it turns out, Sally is also bent on dramatizing her way into a life that's better than her old one, a disturbing chapter shaped by abuse. The darkness with them doesn't make that possible, and in the third season, Sally loses the limited professional standing she gains when she's recorded abusing a former colleague, while Barry is now in prison.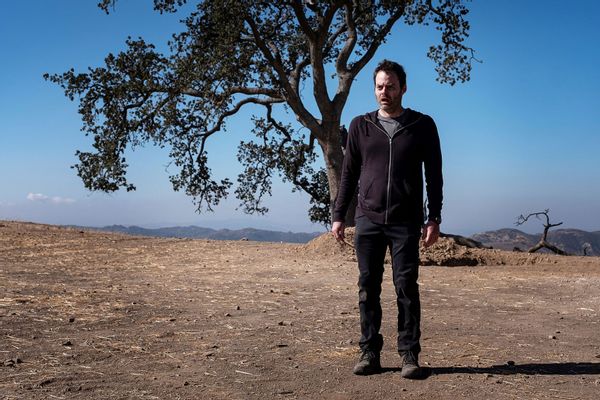 Bill Hader in "Barry" (Merrick Morton/ HBO)
Speleers' characters are more eloquent and skilled at performing empathy. Since he's wearing their costumes that also means they're also golden-haired white guys with British accents. To American audiences the English accent still confers both authority and the assumption of elitism. When it comes out the mouth of a handsome devil who can wear the hell out of suit, beware.
---
Want a daily wrap-up of all the news and commentary Salon has to offer? Subscribe to our morning newsletter, Crash Course.
---
Speleers, who naturally wields both of these figurative disarming devices, easily persuades the viewer of Jack's inherent heroism or the notion Rhys Montrose could sell the London Bridge to voters by sneering a little. He does much more than that, mind you, to the point that in "You," Rhys' off-the-charts appeal makes him a threat to another white guy with power and political influence on a global scale.
But he's also a model of self-deceit that colors Rhys', the real Rhys, and the ultimate purpose served by the one we know with minatory tragedy. Something similar may be afoot with Jack.
If a part of us is cheering for Barry or understands Sally, Rhys and Jack, it could be that we recognize them as versions of the classic "Dr. Jekyll and Mr. Hyde" horror, an allusion to which "You" points in the second half of this season. Blacking out, and behaving in ways we don't remember and may be shocked to be told about when we're sober. All of us harbor some fear of being overtaken by a shadowy alter ego that rampages in our name.
Then again, those hidden personalities are also a means of escaping accountability. If we don't know these hidden selves exist, how can we accept the blame for their crimes?
The upcoming fourth and final season of "Barry" was announced with a trailer that shows Barry in prison, for now. He's the hero of his show and, at least for a time, made an honest if doomed effort to be a better person. More importantly, Hader plays Barry persuasively, daring us to like the guy and desire his escape despite his murderous rages. 
We may not feel the same about Rhys on "You," whose hold on Joe and effect on the people around him places him in a position to do damage on a broader scale. Whatever impact the duplicity gestating on "Picard" has yet to be revealed, but the view is already inclined to have sympathy for Jack purely based on his parental drama.
Speleers' performance and persuasive mug lend both characters an air of credibility and danger in a way that indicates he understands how his physicality fits what these men represent. Hopefully, the actor is having as good of a time not being himself as one imagines the audience is in watching him.
All episodes of "You" are currently streaming on Netflix. New episodes of the third and final season of "Picard" stream Thursdays on Paramount +.