Laura Gabbert's sumptuous food documentary "Ottolenghi and the Cakes of Versailles," which was scheduled to have its world premiere at the Tribeca Film Festival, chronicles a summer 2018 event at the Metropolitan Museum of Art where the celebrated chef and restaurateur Yotam Ottolenghi had five renowned pastry chefs create desserts honoring an exhibit on Versailles. Among them are Ukrainian Dinara Kasko, who makes fabulous architecturally inspired cakes; the French Dominique Ansel, the originator of the "Cronut;" Brit Sam Bompas, who dazzles eyes and tongues with his jellies; Tunisian Ghaya Oliveira, the James Beard Award-winning pastry chef from the restaurant Daniel; and Singaporean Janice Wong, who makes art with food. Watching these five master pastry makers work is pure joy. (Warning: Kasko's Instagram account is addicting).
In the film, Gabbert shows what goes on behind the scenes as each pastry chef plies their craft. However, "Ottolenghi and the Cakes of Versailles" is also about the social and historical lessons of the French Revolution, from its opulence and decadence to its transparency and inequality. The food presented at this exclusive public event is meant to symbolize the art, taste, smell, and passion from more than 200 years ago.
Gabbert, who also worked on the documentaries "City of Gold," about the late Pulitzer-winning restaurant critic Jonathan Gold, and "No Impact Man," spoke with Salon about her new film, her (lack of a) sweet tooth, and shooting food porn.
Why did you make a film about Ottolenghi curating this event and not just about him?
I was a director for hire on this project. I didn't develop the idea. They had a specific idea to capture Yotam while he did collaborations with the Met. We couldn't do a deep dive, but it was important to capture his process — to get a sense of who he is, his background, and some of his history. You could have done a whole film about Yotam and his food and his history and how he looks at food and culture. We were given a certain number of shooting days, and had about eight weeks of prep. There were the constraints, so some of the film is dictated by those things. That's why it's confined to this event — but it is fun to have this constraint. What can we do to flesh out why he is so excited about curating and researching this event and the connections between history, culture, and food? He's so interested in where certain foods and ingredients come from. There's a reason the Met chooses him for these collaborations.
What was your approach to shooting? I like it was not just another #foodporn doc. Sam Bompas says you need a narrative and a spectacle with food. Can you talk about creating that?
There was a slight ticking clock element, but we weren't able to go to Ukraine to film Dinara Kasko researching her mold for this event, so we followed Yotam, who learned about the French Revolution and the cooking and baking at that time. We captured him talking to [food] historian Deborah Krohn, but there was also drama with the five pastry chefs, and we had a second unit following the chefs and the problems that arose and how they solved them. We also watched Yotam learn and connect the dots himself in real time. A lot of it was just being there, walking through the exhibit with the curator of the show, taking in this knowledge and piecing it together with the food history and the chefs who impart their baking techniques with them. He is our guide through all of that. We didn't want him to feel like a host.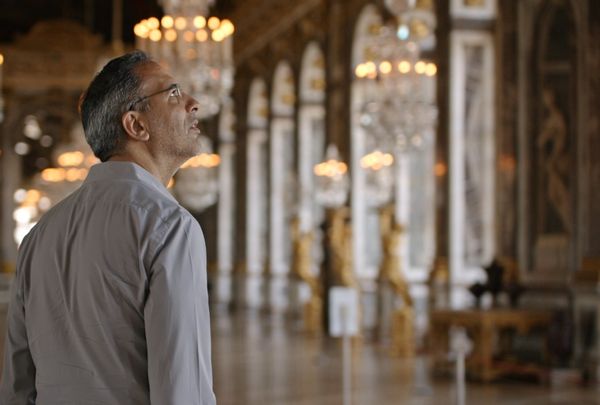 Ottolenghi repeatedly talks about technology. How much do you think that impacts or influences the chefs featured in this documentary?
What was interesting to me was this idea when Deborah Krohn, and Yotam are taking about Versailles, and how the cake was new and new technology then. It is true, because of the power and wealth of the French monarchy, the French could take these techniques created in Italy, and codify them and make them their own. We followed that line to Dinara, who is an architect with 3-D molds that she creates on her computer that are modern but feel appropriate for Versailles.
The pastry chefs talk about the art of the kitchen. What are the challenges of filming food? There are a few moments of drama where things might not turn out right . . .
I said to the crew in the beginning that we didn't have the time or the resources to do a "Chef's Table" and beautiful close-ups, so we decided to focus more on the process, and the [chef's] thinking, so we shot verité and fluid. When the pastry chefs are bringing their desserts into the hall, there was some lushness. But we wanted it not to feel too staged and perfect. My music composer, Ryan Rumery, avoided classical music and made the score modern to fit Yotam's personality. Yotam chose these pastry chefs, so I wanted to make it about the characters. They are so different in their techniques and cultures and I wanted to highlight those differences. Sam Bompas has no training versus Ghaya Oliveira who won a James Beard award. Dinara Kasko lives online and comes from Ukraine. I didn't want to over-focus on what they were making to let their personalities come through. It was the dynamic between different cultures. They use same foundation to make cakes and approached it in different ways.
The profiles introducing each pastry chef and their style were fascinating. How much access did you have to them? I imagine this was like making five short films in the context of a larger one.
We tried to allocate shooters the best we could while still following Yotam. Part of it was circumstance. Dominique Ansel and Ghaya Oliveira are based in New York, so they did their prep and development in the days preceding the event. Since the other three pastry chefs were prepping in the Met kitchen, we could move nimbly between them. Ghaya and Dominique were running their restaurant and bakeries full time. It would have been great to capture more of their process, but you can't be everywhere. Dominique came up with his concept early and knew how to execute it. Dinara Kasko was struggling with her mousse and troubleshooting with different variables in a makeshift kitchen — there was a human story behind that.
The film includes history along with cuisine, showing the decadence and inequality of Versailles, which is also true of today. Can you talk about this theme in your film?
Yotam talked about this at the beginning, as he did this research. There are all these parallels to women marching on Versailles and throwing out the monarchy. We wanted to capture obvious parallels. There's inequality, excess, but also, it's an interesting cultural event. We wanted to point to that a little bit. When they talk about the fall of Versailles, you can't help but see the parallels. They came about naturally. There is a feeling of seeing celeb chefs on Instagram where you can feel like you are on the outside.
Did you have a favorite dessert?
I don't know if I can say that. I loved them all. They were all delicious. I'm more a savory person. Dinara's cake tasted amazing. And Sam's fancy Jell-O shots were really fun.
This is your second documentary showcasing food after "City of Gold." Are you a good cook?
I am not a baker. I like to cook, and I use Yotam's cookbooks and Marcella Hazan's cookbooks. I like simple rustic food. I'm not a crazy home chef at all. I'm a recipe follower. I wish I had more time to do it than I do.
"Ottolenghi and the Cakes of Versailles" is now available in select theaters and on VOD.