Avowed "Ted Lasso" believers extol the virtues of its kind humor and its picture-perfect depiction of its football team, AFC Richmond, as a close-knit family of choice. The team isn't problem-free, but (most of) their coaches, management and fellow players support each other through every emotional setback.
Given all that's transpired over the comedy's two seasons, people may have forgotten that Coach Lasso's winning charm offensive kicked off with a humble act of baking.
Upon arriving in the U.K., Ted (Jason Sudeikis) and his partner Coach Beard (Brendan Hunt) meet the owner of AFC Richmond, Rebecca Welton (Hannah Waddingham). Rebecca is composed and standoffish in a way that rebuffs Ted's overt Midwestern optimism. She's all tea and elegance; he loudly declares that England's national beverage tastes like garbage water.
In the comedy's second episode, "Biscuits," Ted sets about fostering a connection with Rebecca by storming her office with the titular treat and declaring it to be a start of daily chat-fests called "Biscuits with the Boss." At this point, he doesn't realize Rebecca is a glacier upon which he's meant to crash and sink his career, part of a self-destructive plot to get back at her philandering ex-husband.
One bite is all it takes to shift this would-be disaster off of its crash course.
RELATED: "Ted Lasso" creators Jason Sudeikis and Brendan Hunt want you to know it's OK not to be OK
At first, Rebecca rebuffs Ted's offering before taking a polite nibble, only to be floored by the flavor. "F**k me," she blurts before demanding where Ted found her new bliss. He doesn't tell, but by the end of the episode, we find out the pastry chef is . . . none other than the coach himself.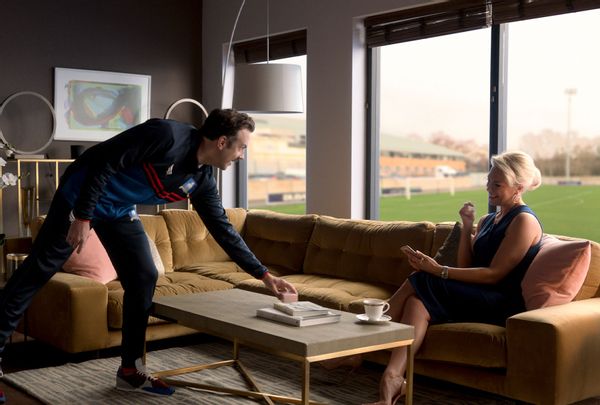 Jason Sudeikis and Hannah Waddingham in "Ted Lasso" (Apple TV+)
This revealing crumb speaks volumes about Ted's character, especially to bakers. Anybody can attempt to ingratiate themselves with their co-workers by leaving a box of store-bought donuts in the breakroom. Making the time and effort to bake for someone is a personal, intimate gesture. (This may be why that half-baked Mitt Romney-Kyrsten Sinema cosplay stunt rubbed people the wrong way – it entirely missed Ted's purity of intent.)
On a more basic level, though, we also wondered what those cookies were. Apple TV+ confirmed a while ago that Ted's life-changing bake is a simple shortbread made from four ingredients: butter, flour, salt, and sugar.
Ain't nothing wrong with a classic, especially now that the holidays are nearly here. Shortbread, an adaptable favorite with a long history, is a popular choice among Christmas cookie bakers because of the recipe's simplicity and each batch's high yield.
Traditional shortbread dates to the 12th century, descending from a Scottish medieval method by which leftover bread dough was baked to a hardness and sweetened with spices. Mary, Queen of Scots was said to prefer a version with caraway seeds.
---
Want more great food writing and recipes? Subscribe to "The Bite," Salon Food's newsletter.
---
Nowadays, no matter how you bake or slice it, homemade shortbread will always be better than anything that comes in a mass-produced package. The dough's high butter content marries sugar and just the right amount of salt to create the precise flavor profile to make people swoon.
Not everyone, we should add. Ted's biscuit trick fails to win him points with Dr. Sharon Fieldstone (Sarah Niles) in season 2, as she deduces that his aggressive optimism and need to be liked masks a secret.
Matching the spirit of the baker's personality, the official "Ted Lasso" recipe's simplicity belies the cookie's complexity. Four ingredients still require precise measurement and attention to detail to get the bake just right. A good shortbread is sumptuous and delicate, melting effortlessly on the tongue yet able to withstand a dunk in milk or a finely brewed cup of hot brown water.
Overmixing the dough can negate its tenderness. Overbaking creates a pan of dry sorrow more suitable for the family dog. (Waddingham, by the way, previously admitted that the biscuits served to her during shoots are "chunky shortbreads that sucked all of the saliva out of my face." Take that as a warning: Do not overbake!)
Home chefs who are aware of these pitfalls also know that shortbread can be a friendly canvas for one's creativity, accepting flavor combinations and textural embellishments, such as cornmeal or finely ground nuts, that play with its velvety mouth feel. With the right flavor combination, you'll know why Rebecca's eyes roll in ecstasy each time she bites into her first biscuit of the day.
The official recipe doesn't say anything about flavoring. Poring over every cookie-related scene in "Ted Lasso" reveals no indication that he deviated from the classic combo either, save for a moment when Ted sprinkles something on top of a batch bound for his boss. (Even then, we're left guessing whether he added a zing of sea salt or sugar.)
Regardless of that, we experimented with several flavorings before landing on a clear profile – orange zest with a splash of orange blossom water – whose posh brightness matches Rebecca's elegant image and her sunny second season disposition.
To repeat, that's our spin on the original — not part of the official recipe. Ted builds his life philosophy around making the best out of what he's got and believing in our potential for greatness. Four ingredients may be all that he needs to bake up success, along with a little luck in guessing that shortbread holds some sentimental value to his boss.
"You got some kind of food or something that just teleports you right back home, makes you feel all warm and fuzzy?" Ted asks his boss early in their relationship when Rebecca's still trying to freeze him out.
"No," she briskly replies — but not before reflexively glancing at his latest biscuit delivery. He never calls her on that, choosing to keep attempting to, as he puts it, "crack the recipe" . . . until he finally does.
***
Recipe: Ted Lasso's Official "Biscuits with the Boss" Shortbread
Ingredients:
2 cups all-purpose flour
1/4 tsp coarse salt
1 cup  ( 2 sticks ) unsalted butter room temperature
3/4 cup confectioners' sugar
Directions:
Preheat Oven to 300 degrees F.
Sift flour and salt together into a bowl. Mix and set aside.
In a separate bowl, mix butter on high speed until fluffy, around 3-5 minutes. Then gradually add sugar slowly, continue to mix until pale and fluffy.
Add flour all at once. Mix until combined.
Butter a square pan, then pat and roll shortbread into the pan, making sure it is no more than 1/2-inch thick. Refrigerate the dough for at least 30 minutes, then cut into squares.
Bake until golden, making sure the middle is firm, for approximately 45-60 minutes.
Cool completely.
Salon's suggestions:
Great shortbreads call for the best butter available. (I used Kerrygold.)
Most shortbread recipes recommend pricking the dough all over with a fork to ensure an even bake. I tried this method after following the recipe as is and found that the forked batch was more evenly baked.
Want to skip the refrigeration part? Pulse the flour, salt and sugar mixture in a food processor before adding cold butter, sliced into small cubes. Pulse again just until the mixture begins to form a ball.  (Props to Nigella Lawson for that tip.)
If your slices bake together, cutting your shortbread into "fingers" or wedges while it's still warm ensures precise edges.
To flavor your biscuits, add no more than a teaspoon of extract (we like almond or vanilla!) to the butter and sugar mixture before combining with the flour and salt.  
Our favorite flavor resulted from a friend's suggestion to add just under 2 teaspoons of orange zest to the flour and salt mixture and 1 teaspoon of orange blossom water to the butter before combining with the dry ingredients.
Flavors will intensify after the shortbread has cooled completely and rested in an airtight container overnight.
Lastly — and we cannot stress this enough — do not overbake! Set your timer to check the shortbread at around the 40-minute mark. You want the edges to be a golden but not brown.  
If the final result isn't "Biscuits with the Boss" perfect, don't sweat it. As the man himself would say, success is not about the wins and losses. It's about helping your bake to be the best version of itself in and out of the kitchen. No matter what, try again until you crack that recipe. It's only four ingredients!
More stories like this: